Nike launches it's "Bring Your Game" campaign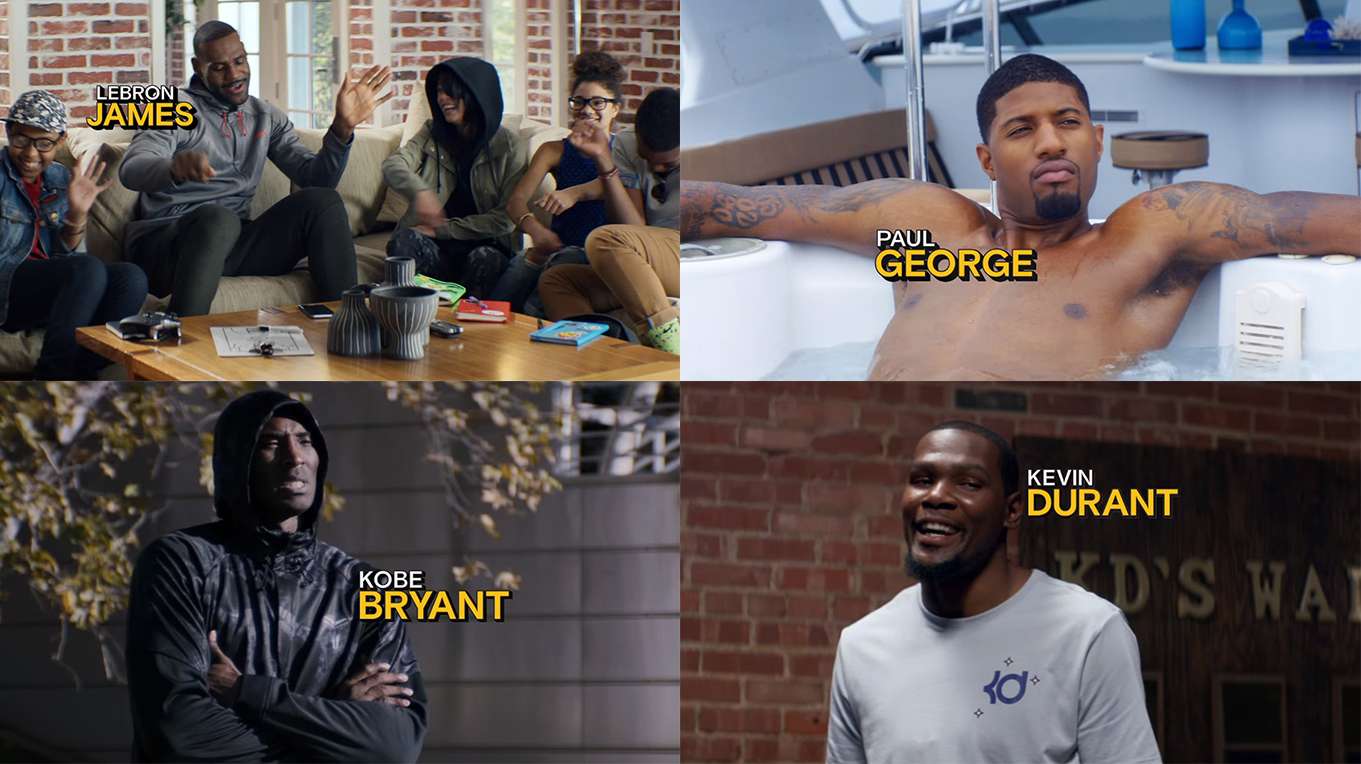 Nike has unveiled its campaign "Bring Your Game" featuring seven of the biggest players in the game in time for the flurry of NBA and WNBA games over the festive season.
In a very cool five minute video seemingly aimed at the younger market, LeBron James, Kobe Bryant, Kevin Durant, Kyrie Irving, Anthony Davis, Paul George and Elena Delle Donne all feature as they entertain four young fans crossing the country in order to choose their favourite basketball player.
Nike spares no expense in the video as it takes the fans onto Paul George fishing boat, onto Bryant's helicopter and even shows Serena Williams on a private jet attempting to persuade James into going with her to play tennis in Spain. James, who recently signed a lifetime deal with the brand would be expected to play a significant part in the ad, however, it's very smartly split into seven sections.
Posted on Christmas Day, the ad has received more than 3,5 million views on YouTube in three days. The opportunity of hitting fans during a time when they'd be reasonably inactive and their retail spend high hasn't been lost on Nike as they don't miss the chance to promote their latest line of athlete-sponsored basketball shoes like Kyrie 2 or Kobe 11.
Before the campaign was launched, Nike along with the ambassadors put out a lot of content on their social media channels in order to build hype and excitement around it.
Another lesson. ???? #BringYourGame pic.twitter.com/y7EdK1HtDc

— Kobe Bryant (@kobebryant) December 22, 2015
LeBron
Kobe✔️
KD✔️
Kyrie✔️
PG✔️
AD✔️
Elena✔️#BringYourGame coming 12.25.https://t.co/jgsuKUnuxY

— Nike Basketball (@nikebasketball) December 23, 2015
This year's prestigious SPORTEL convention kicked off in sunny Monaco today, welcoming a host of familiar faces as well as plenty of new ones. Doors opened at 8:30am with businesses
Olympic Champions, UCI World Champions and World Record holders join the new track cycling competition debuting in November 2021 The UCI Track Champions League is delighted to announce that six
New insights from eBay Ads UK reveal the potential for brands to engage with an excited but nervous nation as sports events get back on track  As pubs and indoor