SPORTEL 2021: Day One Recap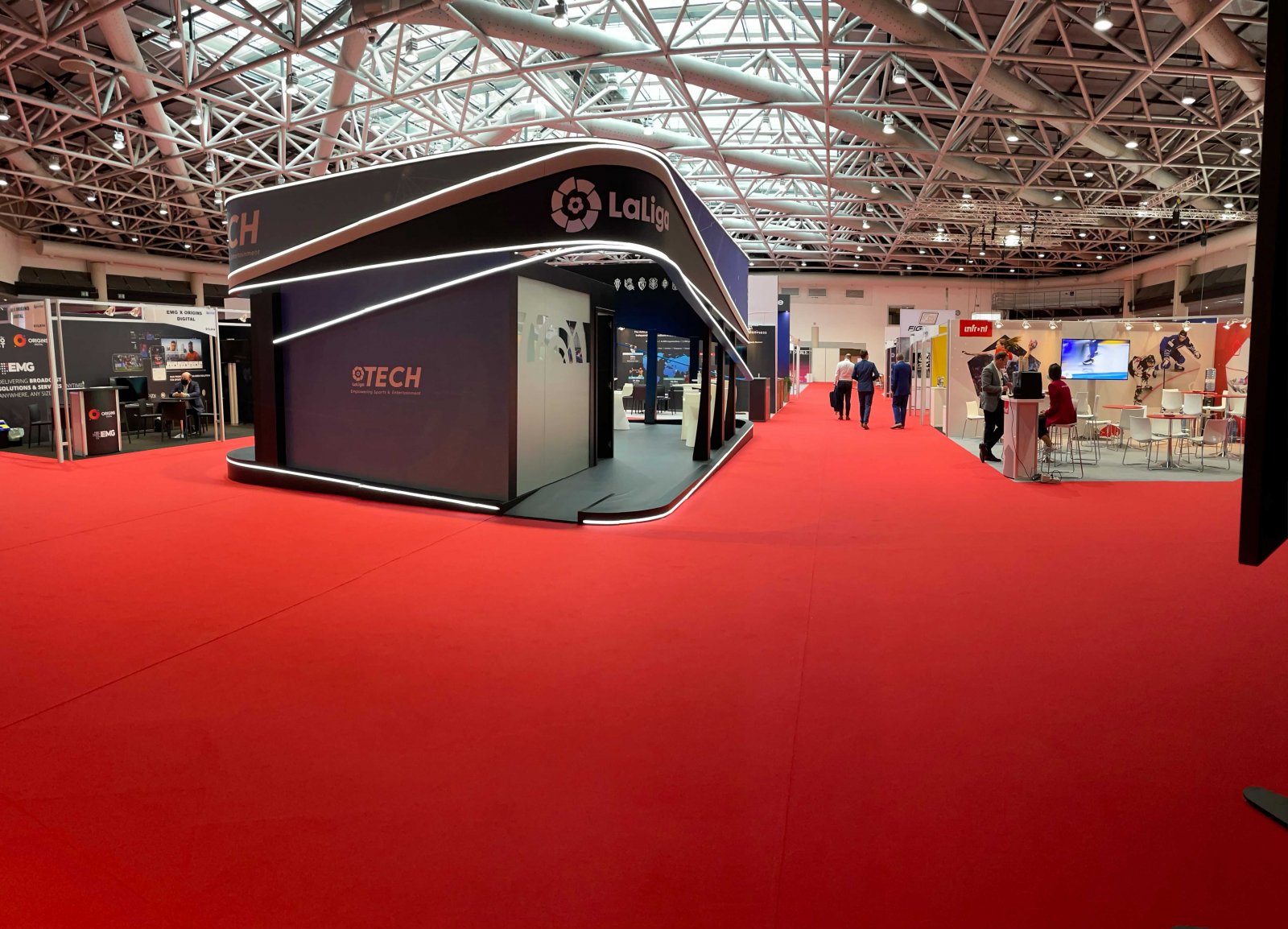 This year's prestigious SPORTEL convention kicked off in sunny Monaco today, welcoming a host of familiar faces as well as plenty of new ones.
Doors opened at 8:30am with businesses operating within the sports media and technology industry traveling from across the world to be in attendance.
The LaLiga Lounge took centre stage upon entry, welcoming everyone through the door and providing a productive space for networking and discussions around broadcasting rights.
Other stalls included PA Media, Sportradar, Telstra, Superkombat, One, Eurovsion Services, the Billie Jean King and Davis tennis Cups, LIVENow and DreamWall.
The day's masterclasses got underway at 10am with a fascinating panel talk on the success of the LFL (French League of Legends). Esports is a massive growth area within the industry and nothing reflects this better than the LFL's rise since its inception back in 2019.
While many sports start locally and branch out to a regional and national level, the LFL has reversed engineered this, beginning on a global scale before now embedding a competitive league structure across France.
Speaking on behalf of Riot Games, General Manager Guillame Rambourg noted: "We had no local ecosystems back in 2019, so we needed to switch to a league structure and create competitive regional environments."
Fast forward three years and the LFL is now the fifth most-watched sport in France, with the broadcasting facilitated by Webedia and One Trick Productions.
On the LFL's rapid rise, Head of Esports at Webedia Bertrand Rambourg said: "While many sports struggled throughout the pandemic, we went from strength to strength. We took the product completely online, streaming live to Twitch. Once back in live arenas, we were able to leverage the proximity of the audience to the action, creating a heightened atmosphere which ultimately increased engagement."
While one may assume such growth has led to record revenue figures, Guillame insisted that this is not the main goal for the LFL, instead pointing to the need to reinvest in the broadcasters and playing teams to create a sustainable product in the long term.
On the subject of players, the LFL now has a natural talent identification process in place, with gamers able to climb the proverbial ranks within the game in order to qualify for tournaments. This works in real-world settings, too, via the LFL's university leagues, which see over 5,000 players compete across France.
Should a team win their university league, they can then compete in national and European leagues, therefore facilitating a natural pathway for emerging talent, similar to how traditional sports operate with academies or the collegiate system in the U.S.
All in all, the LFL continues to move from strength to strength. It's now attracting a plethora of potential sponsors and carving out a clear niche in the market through the power of localised storytelling and competition.
Continuing on the theme of Esports, SPORTEL's next masterclass discussed how to cultivate an industry crossover with traditional sports. As pointed out by Andre Flackel, football clubs in particular struggle to engage with fans between the ages of 14-20. Esports, therefore, present a natural touchpoint for clubs to be able to connect with this demographic.
And while the space has grown exponentially in recent years, VP of Content Sales for ESL, Richard Jakab, eluded to the need for Esports to branch out more into mainstream media, similar to its traditional counterpart. "Twitch is currently Esports' native media, but in order to evolve, we need to tap into more traditional broadcasters. That will allow us to maintain our core audience while simultaneously attracting casual fans."
The sessions were rounded off by a masterclass in how female leaders and audiences are shifting the perceptions of sports media. Having grown from accounting for only 4% of all televised sport to now 10%, women's sport is clearly on the rise, but there's still plenty of work to do.
Glen Killane, Executive Director of Eurovision Sport, said that while investment is critical, the biggest challenges lie in storytelling and television scheduling. "We need to build up the characters within women's sport so they're relatable to a wider audience. Moreover, broadcasters must commit to giving these athletes prime time slots. If you put women's sport in the graveyard slots, it's a self-defeating."
CEO of Neo Studios Anouk Mertens added: "It's important to highlight progress but also caveat it by recognising the barriers women's sport has faced. Football, for example, was banned in England for 50 years. To avoid further mistakes and outright discrimination, we need more women in positions of authority within the industry."
Expanding on Anouck's point, Marisa Reich, Consultant for She Sports Switzerland, explained how the pandemic has actually had a positive impact on women working within sports media.
"It [the pandemic] has shifted perceptions away from the notion that women are somehow hamstrung by motherhood," she reflected. "Not only due to mothers working productively from home, but also fathers better appreciating the day-to-day struggles of balancing parenting with a career."
Digital Sport will be back at SPORTEL tomorrow for what promises to be another brilliant and insightful day. Check back here for another recap soon.
The second day of SPORTEL 2021 got underway this morning in Monaco. Following on from yesterday's masterclasses, Wednesday played host to a number of conference talks from industry-leading professionals. The
After a one-year hiatus due to the impact of COVID-19, the world-renowned sports media and tech convention, SPORTEL, returns to host its annual event in Monaco. The conference will take
Discovery Sports Events and AWS to build an immersive fan-engagement offering for the new Union Cycliste Internationale (UCI) Track Champions League series that kicks off in November 2021 AWS becomes