Nike debuts new shoe on gaming platform Twitch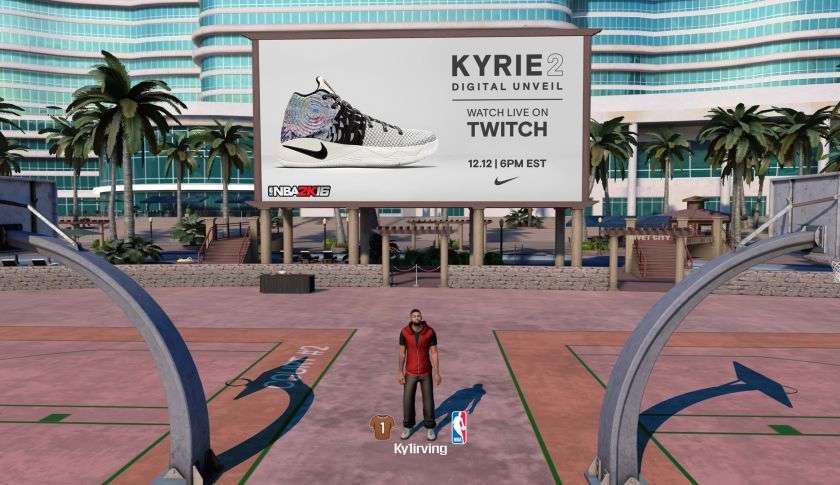 Nike continue finding new ways to reach their avid consumers by teaming up with video game publisher 2K and Amazon-owned gaming platform Twitch to debut the shoe of returning Cavs' superstar Kyrie Irving.
In a fascinating turn toward the tech side, especially after Nike unveiled Kobe Bryant's 'final shoe before retiring' via Periscope, the popular brand has looked to appeal to the gaming community in this instance with The Kyrie 2 shoe which launches this week.
Working with the video game publisher that releases the NBA2K series each year on one side as well as fast-growing Twitch on the other, The Kyrie 2 debuted digitally on Saturday in NBA 2K16 via a global Twitch livecast. From Saturday morning, players could equip their players with The Kyrie 2 (which were unlocked for anyone in the Park during the stream) and get a good look at the shoe before it was released.
In what is a very interesting precedent, the shoe wasn't only launched on the gaming platform but Irving joined in on the festivities, spending an hour on Saturday answering questions and playing gamers in a special NBA 2K16 live event. If that wasn't as cool as it sounded, the point guard rewarded anyone who beat his team with a free pair of autographed Kyrie 2 shoes.
Saturday ushered in a number of firsts for not only Nike but Twitch and the video game publishers 2K. On Saturday, Irving, who is an avid fan and player of NBA 2K16, was the first player to be verified  in the game's MyPark (community feature) section – that means that regular players will now be able to tell that they're coming up against the 3 x NBA all-star player.
In terms of being able to gauge it's success, the fact that this 'experiment' shows brands that they can open up a whole new corner of the market through the building of these types of relationships (Nike, Twitch, 2K and Irving), is a success in itself.
Imagine the exposure if the likes of Adidas and EA Sports did the same with FC Barcelona star Lionel Messi. You can guarantee that Adidas and EA Sports would have watched this event very carefully, especially considering the growing popularity of Twitch.
By Daniela McVicker When it comes to sports, great branding is a must. Your brand influences how people see your company or team. It helps you to forge connections with
Article written by John S. Kim, CEO and co-founder of global API company SendBird Social media rose to prominence throughout the world due to its potential for connection. Social channels provided the
By Mike Constanti This series, in partnership with Snack Media, will look at the best football campaigns from advertising to social media on a monthly basis, as Digital Sport evaluates how