Candid shots of celebrating Didier Deschamps shows why the internet loves reaction videos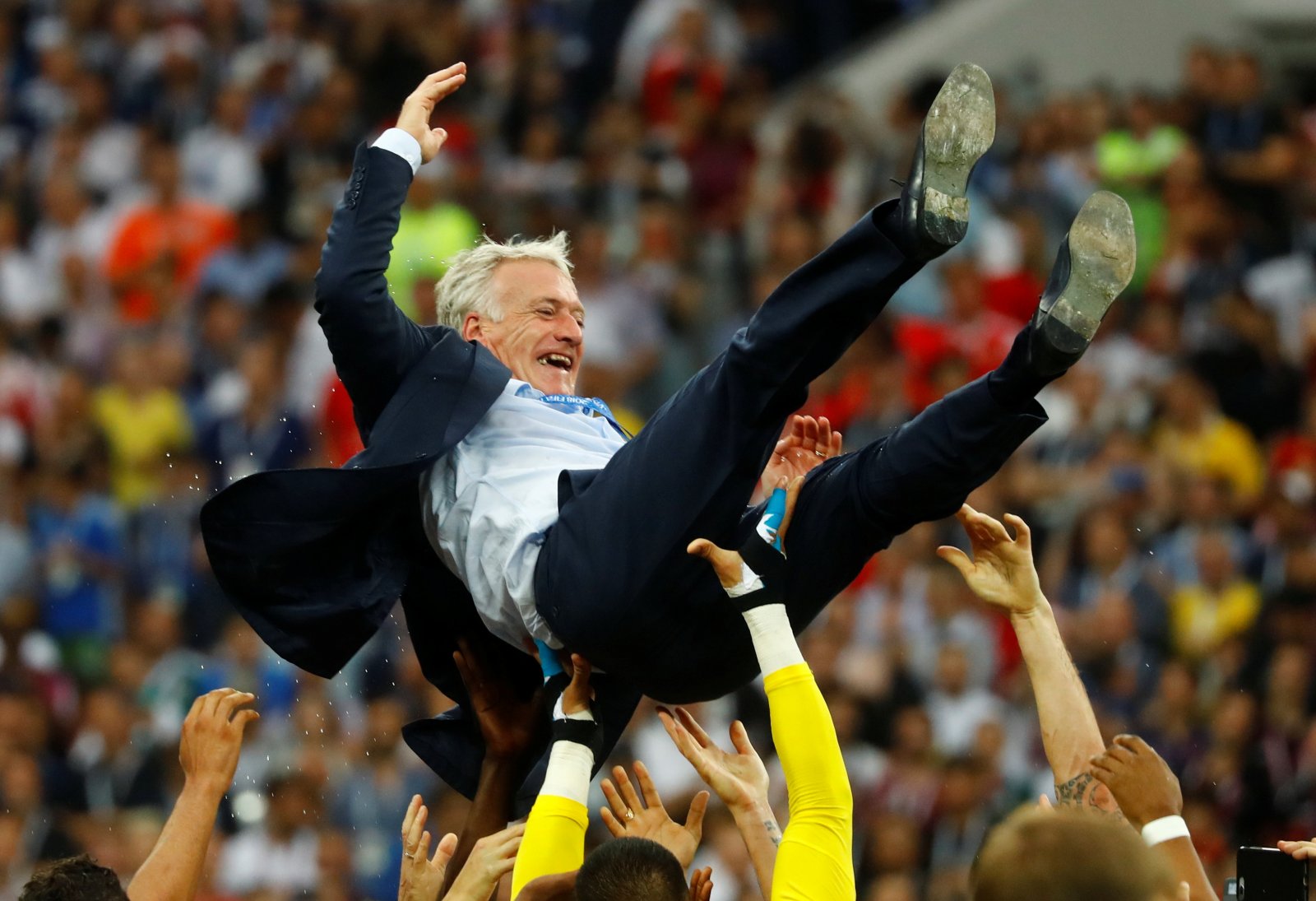 From the advent of reality TV to the most modern internet memes, it's undeniable that people love reactions.
Major events are now places where those in the stands refrain from watching the game themselves in order to snap a video of their wild, excited not-wholly-spontaneous reaction to a goal.
In parks and squares around England, goals scored by Gareth Southgate's team – however meaningless they might have been in the game – were greeted by a lamentable waste of beer as fans literally threw their pints into the air. They didn't seem to be sadly spilled as the joyous English public were swept away in the emotion of the moment, but purposely thrown into the air for the sake of retweets.
Made-for-social reactions are par for the course these days and as a result are really quite boring, but now and then you get a truly spontaneous emotional surge caught by the cameras and you remember why they were popular in the first place.
In the World Cup final, French and Croatian nerves were shredded, even if neutral observers were fairly sure of a victory for Les Bleus after Kylian Mbappe's goal – his team's fourth – in the 65th minute.
But after the game, the cameras stop focusing on the action on the pitch and then directors can turn to some of the pictures that were captured but perhaps missed during the game: like these images of French manager Didier Deschamps reacting to each of his side's four goals as well as the final whistle.
La réaction de Didier Deschamps sur les 4 buts français en Finale, et au coup de sifflet final. Beau pic.twitter.com/OOT5EEZI7C

— Abdelhak El idrissi (@Abd_Al_Hak) July 16, 2018
Deschamps has been the manager of the French national team for years now. He has seen his young side come of age, and he has one of the most exciting squads in world football. It's not been all plain sailing, though: two years ago he presided over a defeat in the final of Euro 2016 on home soil. His team had done well to make it to the last game, but to lose in front of their own fans was heartbreaking. As a result he was taking nothing for granted on Sunday – a World Cup final is a bigger deal, of course.
Every French man and woman would have gone through a similar set of emotions, and the Croatian fans would have done the opposite.
Indeed, French president Emmanuel Macron spent the game in a similar state of emotional distress – or if not he's a very good actor.
Emmanuel Macron's reaction as the final whistle is blown at the #WorldCup pic.twitter.com/5fMu9J80Bt

— The Ringer (@ringer) July 15, 2018
One of the tragedies of the internet is that rather than using it to innovate, most like to see what becomes popular before copying it themselves. Reactions proved popular, so everyone does it. Sometimes, though, you get the cameras focused on someone who doesn't know they're being filmed and the resulting video works perfectly – in this case, it's a small insight into the emotional rollercoaster experienced by a man managing his team in a World Cup final.
The Women's World Cup showed there was an audience for women's football. Now it's up to publishers to keep momentum going by covering it now the tournament is over.
New series will follow Brazil's Copa America winning team.
The best of the insights from Digital Sport London's Growing Women's Football event at Howard Kennedy in central London.