What brands should know about engaging 'Nex Gen' fans on social media
Social media's place in the world of sports media has been well established for quite some time. From content creation to engagement, advertising to live sporting events streaming on Twitter and YouTube, these platforms have asserted themselves in the industry, and the possibilities of what may lie ahead in the future appear limitless.
Still, despite the significant impact we know that social media has had, it's always difficult to quantify exactly how important it is.
But stats from Media Chain last week suggest that young sports fans are now interacting with coverage nearly as often on social media as they are via television. Moreover, in some respects, social platforms have in fact surpassed sports media in television when it comes to the younger demographics.
According to data provided by Media Chain, 48% of Millenial and Gen Z sports fans turn to YouTube to consume their sports content rather than TV, and 77% also say they follow at least one YouTube fan channel. An even larger number of those who fit into the Millennial and Gen Z groups – 64% – say they choose to take in sports coverage on social as a whole over TV. Even when it comes to sports news, 52% find breaking news and team updates to be more engaging on social media than on the websites of traditional publishers, newspapers and broadcasters.
Yet those headline numbers, while maybe surprising in their scope, will still probably come as no surprise to anyone who has been paying attention. What truly is striking, though, is not that young fans are engaging with sports content via social media, but rather how they are interacting and what tendencies they tend to show while they do – because from here we can infer best practices.
About a third of young fans between the two demographics above say that they watch stories at the top of a feed before moving on and scrolling down the newsfeed itself on a given platform. Based on this information, Media Chain suggest that brands working heavily on Instagram should be putting a third of their budget toward stories that will feature at the top of an interface rather than posts that will appear in the middle of a newsfeed.
The numbers also suggest that young fans, unsurprisingly, place a high priority on speed; 57% say they would prefer to watch goals as soon as possible on social media rather than waiting later for broadcast quality coverage on television channels like Sky, BT or BBC's Match of the Day. Immediacy, and providing users with the ability to catch up with the moment in seconds, has now taken precedence over content quality in many cases, as potentially pirated, grainy footage is seeded across social media platforms before the broadcaster has put them on their own feed – if indeed it ever does.
As powerful as social media brands have become within the sports industry and all the success they still have the opportunity to achieve, it's crucial for them to also understand what fans from these two generations don't like and work to avoid them.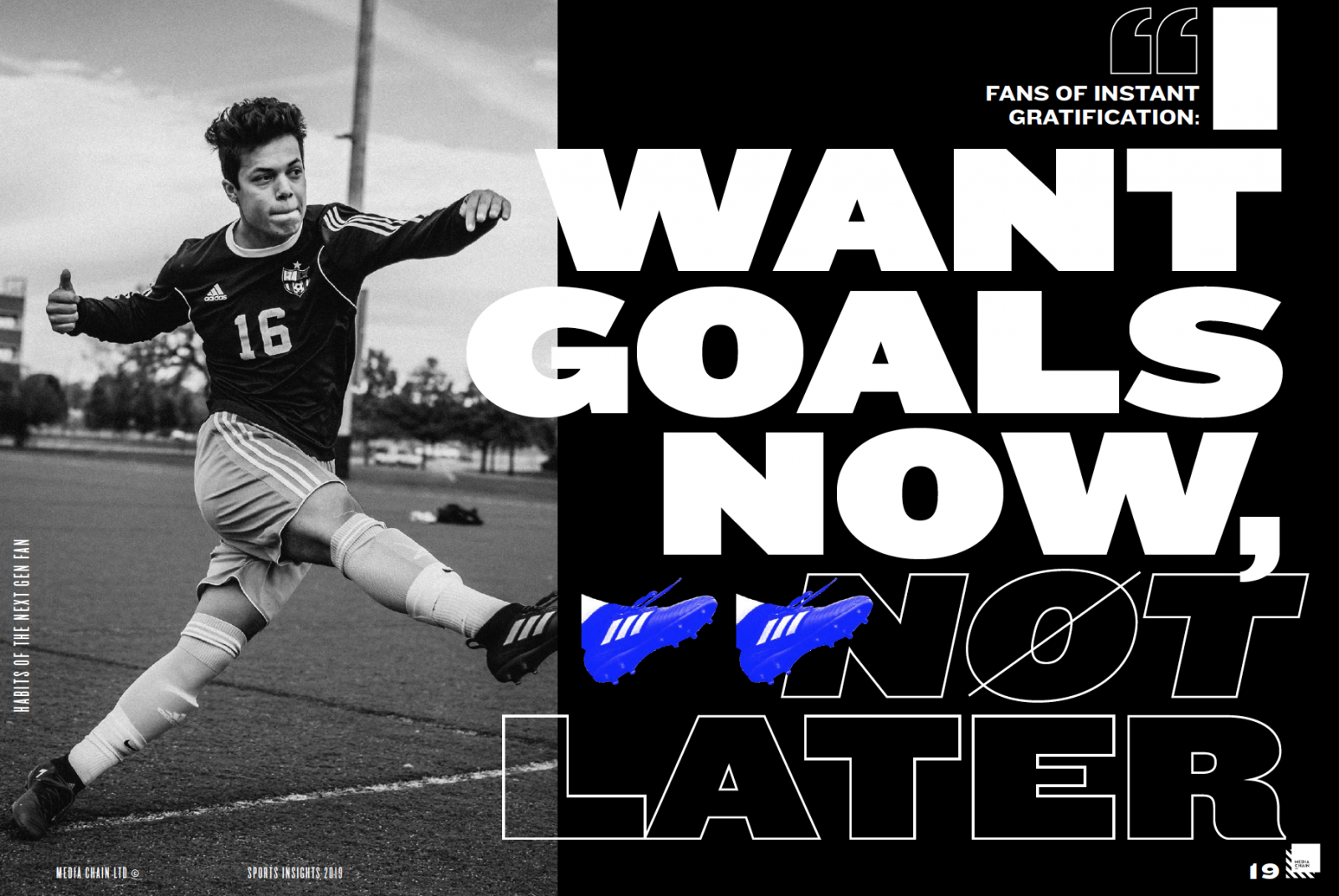 According to young fans, the most important component on social media is for the brands they follow to offer content they simply can't find elsewhere. In turn, when brands recycle stale posts and videos from other websites and platforms, they risk pushing those fans away toward their competition. And unlike fans from older generations, who prefer brands that create content featuring offers and discounts, Millenial and Gen Z fans tend to prefer brands that makes them laugh instead, making it all the more important to prize clever and funny content above stale reposts or news updates.
"The next-gen fan is complex and they want to be spoken to on their terms. The social landscape in football is diverse and every set of fans are different cross-platform." Says Richard Johnson, Media Chain's Head of Sport. "To create a great marketing strategy in the sports space, brands must get out of their comfort zones and adapt to what fans are actually demanding from their social networks. The fundamentals of marketing remain the same. Brands simply need to understand that in order to take a truly social-first approach, they need to think fans first."
Above all else, it's important to note that this generation of fan is far more inclined to offer up an opinion when they aren't pleased with the content they're receiving than others in the past.
More than 60% of young fans admit that they're more likely to share negative takes on a brand's online activity, and it doesn't take much more than a trip to a comment section to find out what those opinions tend to look like. It's key for brands to keep a pulse on what their followers want and how they're reacting to the content they're producing – especially as so-called 'dark social' platforms like Whatsapp, where these interactions can't be measured, means the proportion of negative sharing might be even larger.
What is made most clear by this data is that social media is no longer just has a space in the sports industry, but is in fact an integral part of it – one that sports media brands must take seriously.
Social has the ability to catapult a brand a team or a league, but with a rather particular generation of fans in the driver's seat, it can also turn negative at a rapid pace
Don't forget Digital Sport London's rugby event on February 26th with Six Nations, World Rugby and the EPCR – get your ticket below!
Digital Sport's Rupert Pratt and Thomas Smith recently sat down with Nielsen Sports Managing Director for the UK & Ireland, Spencer Nolan, to discuss Covid-19's impact on sport media rights
Snack Media today announced that its acquisition of GIVEMESPORT will create one of the largest sports publishers in the UK, further strengthening its offering to advertisers, rights holders and independent media owners.
By Daniela McVicker When it comes to sports, great branding is a must. Your brand influences how people see your company or team. It helps you to forge connections with