UKSN Presents: Interview with Twitter UK's Head of Sport – Lewis Wiltshire
UKSN Presents is the start of what will become a more regular series, getting under the skin of social media and sport through some it's highest profile practitioners.  First we start with long time friend, ex-BBC Social Media & Website Editor and now Twitter UK's Head of Sport – Lewis Wiltshire.
Hi Lewis, thanks for joining us for this first 'UKSN Presents…'. You have been one of Twitters biggest advocates over the last few of years.  What's it like now working for them?
I love working for Twitter. As you say, I have evangelised about the platform for years, as I saw quite early on the power it had for journalists and editors, as I was at that time. To play a part in the future of the company and the way the platform is used by the media and others is a wonderful opportunity.
What constitutes a normal day (if there is such a thing) for you at Twitter UK HQ?
Well the day doesn't start or end at Twitter UK HQ, that's the first thing! The thing about working for a platform which is both work, and fun, is that it never stops. I am checking Twitter from 6am every day, right through the day, and then in the evenings I love interacting on Twitter during big sports occasions. Oh, and work email, and lots of meetings with partners, obviously. I occasionally find time to remember I'm a husband and father – although the latter will be easier when my kids are old enough to talk to on Twitter instead (half-joking).
Your new job title is 'Head of Sport'' – what does that encompass? and how do you see it evolving?
I am here to help the sport industry in the UK and Europe use Twitter more effectively. That means working with broadcasters, websites, leagues, governing bodies, clubs, athletes … anyone who uses Twitter, or should be using Twitter. There is already some amazing innovation going on with Twitter in European sports, and my job is to encourage that and help others to grow too.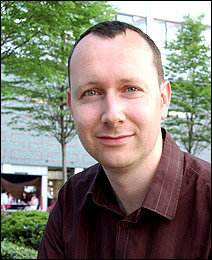 There are many uses of Twitter depending on the users needs.  How do you use it and what have been the biggest benefits?
As mentioned, I use it professionally and personally. Luckily, I don't feel the need to separate the two as I have always worked in sports media and I also love sport as a fan. As editor of the BBC Sport website, I used Twitter to highlight stories broken by our reporters and shine a light on what we did and why. As Twitter's head of sport in the UK/Europe, I tweet about great uses of our platform by partners, and to interact with people in the industry and fellow fans.
How do you see Twitter and sports teams/players/NGB's working together in the future?
Twitter brings people closer to the things they care about. Teams, players and NGBs need to find their own voice on the platform and reach their audience in a meaningful way. The way they do that will differ in each individual case, but there are best practices which are consistent across sports and which all users of Twitter can learn from.
We see the likes of Rio Ferdinand, Gary Neville, Wayne Rooney and Robbie Savage becoming media personalities on the platform and building up new brands for themselves.  Why do you think they have been so successful and how can others learn from them?
The four people you highlight there have some commonalities in the way they use Twitter, which will explain why they in particular, and others like them, have grown their brands. They all tweet in their own voice, they all tweet regularly, they are all honest with their fans, they respond to their audience, and they interact with fellow stars. Sports fans love seeing big stars interact with each other. When Wayne Rooney tweets about playing golf on Xbox, and Graeme McDowell asks him if he's playing as Gmac, and they get into a conversation which ends with Gmac offering Wayne real-world golf lessons, that's cool for fans to watch as a conversation. Neither man had anything to fear from the conversation because it wasn't controversial, just honest and fun. It showed a nice, human side to both of them. And yet someone like Wayne knows how to use Twitter for more serious matters too, sometimes correcting inaccurate media reports about himself and tweeting direct to fans so they know what he really thinks.
On UKSN we highlight teams, mainly from football, who use the platform well quite a lot.  What do you think makes them different/successful and how can other teams with less resources do better?
Actually we just blogged about some best practices, which have been led by the likes of Manchester City and Chelsea. Again, both of those clubs and others like Liverpool, tweet regularly, in a distinct voice, with innovative uses of Twitter products like the hashtag, and both use the power of their players to connect the three points of the triangle: fans, players, club.
Next month sees the start of a mad summer of sports with EURO 2012 and London 2012 kicking off.  What are you expecting from a Twitter point of view and what learnings do you think you will be able to take?
It's going to be the biggest summer of sport I've ever worked on. We'll work with partners to enable them to use Twitter to connect with their audience, and to use the enormous power of the content Twitter hosts (a billion Tweets every three days), as content in its own right. One of the things that excites me the most is broadcasters using what people are saying about their output as content which can be re-used in the show in realtime. It's a virtuous circle of content which makes the whole experience more interactive, powerful and fun. Plus of course, fans will simply be able to follow athletes (footballers and Olympians) in those events in a way that has simply never happened before. I worked on Euro 2008 and the Beijing Olympics in the same summer, for the BBC, and whilst we were using Twitter back then as media, there clearly was nowhere near the levels of athletes using Twitter that we have now. For the first time in a Euros/Olympics summer, fans can expect to get close to every team and hear directly from the athletes. It's going to be an amazing summer.
The UK office has recently celebrated its 1st birthday and announced there are 10m active users in the UK now.  What are the plans going forward, both locally and globally for the platform as you see it?
To reach every person on the planet and connect them to the things they care about.
Finally, to many it looks like you have the best job in the world.  do you?
I love my job. I still haven't given up hope of a late call-up to Roy Hodgson's squad as an emergency centre-back, but until that happens, yes, I am incredibly happy and excited to do the job I do.
Thanks Lewis for being the first on 'UKSN Presents'.  Have a great time at Twitter UK and look forward to seeing you soon!
Sportlogiq is bringing AI performance analytics to world's largest professional lacrosse property  Sportlogiq and the National Lacrosse League (NLL), the largest and most successful professional lacrosse property in the world,
'Where does Cricket go from here' and the 'Sports Publisher Summit' were very successful events that involved incredibly insightful discussion followed by a Q+A, debate and networking. It's a great
Social media can be an emotional rollercoaster. It can do a lot of good: keeps you closer to those you love by breaking barriers of distance, can log your best