Real Madrid and Social Media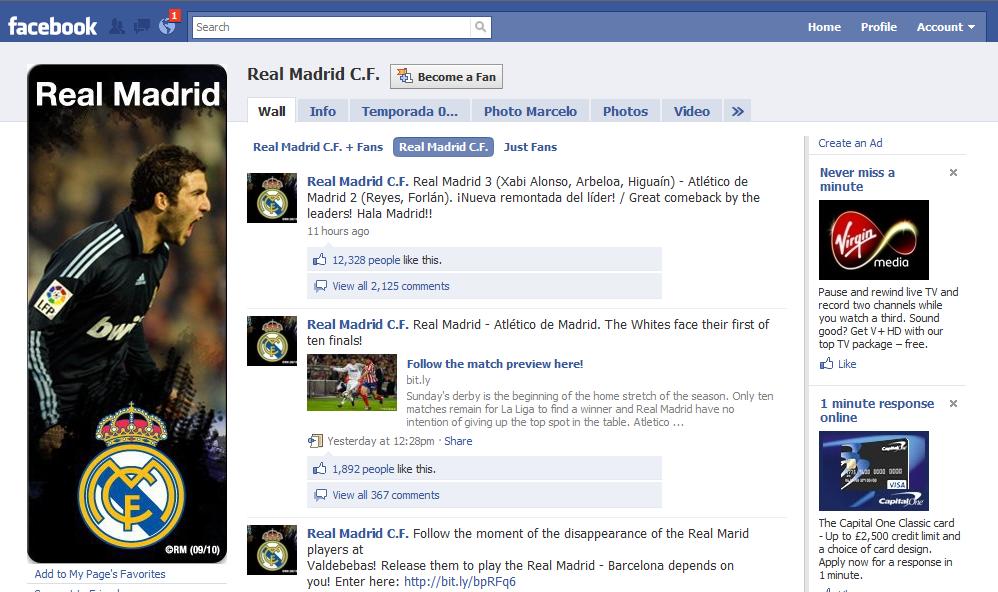 Real Madrid is one of the most recognisable brands in sport, and no club better embodies our times, when sports, business and technology are in constant flux. With some of the worlds great players on the field Real need to make shrewd businesses moves off it and are very keen to embrace new technologies and communication to increase their profitability.
To find out more about how the Spanish Club is approaching social media I recently spoke with Oscar Ugaz, Real Madrid Online Marketing & Digital Business Manager about social media and Real´s digital strategies.
While many UK clubs are just starting to ride the social media wave Real Madrid have been utilising it for a while now explained Oscar, "two years ago we changed all of our digital strategies, starting by re-designing RealMadrid.com with the aims of providing fans with more features and services. When discussing the new website one thing that that arose was the importance of interactions and the importance to have the capacity to interact with our fans online."
"At first we talked about RealMadrid.com offering comments on articles but we we're a little worried as we didn't know how people would react with these comments inside our official website – so we thought about how we could test this and as a result we started our Facebook page in which we could find out how our fans behaved, if they were confrontational towards the Real Madrid brand and also how they like to express themselves."
Since its launch the clubs Facebook page has been a massive success and built up a huge following with over 1.2 million fans and an average of around 3000 new fans joining every day. The page may have been started as a way for Real to test fan interaction, but, it has also developed into a powerful tool to direct traffic to RealMadrid.com.
"The important thing about the traffic from Facebook is that it is traffic that we can control, we decide where we want our users to be and where they go on RealMadrid.com. If we have news that we want people to see that maybe isn't on the homepage of our website we use Facebook to drive traffic to those specific pages, and, we want to be very honest, in these sections we drive traffic to there may be advertising or other services that we can sell. We use Facebook as a way to drive people to news and pages on the website that they may otherwise not see."
Madrid's strategy focuses on more than just Facebook. "The strategy of the club is to go where the traffic is; we know not all the fans come directly to RealMadrid.com and although we get a huge amount of traffic we know there is a lot more out there. We distribute Real Madrid content and build the Real Madrid brand through the media that the people are using."
"We want to be where the traffic is and in that sense we follow the trends – if people are using Facebook, we use Facebook, the people start using twitter, and we create a twitter page. We are always looking for the next trends, whilst at the moment Twitter and Facebook are at the top when they start losing traffic we want to be riding the next wave and making the most of new opportunities – for example what Google is doing with Buzz. However, we don't just jump in, before we start doing anything we make an analysis and see how each platform can help us."
Social media has also opened up many new opportunities for Madrid to test content, gain feedback and also understand things from their fans perspective. "When we post content or news articles people immediately comment saying this is cool or this is not cool, we like this video or this video is boring. This feedback is very interesting because we can relay it back to our communications department and show them what the people like, what they don't like and also what content our fans are most pro-active to."
A great example of how this feedback can benefit the club is when Madrid started to include links to the club's online shop on their Facebook page, "it took fans a while to realise that this was our official online store. This made us think maybe the things which we think are obvious are maybe not so obvious to all the fans – maybe we need to include on posts that this is the official Real Madrid online store. We can also relay this information back to the people in other departments and say maybe we are missing are sales in other places because the fans are misunderstanding our messages."
From speaking to Oscar one thing that really stood out to me was that Real clearly understand the importance of engagement and providing fans with great content, they also understand how this can be turned into revenue for the club. For one of the player´s birthdays the club produced special video content dedicated to the player itself and alongside this they ran a 24 hour jersey sale.
"We know you can't make a direct sale on Facebook, you have to engage the fans in conversation and once you have the people interested you can then direct them onto a product or service. The key to the success of this promotion was great content which created conversation amongst our fans, we didn't just say here is the players shirt you can buy it here – we created engagement and interest, via the content, which then sent traffic back to the online store and created conversions and shirt sales."
They also use social media to encourage fans to join club membership programmes, by putting out content via social media they can encourage fans to join their eMadristas membership to access even more great content. "What we are doing is pushing people from Facebook to this membership, we are saying – you are a Facebook fan and that's great you can get good content here, but you can do more with our eMadristas membership. So, we are moving people from Facebook to club affiliated membership programmes which in turn generates revenue via permission marketing and we also offer paid membership programmes so we are able to build a large database of fans affiliated to the club."
Social media also opens up additional ways for sponsors and club partners to activate their partnerships with Real Madrid because now they have the opportunity not only to be in the stadium, on the shirts and on RealMadrid.com they can also get their message across via social media and provide engaging content for the fans – for example every week Bwin hosts an interview with the team talking about the next game.
Some partners even value mentions and space on the clubs Facebook and Twitter pages above advertising and banners on RealMadrid.com. "A lot of people are coming to us and making products with us who are saying no more that they want the coverage on Realmadrid.com they want to be on our Facebook and Twitter pages because they understand the reach of these platformss. An example of this is a company who came to us and wanted to make a toolbar for Real Madrid and another company who made a digital calendar. We were expecting for them to want a banner on RealMadrid.com but this is changing and they now ask us to send out a message to all of our fans on Facebook so we have created a whole new media not just for Real Madrid but for our club partners too."
Real's views on players utilising social media are very relaxed, and a sharp contrast to some Premier League clubs. "We don´t have a specific policy regarding players using social media to communicate with fans," said Oscar, the players are free to use social media however they want. It comes down to common sense – obviously we don't want players to be discussing business such as transfers and contracts as this not good for the club, but, it's also no good for the players."
"We understand that some clubs may have a stricter policy of saying that players can't get involved with social media and that is a respectful decision. But there are a lot of opportunities in social media not only for clubs, but for players too. Instead of blocking social media which is an easy thing to do, maybe it's better to use common sense and tell players not to say online what they won't say in public."
Social media plays a very important part in keeping Real's global fanbase up to date with the club and allows them to make fans feel more connected. "We post in English and Spanish – but we are still missing a lot of people, whilst English and Spanish are very universal languages we have many fans who speak Arabic or Turkish for example, and we are working on sharing content in more languages – these fans may understand English but they will be more comfortable and feel closer to the club if we communicate to them in their language."
"In terms of growing their fanbase through social media there are two markets which Real hope to focus on over the coming months. "The Arab and Asian markets are two growing markets that are very important to us as we have a lot of fans there and we want to become more approachable to these fans. Social media may give us ways to enter these markets and whilst Facebook is very popular in the US and Europe maybe in Asia it's not as strong and doesn't have as much reach, therefore we are looking into more local social networks that will have very good penetration in these markets."
In conclusion Oscar says, "if you compare social media with our traditional business of television rights, sponsorship etc. social media still generates a very small part of the clubs turnover but it is also a good amount of money. The other revenues are tried and tested ways but we in the new media department we are always exploring what will be the future."
I'd like to thank Oscar Ugaz and Real Madrid for this interview and for sharing some great information. Be sure to look out for my next article in which I will be speaking to Pedro Duarte, Real Madrid's Mobile Marketing Manager.
This year's prestigious SPORTEL convention kicked off in sunny Monaco today, welcoming a host of familiar faces as well as plenty of new ones. Doors opened at 8:30am with businesses
Olympic Champions, UCI World Champions and World Record holders join the new track cycling competition debuting in November 2021 The UCI Track Champions League is delighted to announce that six
New insights from eBay Ads UK reveal the potential for brands to engage with an excited but nervous nation as sports events get back on track  As pubs and indoor