What's next for OTT?: Introducing DAZN's Sarah Beattie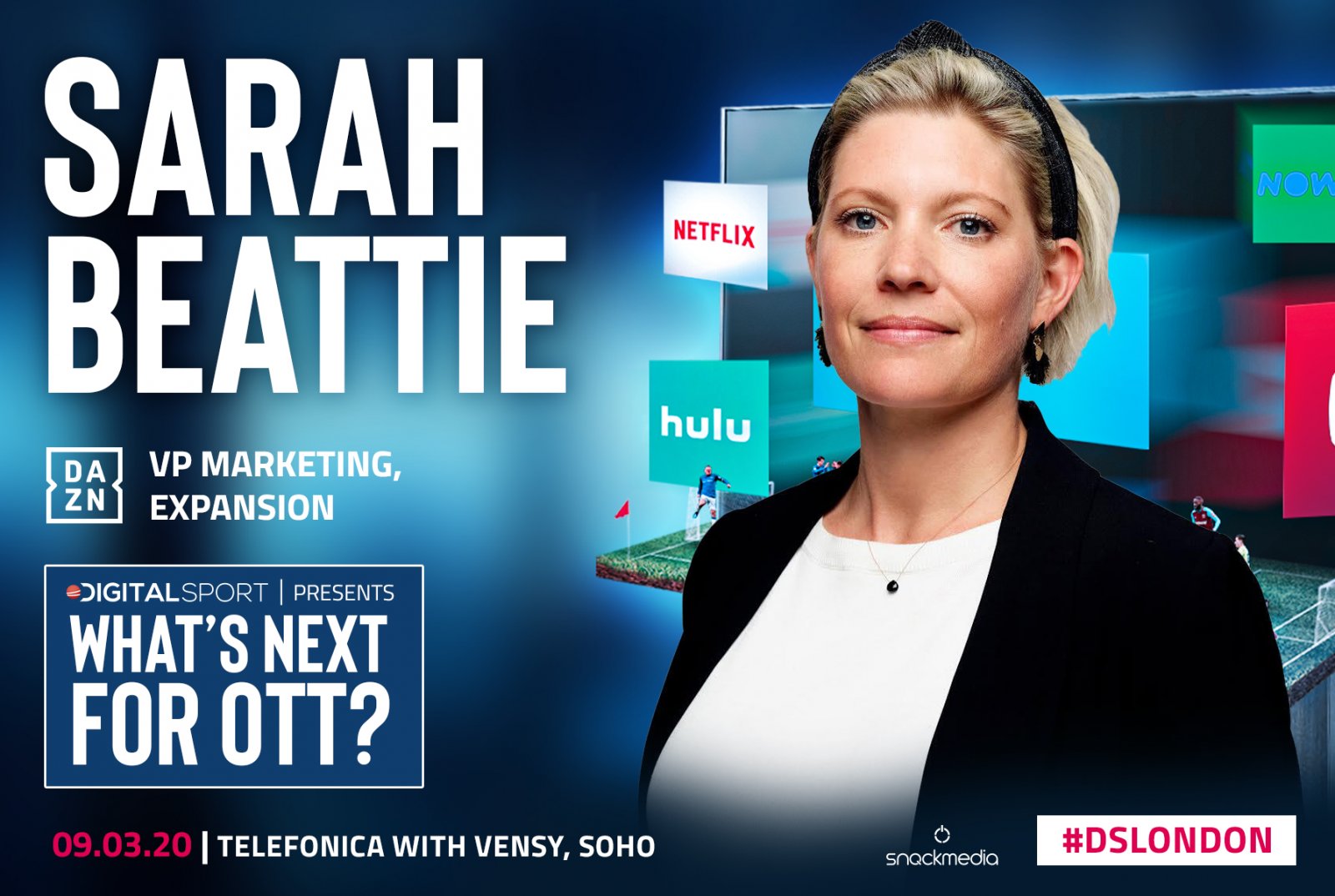 The ability to stream direct to consumer is something sports fans are craving more and more of. The monetary commitment of a Sky or Virgin package in the UK has somewhat increased demand for a cheaper, more focused deal, tailored to each individual fan.
OTT platforms have started to deliver this in patches, with various sports and leagues streamed online or direct to devices for a simple one-off payment, or more likely a monthly commitment, usually far cheaper than the broadcasting options available.
The monetary gains from such a platform are not only to be enjoyed by the consumer, but by rights-holders as well. With agencies & broadcasters being cut out of the deal.
If this were to be the case, are we about to see OTT disrupt the market even further?
One of the big talking points has been Amazon's recent streaming of the Premier League across two rounds of fixtures in December. For the most part, it was a successful debut for online soccer streaming. However, there still remains a lot of work to do before this solution, one that allows fans to very easily dip in and out of live games, to truly work on a larger scale.
We'll debate this and more at our upcoming event, 'What's next for OTT?', which will take place at Vensy, Telefonica in Soho, London. Ahead of the event though, we caught up with one of our experts on the panel, Sarah Beattie, who discussed DAZN & gave her own views on OTT. But first, we wanted to get to know our panellist a little more.
"Change has always been at the heart of my career and I am a passionate believer in the power of sport to bring people together," she said.
"Prior to DAZN, I was able to gain experience in a variety of roles with a consistent theme of positively disrupting an existing industry.
"I've been fortunate to work at some fantastic brands, including Ford, Three and Good Energy where we specialised in delivering proactive, bold and challenging campaigns that moved the needle. At DAZN, my role is an opportunity to create change in the sports industry on a global scale.
So how do her duties dictate her day-to-day role?
 "I'm responsible for building the company's brand with new audiences in new markets.
"This means day-to-day I'm focused on how we work with rights holders, talent and ambassadors, and social platform partners to drive awareness and subscribers with the roll out of our sports streaming service around the globe.
"We have an all star-quality ambassador programme at DAZN, working with the likes of Cristiano Ronaldo, Neymar Jr, Jose Mourinho, Marc Marquez and Canelo Alvarez.
"Part of my role is creating content with these ambassadors that helps drive our growth globally and makes us the content destination for sport fans – whether this is via original programming like our successful 'The Making Of' series or fan-focused news content on DAZN News."
With OTT being so disruptive in the current market, we had to ask Sarah whether she ever envisaged it having the growth and success that it has.
"Four years ago, OTT was the future. But now it's mainstream. We created DAZN because we saw the way people were watching sport was changing and, unlike the music and film industry, no pure play OTT sports service had launched back then.
"It's an entirely different situation these days. I joined DAZN at the very beginning of our journey and the industry shift I've seen has been sizeable.
"Consumers have embraced streaming as the norm for watching sport content, both live and on-demand. For example, we saw record consumption last year, with consumers streaming more than a half billion hours. That's a 98 percent increase from 2018."
But does she believe OTT is still growing and developing? Or will it be a short-term spike?
"OTT will ultimately eclipse traditional TV which simply can't offer the volume of content or functionality that fans desire.
"Streaming is a more immersive, flexible, and accessible way for consumers to watch content and we've already seen huge changes in consumer behaviour towards OTT in such a short space of time.
"But it's not all change, TV operators have a role to play as a super-aggregator for streaming services – bringing together the huge amounts of content now available. At the same time, DAZN is acting as an aggregator itself, streaming Eurosport on our platform in Europe."
We're less than a month away from MEI's flagship Major Events Summit, now re-imagined as a virtual event.  Major Events Summit brings together decision-makers and influencers involved in supplying the
We are disappointed to announce that our event 'What's next for OTT?' has been postponed as all events in Telefonica buildings globally exceeding 25 people have had to be cancelled
The ability to stream direct to consumer is something sports fans are craving more and more of. The monetary commitment of a Sky or Virgin package in the UK has