RFU launches the IBM TryTracker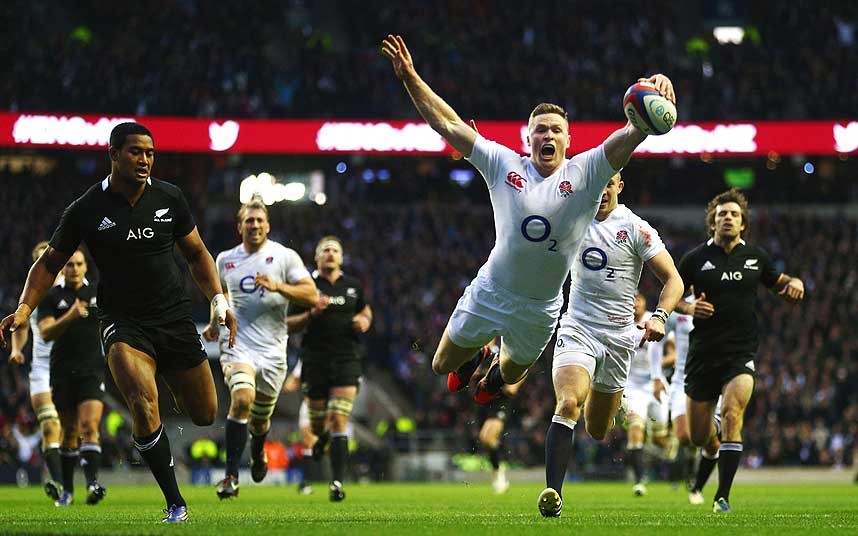 The Rugby Football Union (RFU) and IBM today announced a new five year agreement. As Official Analytics Partner for the RFU, IBM will implement a leading analytics solution to provide fans with real-time insights into the game, including information about individual performance by players – the IBM TryTracker.
To cap a busy week of launches and prep for the opening game of the 6 Nations, they have launched a great new feature for rugby fans.  In a first for the sport, IBM's Predictive Analytics software will analyse historic and current rugby data provided by Opta to provide valuable in-game stats. It gives viewers access to insights that will heighten their understanding of what to watch for in each game and explains what needs to be done to increase the likelihood of a team win against specific opponents.
The IBM TryTracker includes the 'Keys to the Game', which predict three crucial areas of performance specific to each team ahead of match day. If a side hits their target in these aspects of their game they will significantly increase their chances of victory. The data collected and provided by Opta for all England internationals is analysed by IBM, before being hosted on RFU.com. The design, development and integration of IBM's feeds was carried out by RFU.com's digital partner Aqueduct (www.aqueduct.co.uk).
[youtube]http://www.youtube.com/watch?v=HnshQnmn5t0&feature=share&list=PL129B63487B9FFBBB[/youtube]
English intensity vs Scottish spirit
The Keys to the Game for England's first match of the RBS 6 Nations show that in the face of a mean Scottish defence, it's all about line breaks and possession for Stuart Lancaster's side. Win more than 14 turnovers and break through the Scottish defence more than five times and England will be laying important foundations for a home win
England keys:
Win more than 14 turnovers
Make more than 5 linebreaks
Achieve a successful goal kick percentage of more than 74%
Scotland's best chance of leaving Twickenham with a rare win comes from playing a tight, accurate and disciplined game. The TryTracker analysis has identified that if Scotland can be successful in 95% of their tackles and win more than 85% of their own lineout ball they will significantly increase their chances of victory.
Scotland keys:
Achieve a tackle success rate greater than 95%
Win more than 85% of own lineouts thrown
Have more than 6 attempts at goal
Momentum and more
In addition, the platform will feature a new way to represent 'Momentum', which identifies key moments, decisions and turning points based on every facet of the game and then depicts the flow of the match, visually.
TryTracker also determines the match's 'Key Influencers' by analysing every action of every player to reveal which three players are having the biggest positive impact on their team's overall performance. Results are based on position specific historical data, and will benchmark players against the average performance of their teammates.
The momentum and player influence views are available once the match starts along with live text commentary and vital stats for each team. Before the game users can check out what the keys to the match will be and look at both teams' lineups.
IBM and the RFU
As well as providing the analytics for IBM TryTracker, the agreement also includes the implementation of a Customer Relationship Management (CRM) transformational plan for the RFU. Using IBM Analytics will allow the RFU to better understand information on rugby fans, their needs and preferences, to enable the organisation to communicate with supporters and participants in a more personalised way.
Sophie Goldschmidt, Chief Commercial Officer, RFU:
"We're delighted to be working with a company of IBM's calibre. This important new long-term agreement will enable the RFU to give fans even more insight and understanding into what's happening on the pitch and why, as well as ensuring we remain at the forefront of new technology to enrich the overall fan experience.  Our plans also involve utilising IBM's expertise to further benefit the grassroots game and enhance performance at the elite level."

"In sport and business, data is a game changer, "said Martin Guillaume, Media and Sports Leader for IBM Global Business Services UK and Ireland. "IBM is powering new consumer experiences with advanced real -time analytics. By doing this, we offer a new way to enjoy the game, by uncovering insights that matter, enhancing the fan experience and providing vital feedback to players and stakeholders."
This technology builds on what is already in use in well-known global tennis tournaments such as Wimbledon, The Australian Open and The US Open. IBM is tapping the power of predictive analytics to help deliver insights into everything touching performance, sports injuries, key plays and more. By delivering these insights directly to fans, IBM is driving a smarter sporting experience, giving millions of rugby fans around the world the tools to a more enjoyable game.
The world of sports, and many sporting teams alike, are finding new ways to uncover hidden insights from Big Data to gain a competitive edge.  Analytics continues to change how sport is being viewed and played, ensuring that fans have a complete interactive experience so they do not miss a moment.
The IBM TryTracker can be accessed by all mobile devices and tablets. The three Keys to the Game will be released every Thursday ahead of England games during the RBS 6 Nations.
On the 28th January, Digital Sport will be hosting our first event of the decade, looking at Euro 2020 and the digital challenges it faces in this unique year as
This article was written by Mildred Delgado There was a time where big-name sponsorship deals were the bread and butter of sports marketing. However, since there's been an overload of
La Liga has increased its total number of followers on social media 25-fold since 2013 and now has profiles on 12 different platforms publishing content in over 15 languages. Digital