Man City Invite Fans To Crowdsource Club History With #CityStories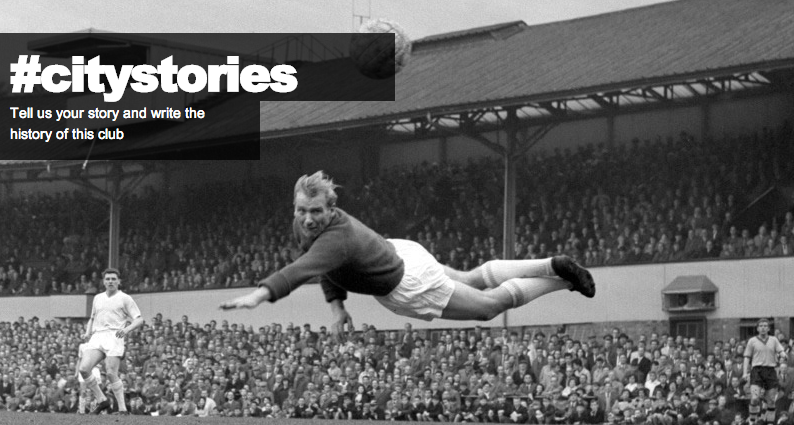 Manchester City FC have announced details of their new fan engagement platform, #Citystories. Built in partnership with Manchester based digital company, Capsool, City are the first football club in the world to invite their fans to write the history of their club using a cutting edge time-based platform. #Citystories is designed to connect City fans across the world through the art of storytelling.
Fan stories and memories will be shared and explored by City fans across the world whilst housed on a specially mapped out timeline. Accessible for City fans via the club website, the platform offers a new space for fans to talk about the highs, the lows and read some of the best moments in City folklore.
#Citystories will grow with each submission and create City's very own social archive, building a shared history that is contributed to and moderated by the clubs own fan base. The platform was launched to the worldwide City fan base via a Google Hangout on the eve of their opening fixture with fans as far as Brisbane and Dallas tuning in to mark the release of #citystories.  Fans participated in a live Q&A with the team behind the platform as well as City legend, Mike Summerbee.
[youtube]http://www.youtube.com/watch?v=zK4q463P5p0&feature=share&list=UUkzCjdRMrW2vXLx8mvPVLdQ[/youtube]
Diego Gigliani, Head of Marketing, Media and Fan Development said,
"Our online audiences are growing rapidly and we're always looking for new ways to engage our fans on a global level. We see this platform as the next step in user generated content because #Citystories allows our fans to produce their own content, tell their own story and share it with the world. We hope our fans love what we have created just for them."
Capsool's Paul Carruthers said,
"City fans have so many great stories about the club and all the highs and lows of their unique history. #Citystories is a hugely exciting project and we're thrilled to be working with the club. Sport has always been a key target market for us and we're proud of what we have delivered. We're delighted to help City continue to be a digital pioneer and look forward to extending this to other sporting giants."
Fans can add their memories and stories to #Citystories by visiting http://www.mcfc.co.uk/Fans/citystories
Olympic medallists Alistair & Jonny Brownlee first to invest in premium endurance sport apparel brand, as HUUB kick of Crowdcube campaign HUUB raising capital to drive continued category expansion and
Founded by a group of elite ex-players, Player 4 Player offers guidance and support to footballers to ensure they fulfil their absolute potential both during and after their professional playing
A recent Seven League study, in which in-depth consultations were held with representatives of tier-1 global sports properties, revealed that 83% believe that media rights have reached a high-water mark.