Juventus Launches New Official Website and Mobile App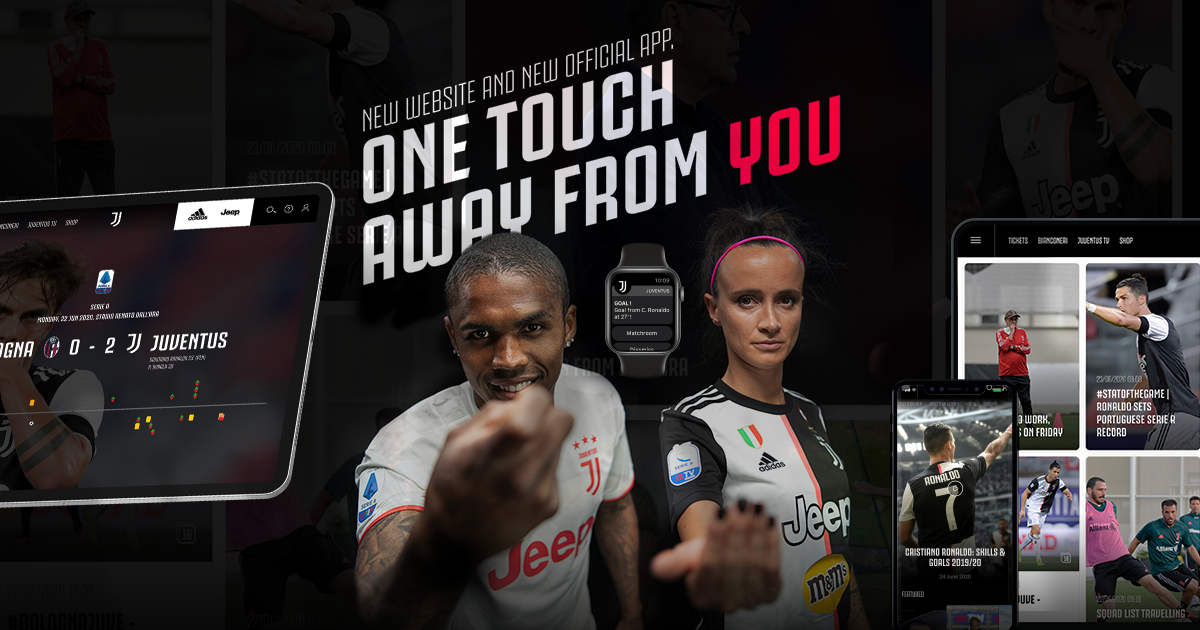 This article was provided by Deltatre
Developed in collaboration with fellow Turin-based company, Deltatre
Global powerhouse and reigning Serie A champions, Juventus, is delighted to unveil a new digital ecosystem – including the new official website and the new mobile app – which positions the club at the forefront of digital innovation, designed and built by the Turin-based global leader in fan-first experiences, Deltatre.
The launch marks a revamp of Juventus' digital strategy. It is the first big step in the development of an experience in which fans will be at the centre of a new, completely integrated ecosystem that aims to create a seamless approach throughout all digital touchpoints – including first-party and third-party channels.
It offers supporters a unique and consistent experience across its website, mobile app, a newly designed online store, and Juventus TV – the club's OTT platform – which is now integrated as the new video section. Fans will be able to log in to a brand-new profile page, where they will have complete access to their affiliation with the club. Other important additions will be the new membership programme and ticketing platform that will be available in the coming weeks.
Imagined mobile-first, both from a design and development perspective, the website is characterised by an accentuated, bold new design that puts fans at the heart of the experience. The UX has been completely rehauled, and the site is designed with dynamic content – such as videos and animations – in mind. This means that fans can seamlessly access content relating to their favourite players, moments or matches. Central to the collaboration was a fresh design approach, particularly in terms of the mobile app, with the striking asymmetrical layout being just one example of innovation.
Conceived with a long-term strategy in mind, the fan experience on mobile includes a club app that is an 'always-on' companion for users to discover new stories. From news and editorial, to stats and video streaming, all content included on the website will also be available on its mobile counterpart.
This project is the first step in a larger digital transformation journey. A smartwatch app that includes a match centre, news, calendar, league tables and fixtures will be available alongside the website. Personalisation is a major feature of the new digital properties, ensuring fans are supplied with content tailored to their specific interests and browsing behaviour.
With Serie A champions Juventus and their star players such as Cristiano Ronaldo back on the pitch, watching live football streams is the popular choice. Check out this page for every upcoming match and where to watch in the UK. We highly recommend getting a subscription from the official rights owners. Sky Sports, BBC, BT Sport provide official legal routes to watching. Every league in European football is listed including the Premier League and Serie A.
The website is powered by Deltatre's award-winning, sport-focused publishing platform, FORGE, and incorporates its 'LIVE BLOGGING' and 'VISUAL STORIES' fan engagement features. Content will be available in eight languages, as part of the club's commitment to engage with its millions of fans around the globe.
Giorgio Ricci, Juventus Chief Revenue Officer: "Since the beginning of the journey that led us to imagine, create and launch our new digital ecosystem, we strongly wanted to pursue two objectives fundamental to our vision. The first, to put the fan at the centre of the project, who now, thanks to a quick and effortless registration process, will have easy and personalised access to all touchpoints on the platform. As such, they will be able to enjoy all of the available content – videos will play a crucial role in our products and services available at any place and at any time. In addition to this, another important purpose is to continue expanding our global audience, to enhance the brand further and offer our partners additional opportunities for visibility."
"Therefore, a new and exciting path begins today; one which further enhances our leadership in the digital arena, and that we are proud to be able to realise through the collaboration of two forerunners in their respective fields. The combined efforts and the passion with which every single step has been addressed, allows us to launch not only a new website and a new app, but above all, a different, more direct and engaging way of reaching our fans."
Andrea Marini, Deputy CEO and Chief Commercial Officer, Deltatre: "We're honoured to collaborate with Juventus on this project. Deltatre is now a truly global company, but our roots are in Turin, Italy, so it is incredible to partner with a team from the city synonymous with success."  
"Owned and operated mobile-first channels are crucial to the storytelling capability and brand identity of sports teams and organisations. In Juventus, we found a partner that recognises the potential of investing in a premium, direct-to-fan relationship and the monetisation opportunities that this can unlock. We're excited to continue working with the club in evolving its digital fan experience well into the future, and we're confident that supporters all over the world will enjoy the new site, apps and OTT platform."
The project roadmap was followed with no delays, despite the current situation relating to COVID-19, a testament to the 'one team' approach adopted by both partners.
You can visit the new website at https://www.juventus.com/
The second day of SPORTEL 2021 got underway this morning in Monaco. Following on from yesterday's masterclasses, Wednesday played host to a number of conference talks from industry-leading professionals. The
This year's prestigious SPORTEL convention kicked off in sunny Monaco today, welcoming a host of familiar faces as well as plenty of new ones. Doors opened at 8:30am with businesses
After a one-year hiatus due to the impact of COVID-19, the world-renowned sports media and tech convention, SPORTEL, returns to host its annual event in Monaco. The conference will take