Introducing our second panellist for our Euro 2020 event: The FA's Chris Bryant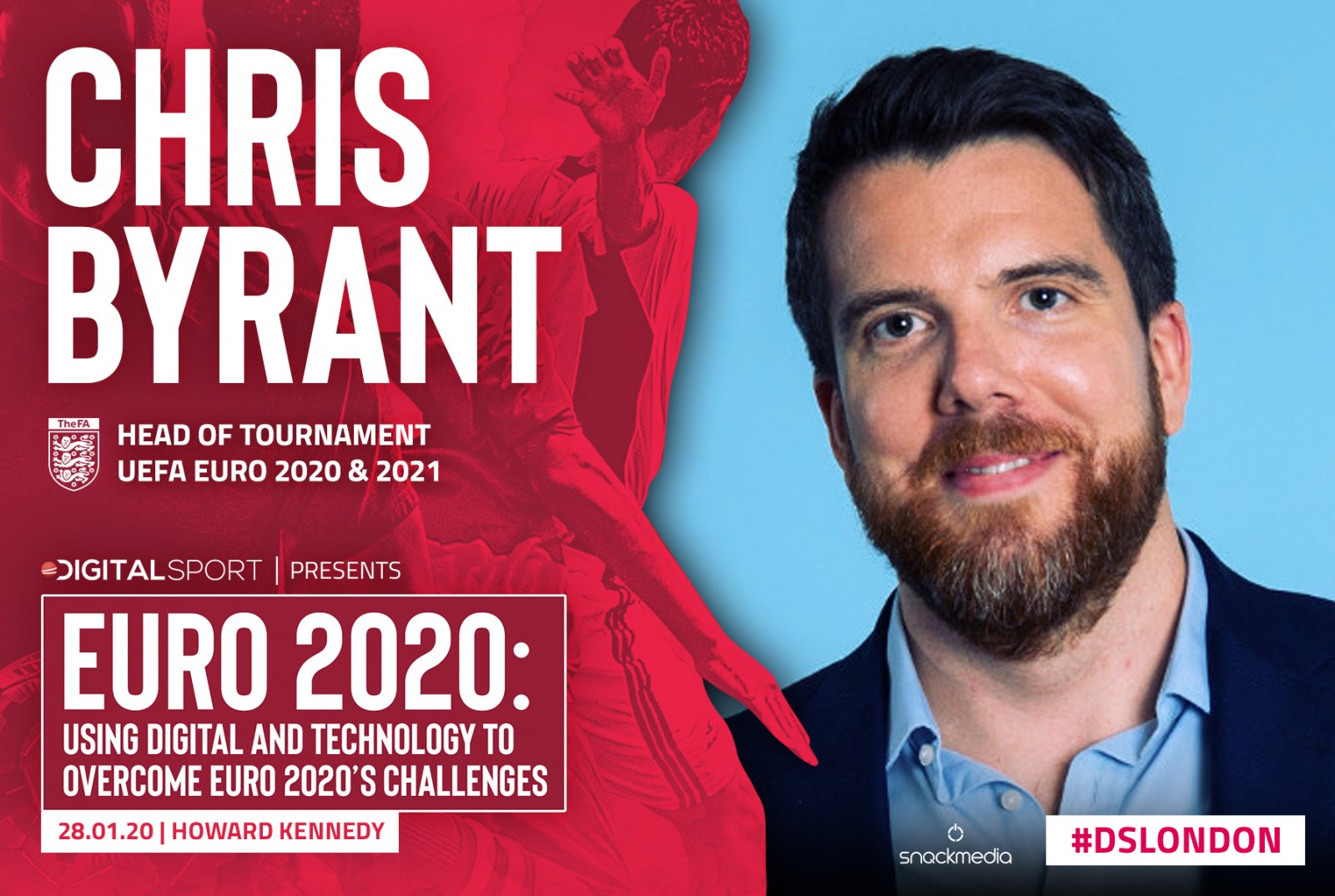 By Ash Dunsford-Tagg & James Bayliss
On the 28th January, Digital Sport will be hosting our first event of the decade, looking at Euro 2020 and the digital challenges it faces in this unique year as the tournament is being held in 12 cities in 12 different countries.
This one-off competition set-up is designed to celebrate 60 years of the Euros and gives 12 countries the chance to play "mini-host" to this grand event, the second biggest in international football. England and Wembley will be hosting all three of England's group-stage games, as well as the semi-finals and the final.
So how will this all work from a logistical stand-point though? Event organisers, media outlets, broadcasters, teams and fans will have to venture from country to country to follow, support and report on teams. Is this practical? Is it possible for this sort of event to run smoothly? What have UEFA put in place to ensure this can work for everyone involved? Is this design just a silly and ultimately impractical way to host a tournament of this magnitude? Or, is this a brilliant way to share the load and weight of a major tournament?
With the help of our panellists, we'll answer all this and more at Howard Kennedy on the 28th. But ahead of our event, we caught up with our second confirmed panellist Chris Bryant, Head of Tournament Delivery for Euro 2020 and 2021 at the Football Association, who provided us with the insight and perspective from one heavily involved in the management and delivery of this summer's hotly-anticipated competition. Before delving into the challenges facing them, we got to know how Chris is feeling ahead of the tournament. 
"I am massively excited. When you work on events obviously, it is amazing to see them be delivered, the three years you spent meticulously planning and fighting for this, trying to argue for that and getting money for this, and to see it all come to fruition is massively exciting.
"I think it will be great to see what London is like. Everyone remembers 2012, even when England got to Russia and got to the semi-finals; the electric atmosphere around London and England was fantastic – it could be even more amped up with England group games being hosted here at Wembley."
With Euro 2020 now fast approaching and Wembley Stadium set to host seven games – with at least three involving England – Chris reveals the vast amount of work that has had to take place behind-the-scenes in order to produce and deliver such a high-profile event: "It will be the biggest event the new Wembley stadium has ever seen and probably Wembley has ever seen in terms of the footprint.
"We are having to hire Wembley Arena, for example, for over 50 days and we are using that just for back of house facilities –to house our volunteers centre and logistics compound, ceremonies rehearsal space and additional offices.  That has never been done before.
"So big is the broadcast requirement that we essentially have had to adapt the building specifications of a new multi-purpose carpark to be able to house all the broadcaster trucks and equipment, and will eventually build a temporary cable bridge, over 220m in length to run the cables into the stadium.
"It is a massive challenge, not only to UEFA but to us as The FA, as the organising committee, and the stadium."
Along with ensuring the successful production and delivery of the competition at London's iconic stadium, Chris, his team and key delivery partners face the challenge of providing a lucrative experience for the thousands of European fans who will travel to the nation's capital to witness their team live.
In order to handle such an influx of people, Chris has revealed the background work that has been put in place to ensure this is a successful and enjoyable experience for all involved: "The Greater London Authority have a key delivery role in this event. The city is responsible for setting up fan-zones across London as well as ensuring fans and ticket holders can move about London.
"You are looking for an available fan-zone location to show an England match, where we think there could be tens-of-thousands people wanting to watch the team – where do you do that in London because there isn't massive spaces or parks that aren't already pre-occupied.
"On top of the event, you have to work with the police and TFL on planning for a major event where we are expecting a huge number of fans coming into the country to support their team.
This year's Euro 2020 championships and its new and innovative approach has brought along a variety of complications to the production and delivery of tournament. Chris elaborated on this point: "The delivery is much bigger; you have an organisation committee set-up in each country, as we have in London.
"We will build a team of about 80 people and that is just to deliver the London elements, and then you have got all your stakeholders on top of that. Play that through 12 times and then have to manage it centrally, for UEFA it is a very complicated model to work and for us to deliver it is very complicated.
However, Euro 2020 is only the beginning of a trilogy of football events to take place in the nation's capital over the next three years. Chris has outlined how the Football Association plan to make the most of this opportunity to build upon moving forward into the future: 
"The Wembley stadium footprint is changing significantly, if you look at all the buildings going up, so that in itself and the sheer scale of it is a challenge, and we need to future proof the stadium working closely with Quintain and Brent Council – key delivery partners for us in running the stadium.
"Obviously, for us, we are hosting Champions League in 23' , and the Women's Euro's next year, so there is a lot more in this for us in terms of how we deliver EURO 2020, but we know we will have to do it again."
This year's prestigious SPORTEL convention kicked off in sunny Monaco today, welcoming a host of familiar faces as well as plenty of new ones. Doors opened at 8:30am with businesses
Olympic Champions, UCI World Champions and World Record holders join the new track cycling competition debuting in November 2021 The UCI Track Champions League is delighted to announce that six
New insights from eBay Ads UK reveal the potential for brands to engage with an excited but nervous nation as sports events get back on track  As pubs and indoor