European Football: Who Wins At Social Media in China?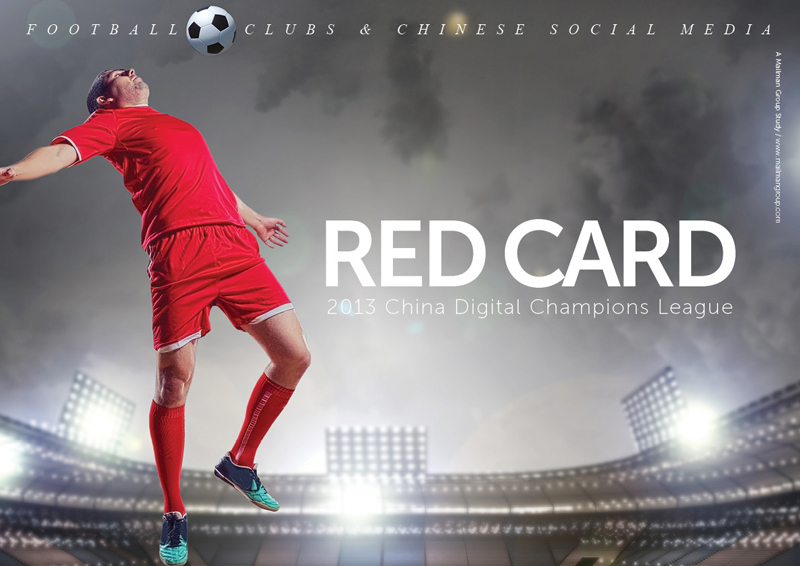 Guest Post:  Tom Kelk is a tech/sport blogger and Account Exec at global social media agency We Are Social.  You can find him on Twitter @TomKelk, LinkedIn and his blog.
Knowledge of Chinese social media is sketchy in the western world but UEFA football clubs are wising-up. Recently Shanghai-based agency, Mailman Group, released a review into the top 14 UEFA European football presences over three Chinese social channels; Sina Weibo, Tencent Weibo and to a lesser extent, Weixin. So to follow it up we spoke to their CEO, Andrew Collins, to get some more insights…
Without the platforms familiar to most of us, Twitter, Facebook and YouTube, this entirely parallel social media ecosystem has emerged. It is an ecosystem that boasts 500m+ active users and over a billion registered accounts. There has been a significant footballing investment in the Asian social market in recent times and judging on the results in Mailman Group's report, this trend is set to continue.
The 14 clubs were selected based on their popularity on the platforms. These included the expected clubs such as FC Barcelona, Manchester United, FC Bayern, AC Milan, Inter Milan and Real Madrid. Alongside this, five further British clubs made the study: Chelsea, Arsenal, Manchester City, Tottenham and Liverpool. The research base was completed by Juventus and somewhat surprisingly, Valencia and Malaga.
As can be seen, Spanish, Italian and British clubs are leading the way in working with social media but there is an ever widening spread of clubs showing their interest in exploiting the Asian football-following market. These European clubs have shown increasing efforts to make a name for themselves on Chinese social media and this is demonstrated by 57% of the clubs analysed having official presence on both Sina and Tencent Weibo to connect with Chinese fans online.
Just the one club included in the study had no official social channel; Manchester United. Andrew explained this as the same reason for a lack of an official Manchester United Twitter page – that Manchester United is a unique club and much more private on social media than any other team.
Whilst there are plenty of unofficial presences on Sina and Tencent, these have a far lower impact on fan growth than an official page might. For this reason, Manchester United have an 'official following' of just 400,000 – a tenth of their Manchester rivals.
All 14 teams' accounts were analysed across 5 verticals: total follower numbers, official presence, engagement rate, localization and popularity. Unsurprisingly, the top four performing clubs were arguably the current best four European clubs: Barcelona, Manchester United, FC Bayern and Real Madrid.
Despite Manchester City boasting an interestingly large number of fans (over double that of Barcelona), their engagement figures are lacking. We asked about this high number and whether there had been peaks in the follower numbers after winning the Premier League in 2012, which would fit with the research on reasons for supporting a side, but there were not dramatic peaks during this period. Indeed, Manchester City have clearly invested heavily in Chinese Social Media as their following figures have continued to rise "like clockwork".
What are some key take-outs from the study?
Mailman Group analysed the mindset of football fans on Chinese social media and discovered there are two central motivations behind choosing a club: glory supporting and superstar players. As a side note, it was found that only 1% of fans made a decision based on a club's visit to China.
The influence of superstar players was seen as significant by 40% of the Chinese football fans when deciding upon their club. This is outlined by Lionel Messi's following of 14m, which is over 4 times the amount of the largest-followed club – Manchester City. Mailman Group noted that clubs were far more successful when including their superstar players close to their digital strategy; currently, few clubs are doing this well.
The influence of 'superstar players' also applies to the presence of Chinese players at European clubs but to a lesser extent. Hidetoshi Nakata, for example, is arguably one of the most famous Asian footballers and has a following of 3 million on Sina Weibo.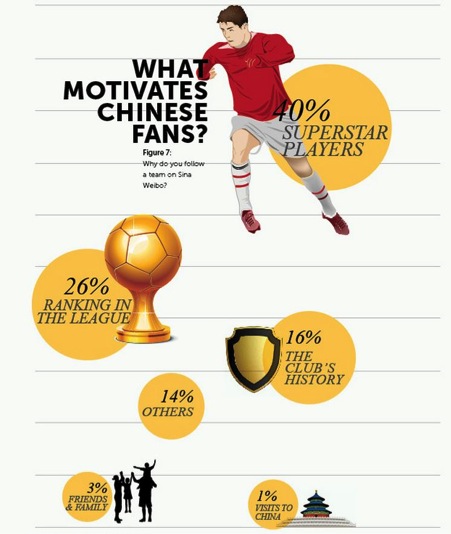 Glory supporting was a key factor in 42% of Chinese fans' club choice (combination of ranking in the league and club heritage). Indeed, many Chinese football fans support multiple teams and switch loyalties depending on achievement on the pitch.
When asked the question about whether this would negatively impact the attempt of smaller clubs to embrace Chinese social media; Andrew insisted there is a market for smaller clubs, and that the multiple-club support can indeed be an advantage.
It does seem that there are plenty of loyal fan groups for smaller clubs, and whilst these are not in the same magnitude as the 14 analysed, they are a good base for a successful social media strategy.
Mailman Group see 2013 as a crucial year for those operating on Chinese social media. Whether or not they are currently focusing on social media platforms, They believe that there needs to be more attention paid to tactical social media; for example, engaging in Mandarin is key to success in China for European football clubs.
Currently, European clubs are not taking their China content strategies seriously enough. They are not engaging well with fans on a personal level, and are focusing too heavily on follower numbers over engagement figures. This is highlighted by Manchester City's activity which leaves them top following figures table, yet bottom of the engagement table.
Content needs to be varied, and interesting for maximum gain, but there has been notable success with merchandise-related content. However, most clubs do not offer their Chinese fans the online store to purchase from. It is also interesting to note that 69 % of posts were highly-localised (i.e 90% of posts translated into Mandarin) which does show a certain commitment to Chinese social media from the top 14 UEFA clubs analysed.
It was revealed that the localised posts were receiving ten-times the engagement of posts in English. This demonstrates the importance of investing in translation for individual posts. Content strategies will also need to take into consideration the interesting trend of female followers on Chinese social media. In stark contrast to the western market, over 30% of Chinese football fans on social media are female. We are awaiting the engagement differences between men and women, which will be key to content planning for football clubs.
Here are the three key tips for football clubs looking to embrace Chinese social media in 2013, Andrew said:
1. Launch player accounts on Tencent Weibo and incorporate them into a club 'group' with consistent exchange of content.

2. Exploit the huge opportunities offered by Weixin in 2013. The mobile platform targets real users – each of them identified by their mobile number – in a more relaxed (ad free) online environment. Indeed, users only add their actual friends on Weixin, whereas Sina/Tencent users have a much wider/more random circle (similarly to Twitter). 

3. Partner with Chinese companies, for example run campaigns with the support of Sina/Tencent in order to maximise reach and penetration.
What the insights provided by this study have proven is that whilst European football clubs have made big strides in 2012, this is simply the tip of the ice-berg. Chinese consumers have an extremely strong interest in European football and these insights are a wake-up call to not only the 14 clubs in this study, but all other clubs in Europe's major leagues. There is a huge opportunity for European clubs in 2013, and it is an opportunity they need to start taking seriously.
Click here for the full study, it is well worth reading.
Eurosport has entered a five-year deal with ATP World Tour and ATP Media that will allow them to screen 37 ATP World Tournaments a year.
What we learned from Digital Sport London's October event.
Global online football publisher Goal has signed its second professional FIFA player. Danny Taylor joins Graham 'GrayzaGoal' McIntyre to complete Goal's eSports team and become Goal's first Playstation player. Prior