Deliveroo Partners With Gift Of Kit To Give Away Hundreds Of Free Football Kits To Support Womens' Teams Across The Uk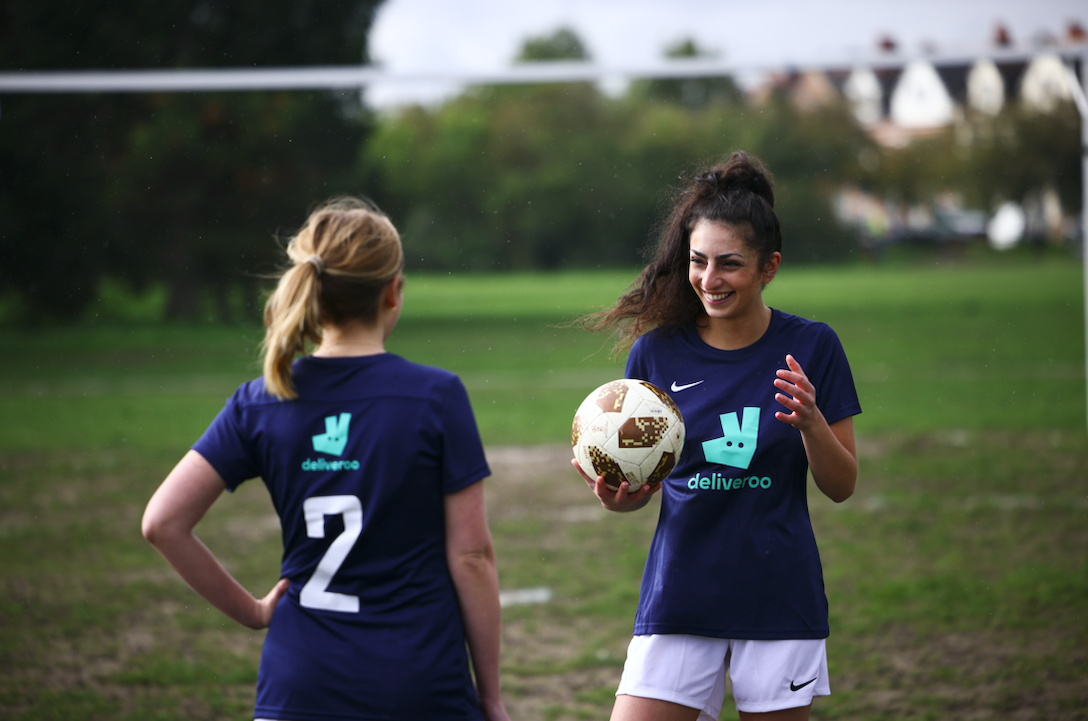 The food-delivery company has pledged to sponsor over 200 womens' grassroots clubs across the UK 
Community clubs have been severely impacted by COVID-19, losing sponsor revenue and other crucial income streams
Research shows that women's and girls' teams are considered most at risk due to reduction in club revenues
Teams can apply via deliveroo-kit.co.uk between 22 October – 1 November to be in for the chance to receive free Nike kit, 100x £5 Deliveroo vouchers and additional benefits.
Deliveroo have announced that they are extending their Gift of Kit programme to recruit over 200 new female teams across the UK. Community clubs have been severely impacted by COVID-19, losing sponsor revenue and other crucial income streams, with womens' and girls' teams considered most at risk.
Teams can apply via deliveroo-kit.co.uk between today (22 October) and 1 November, and Deliveroo will randomly select over 200 teams to receive free Deliveroo-branded kit as well as additional benefits;
One set of x14 Deliveroo-branded and numbered Nike jerseys in a range of colours (x13 outfield, x1 goalkeeper)

x100 £5 vouchers for team / club members to use during 2021

Access to additional Deliveroo offers, promotions and experiences during the season
The food-delivery company first launched the Deliveroo Gift of Kit campaign last year with huge success, bringing much needed support to over 28,000 grassroots football players. This year, Deliveroo is relaunching the campaign exclusively for womens' and girls' teams, who are considered most at risk of being hit the hardest throughout the COVID-19 crisis.
The new commitment from Deliveroo follows Monday's announcement of the FA's new four-year strategy, focused on Inspiring Positive Change in women's and girls' football. As an official partner of the Lionesses, Deliveroo shares the FA's ambition to create a sustainable future for women's and girls' football, and is proud to continue to support amateur teams across the UK.
Caroline Harris, Marketing Director UKI for Deliveroo said, 'We are committed to supporting the local communities that we are part of, and are grateful to have this opportunity to help local grassroots teams most in need, and get them back on their feet.'
For more information please contact Deliveroo's PR team press@deliveroo.co.uk
About Deliveroo
Deliveroo is an award-winning delivery service founded in 2013 by William Shu and Greg Orlowski. Deliveroo works with over 80,000 best-loved restaurants and takeaways, as well as 60,000 riders to provide the best food delivery experience in the world.  Deliveroo is headquartered in London, with 2,500 employees in offices around the globe.
Deliveroo operates in over 500 towns and cities across 12 markets, including Australia, Belgium, France, Hong Kong, Italy, Ireland, Netherlands, Singapore, Spain, United Arab Emirates, Kuwait and the United Kingdom.
Success of Scottish football club investment scheme now has the potential to aid the development of wireless connectivity in Scotland Shared Access, the wireless infrastructure operator that works with major
In partnership with Superfeet, Volumental and Fitstation by HP this joint solution provides a custom fitting experience including 3D-printed insoles. Superfeet, manufacturers of innovative over-the-counter insoles and footwear for the
With access to football games and live sporting events limited this year, Audi, as part of its sponsorship of Tottenham Hotspur, has launched a campaign to help football fans get