Twitter Analysis: How Zlatan spoilt Gerrard's big day
We have all heard about big Zlatan Ibrahimovic and how he took apart England on Wednesday night.  Was it the best goal ever scored?  I have my doubts – think Maradona v England, Carlos Alberto v Italy, van Basten v Russia, Messi v Getafe and I would even through in Mark Hughes v Spain.
It was certainly a great performance and overshadowed Steven Gerard's 100th appearance in an England shirt.  There have been articles galore written about the goal but I wanted to look at a camparison between the two players on Twitter.
At the bottom of this page is a chart that shows mentions of the two players during this last week.  There have been many articles on Steven Gerrard ahead of the game and a promotional video from England sponsors Vauxhall to add their celebratory piece to the mix.
What we saw was a steady rise in Gerrard mentions to around 14k – 15k mentions per day while Zlatan barely registered.  This rose a little when an interview came out with the Swede giving advice to the Liverpool player on how he should move clubs to win trophies (Liverpool have not won the league since 1991 whilst Zlatan has won 9 in 11 years – though 2 Juventus ones have been wiped off).
These mentions rose to around 25k for Gerrard the day before the game and then on the day to 50k as he lead his team out onto the pitch and England went into a 2-1 lead.
Then it happened…. THE goal.  Not only was it a great goal, he had already scored a hattrick by then and this topped it off.  It was a wonderful, cheeky attempt that came off, there are few other players in the world with the confidence and audacity to even try it.
This lead to the number of mentions to almost 250,000!!  #Ibrahimovic was trending during the evening and into the next day as the plaudits for his performance rolled in and people debated whether it was the greatest there has ever been.
Below is the chart of mentions and you can see how it almost goes off the chart.  Twitter proves itself over and over again as the place that people go to when showing their reaction to a moment and gets even those who didn't see it to talk about it and look it up (as I did).  It is the watercooler of our times.
As it's a friday then why not enjoy this video of Alan Partridge commentating on the goal.  "The proof is in the pudding, and in this case the pudding is a football"!
Life is best served with a smile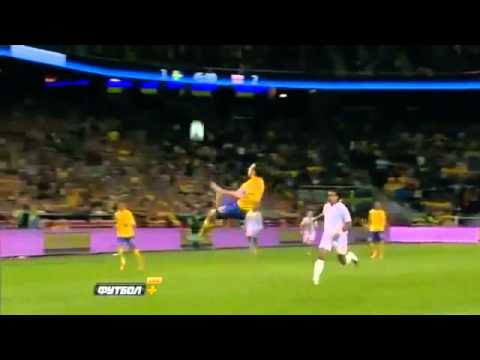 For non-football fans, Andrey Arshavin is Russia's most talented and flamboyant player, currently plying his trade with Arsenal. His talents on the pitch are there for all to see but a recent article in the Evening Standard highlighted his willingness to engage with his fans in a far more personal and human way than many (if not all) of his Premier League counterparts.
In a sponsorship first, I'm pretty sure I'm safe in saying that, we will see the much loved QR code being used on an athlete. Top British players Zara Dampney and Shauna Mullin have agreed to a lucrative test sponsorship with Betfair where they will be displaying a QR code on their much pictured backsides!
A really nice activation the guys at the PGA of America have launched today. Ahead of the final major of the year they are giving fans the opportunity to actually get involved with the course design!