Summer of Sport: Comparison of 4 Sports Events and their use of Twitter
Sports Digital Agency Seven League, founded by Richard Ayers (former Head of Digital at Manchester City), has put together an interesting piece of research based around one month of sporting events in the UK.  Here is what they found…
Within two weeks at the end of June and start of July 2013, there were four great sporting moments in the space of a fortnight;
The British and Irish Lions defeating Australia in the 3rd Test
The British GP at Silverstone
The Wimbledon Finals weekend
The First Test of the Ashes
Whilst the shortest of these was only 80 minutes, when you consider the build-up and the aftermath there is a significant window of attention around each event.  It's important that the Twitter accounts for each sport capitalise on this attention by building up to the event, covering the day of the event, having live coverage and then maintaining their activity post event.  They compared the four major events in order to understand the differences, strengths and weaknesses in their twitter performance.
Summary
Four different approaches were taken to tweeting across the events
Lions
›  The Lions tweets were informative and celebratory, with a larger emphasis on rallying support from followers than any of the other events
British GP 
›  The Silverstone account was mainly used for customer service — it primarily tweeted responses to questions and traffic information, with very few general tweets discussing the race
Wimbledon
›  Wimbledon's tweets were very informative, focused mainly around set commentary and quoting from interviews after matches. They used hashtags more than any of the other three events
The First Test
›  The ECB First Test coverage follows a distinct pattern —behind-the-scenes photos and videos of the players warming up in the morning, commentary of the tests in the afternoon and finally links to interviews/videos from that day in the evening. They are the only account to really tap into audio, and were more comfortable using a wider range of platforms (e.g. Vine)
Observations
Silverstone takes a very different approach to the other three events. It's very much about customer service rather than engaging and exciting fans.  Of the other three:
The ECB has the best balance of media tweets — it shares photographs, videos and links evenly. It also is the only account to use audio.  Wimbledon and The ECB are both very informative. However, Wimbledon goes into so much detail that it would alienate casual fans. In contract the ECB appeals more to both casual and hardline fans by only giving basic information in tweets whilst providing links for fans to find out more.  Wimbledon and The Lions were very good at including details of the experience of the event day itself for fans at home.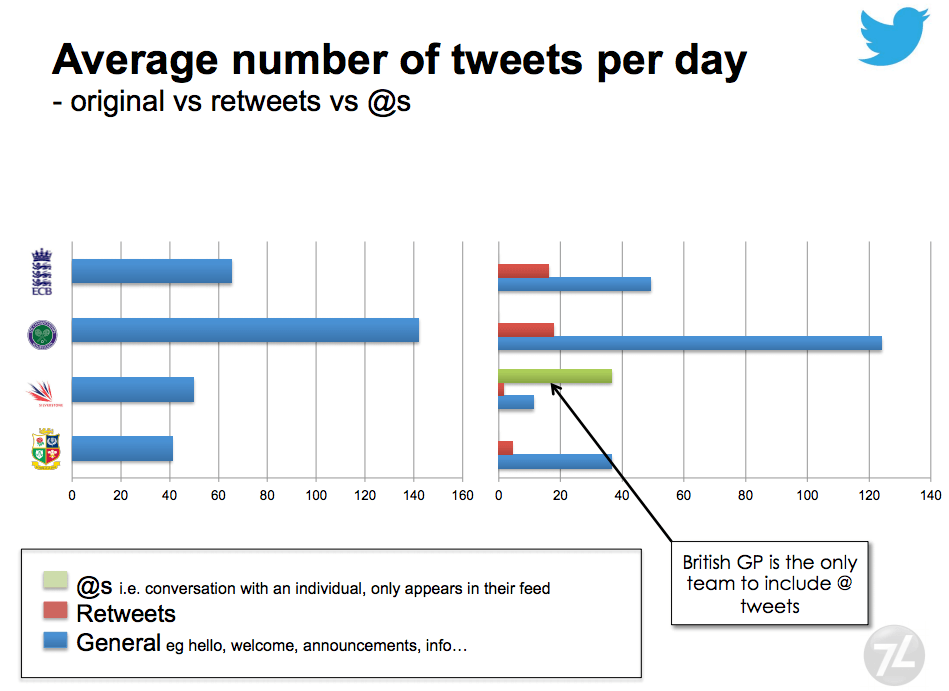 Comparisons by Day – Pre Event
Comparisons by Day – During Event Tweeting
Comparisons by Day – Post Event Tweeting
At the Betting on Sports conference last week at London's Olympia, Esports was firmly on the agenda. One of the interesting things about the nature of Esports compared to traditional
This weekend, League One side Blackpool became the latest club to use augmented reality in their matchday programme. It seems to be the new trend among football clubs trying to
Wednesday night's Digital Sport panel discussion on the future of sports broadcasting, from the London Sporting Club at Mayfair's Morton's club, brought together a panel of three voices from diverse