Virtual Reality work-outs have arrived, and they're awesome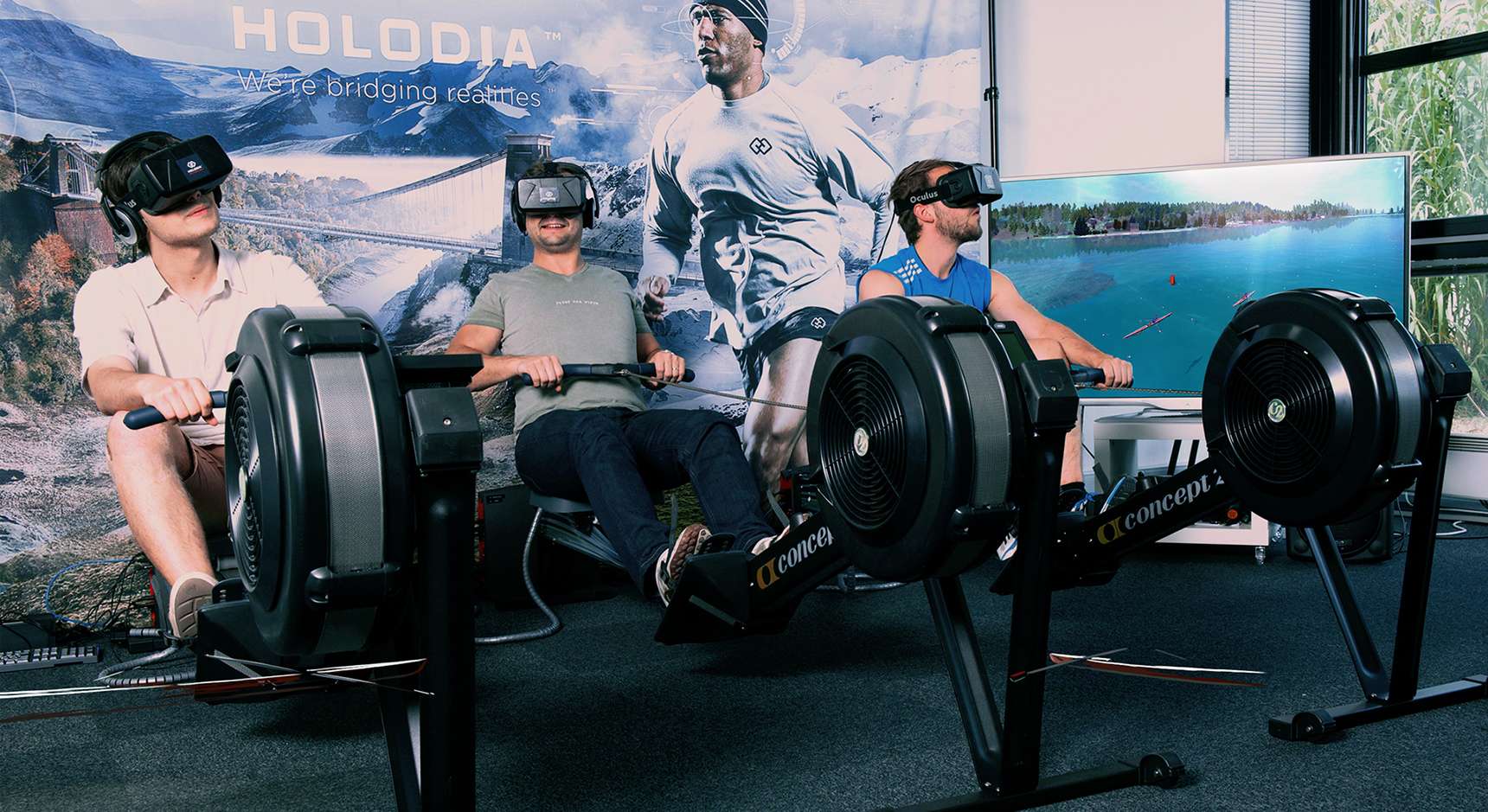 French Virtual Reality company Holodia have created a an immersive fitness experience, which is just as awesome as it sounds.
The "Holofit" is the only product of its kind, and the Strasbourg-based organisation is the first company in the world to market a patented virtual reality sports and fitness system which is free of motion sickness, and defeats boredom in the gym.

Holofit's premise is to combat the lack of excitement involved in doing aerobic exercise indoors. The repetitive mundanity of cycling or rowing often leads to members quitting the gym, and that's what they want to change.
Holodia have created the product to offer the possibility for "total immersion in exceptional environments, live a unique experience where wonder, change of scenery and competition do not leave any place to boredom."
Row or cycle on railroad tracks and through the jungle, flooded cities and frozen villages – even underwater – encountering crocodiles and killer whales on your way all whilst tracking your time and distance travelled.

But it's not just about exploring and relaxation: a user can compete with others locally or online with through a multi-player platform, whilst performance follow-up and virtual coaching offers participants assistance in hitting their fitness goals.
Check out the video here:
Holofit is available to pre-order now, and is expected to be shipped in June at a similar expense to that of a London gym membership: €10,900
Digital Sport is the official social media partners of SportHackTag, the only event in Europe specifically focused on digital innovation in sports, being held at the Emirates Stadium in North London on the 24th and 25th of May 2016. For more information, visit them here
Derby-based HUUB, market leaders in the £60 million UK triathlon apparel and accessories market, yesterday officially launched their Crowdcube crowdfunding initiative. With double Olympic medalist and world champion brothers, Alistair
Badminton World Federation has today announced a scholarship programme that will provide dual career athletes, who have chosen a joint educational and elite sporting life, and talent already employed within
Bellator MMA have today announced a new broadcast deal that will see live MMA broadcast on the BBC for the very first time. Eleven fights from Bellator's upcoming Paris show,