Under Armour Interview: Blair Tripodi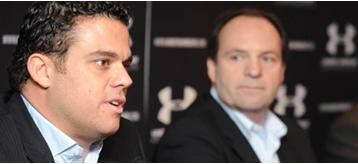 Under Armour is a Global sportswear company that has built a leading brand name in the hi-tech athletic gear. Under Armour traditional focus has been on compression (tight fitting) performance attire, but with a strategic marketing approach has also begun to offer a wide variety of products in other sports such as Football.
In a highly competitive sport, Under Armour launched in 2006 its first American football boots and gained 20% of the market that year. The company is constantly growing. For the fiscal year 2009, net revenue grew 18.1% from 2008 to $856.4 million.
I am interviewing Blair Tripodi. He is the Under Armour International Marketing Director. Blair has an extensive marketing experience and worked for the US Olympic Committee for 6 years as Director NGB Marketing, Director of Consumer Products and Brand Marketing Director. He is at Under Armour since 2006 and I am getting his views on Under Armour expansion in football and ultimately how Under Armour can challenge the largest established football brands.
1/ Blair, Under Armour is growing significantly and is nicknamed "the next Nike". Is it an accurate nickname?
It is flattering to be referred to as being the next great sports performance company however I like to think we are doing things the Under Armour way and even though we make product in similar categories, our stance and position in the market is also very different than our competition.
2/ Matt Powel (Sportsonesource analyst) said: "Under Armour captured the minds of the high school kids playing American Football. It's kids selling to other kids it's a social networking almost…" Is it a similar strategy Under Armour has towards football? Will the new Cristiano Ronaldo wear Under Armour products?
I would love it for the next Ronaldo to pick up a pair of UA boots or clothing and give it a go because we make great product.  Matt's comments are correct that in any sport Under Armour is popular or present in; we have a very organic presence.  We don't pay many athletes to wear the brand, most of the times you see the product on someone is because they or their team bought it from us.  That is truly where I think we are a cut above because people choose to wear Under Armour even if they have to buy it
3/ What are the main differences between Under Armour and adidas, Nike, Puma?
There are lots of differences and lots of similarities but the one thing which truly sets us apart is the fact that everything we make is designed too make the athlete better.  Even our hoody's and sweats are made from performance, moisture wicking fabrics. We've also developed products like the coreshort, recharge and Armour Bite – not as huge revenue drivers but as a tool to clearly position ourselves as the athletes one stop brand for all performance needs
4/ What are the main difficulties to penetrate football in Europe?
I think the difficulties are pretty clear.  A lot of brands want to win at football and quite frankly a lot of good brands with a lot of history behind them.  We fully respect the pecking order as it sits today and are taking our approach one athlete at a time.  We believe there is room and then some for Under Armour and that the consumer wants another – different – brand to compete with the current players.  And it has been seen by the players who have chosen to wear Under Armour already (Marcel SchaefferPaul Robinson, Bobby Zamora and others) that the product is fit enough for some of the worlds best players.
5/ Under Armour is the official outfitter of the Welsh Rugby Union. Is Rugby a platform to penetrate football in Europe?
Rugby feels good to our company as a sport to be in our sights to win at.  The sport itself is what inspired American Football in the US and so the fit from a cultural perspective is terrific.  Our program with the WRU also makes a lot of sense because we like to partner with passionate people and organizations and you could argue that no other country in the northern hemisphere is as passionate to Rugby as the Welsh are.
6/ Kevin Plank (Chairman and CEO of Under Armour) started the company with the success we know now. What can you tell us about him?
Kevin is a remarkable individual.  He is driven and motivated like all great CEO's but I also know he believes we have yet too make our signature product as a company.  He is pushing everyday for our company to innovate in everything we do from how we build product, to how it gets delivered to the story we tell and that is exciting to work for a company that doesn't sit still and expects change.  Very refreshing and personally gratifying.
7/ Who could we expect to see wearing Under Armour football shoes during the 2010 FIFA World Cup?
Well for sure you will see Marcel Schaefer on the German team.  We have some exciting special boots in the works for him which would turn some heads for sure.  Additionally of course we are holding out hope that Paul Robinson or Bobby Zamora will have some luck and be selected for the England squad.   We also have hope that Bochum's Joel Epalle from Cameroon will receive selection.  These players are all contracted UA athletes however I am sure you will see several other players wearing boots quite frankly because they are very comfortable and perform well.
8/ In South Africa this summer, 12 Federations are sponsored by adidas, 9 will wear Nike products, and 7 National Teams will endorse Puma outfits. How long do you think it will take to Under Armour to have national teams at a major football event?
A national team program is something we have thought long and hard about.  As I previously mentioned though, it isn't just about getting on field with a team, it is getting on field with a team that fits the brand.  So I think as a result our company will show a good deal of patience in picking the program that fits well with us.
9/ More and more football brands and clubs are using social medias to reach out to their fanbase. What is Under Armour approach?
Social media is playing a much larger role in some of our key markets.  From a UK perspective we have started using tools like Facebook and blogger networks such as soccerbible and footy boots as tools to tell our messages to the consumer.  We also launched our football boots on-line through our website – www.underarmour.com/UA11.  This was a groundbreaking program that I think acknowledged the movement of the consumer to the internet as a one stop shop for all their brand information
Leading antiviral cleaning company, Hycolin, has announced an exciting partnershipwith British racing driver, Abbie Eaton, to support her as she prepares to compete in the 2021 race season.  Antiviral cleaning
Super League Triathlon, the world's premier elite swim-bike-run series, has appointed Sport Collective GV6 to support the development and implementation of its commercial strategy. Super League Triathlon pitches the very
The three owners of Coventry based firm, Mirius, have bought in to CULFC. Mirius own the Hycolin brand which was unveiled as CULFC's new shirt sponsor last month. New ownership