Therabody® becomes Official Recovery Partner of Manchester City, Melbourne City, Sichuan Jiuniu FC and Mumbai City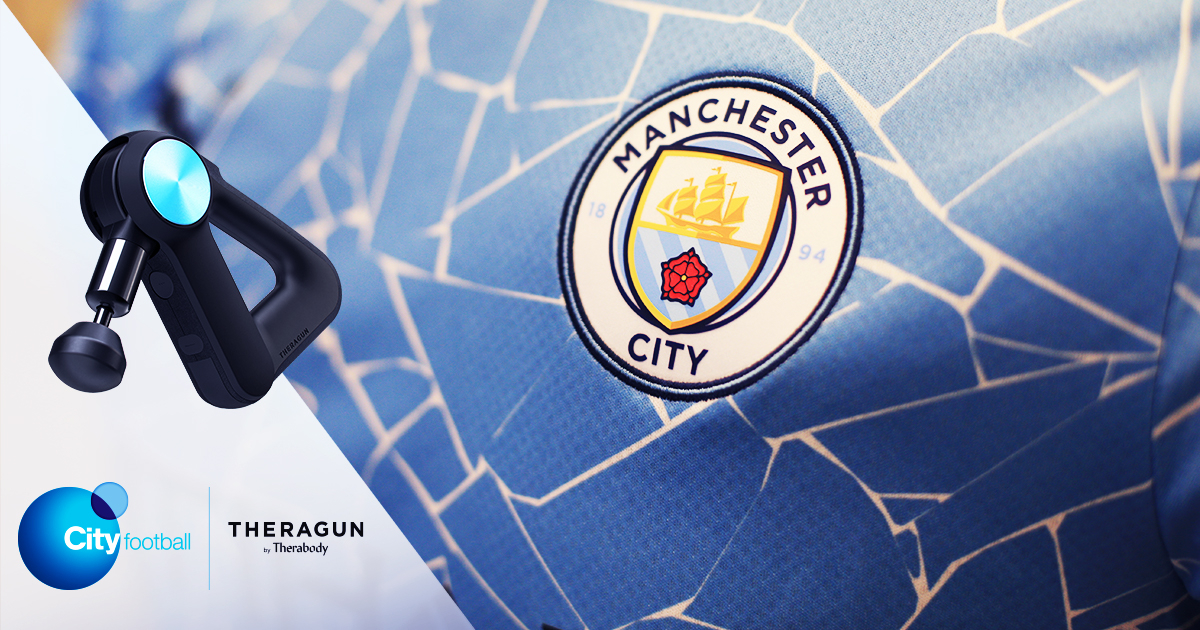 Therabody®, the global innovator of wellness technology, has today announced a partnership with Manchester City, Melbourne City, Sichuan Jiuniu FC and Mumbai City and will become the Official Recovery Partner of the respective Clubs, providing best-in-class recovery equipment to their network of teams.
The new partnership, which will see Manchester City become Therabody's first Official Premier League Partner, bridges together each team's mission to reduce the risk of injury and optimise recovery, whilst laying the groundwork for a healthy and sustainable career in professional football.
Therabody is the creator of the world's first-ever percussive therapy device, Theragun®,which is used to accelerate recovery, reduce the risk of injuries and support optimal athletic performance. Since its launch in 2016, the company evolved from Theragun to Therabody, an entire ecosystem of industry-leading wellness educational content and products that are at the intersection of performance and pain management, rooted in research and innovation.
In its commitment to seeking new ideas and technologies that promote performance on the pitch, recovery off it, and empower players to manage their wellbeing, Manchester City began incorporating Theragun percussive massage therapy devices and RP Sports' RecoveryPump, which was recently acquired by Therabody, into the Club's training and recovery programs in early 2020.
The new partnership will see the use of Therabody products expanded across Manchester City, Melbourne City and Sichuan Jiuniu FC. It will help each club to optimise further warm-up and recovery strategies in the pursuit of elite performances.
James Baldwin, Head of Physiotherapy at Manchester City Football Club, said: "We are delighted to welcome Therabody as a new partner. Supporting our players to help them reach their potential and caring for their overall health and wellbeing is vital for our organisation, as we strive to deliver high-quality performances and push for success on the pitch.
"We continually look for new ways to innovate and improve training and recovery for our players and through the partnership with Therabody, we will be able to provide best-in-class products, knowledge and resources to optimise training and recovery."
"We are thrilled to be joining Manchester City, Melbourne City, Sichuan Jiuniu FC and Mumbai City in their pursuit of enhancing performance and overall health of their professional players and Clubs," said Dr. Jason Wersland, Therabody's Founder and Chief Wellness Officer. "Educating people on the importance of taking care of your body, both physically and mentally, is core to Therabody's mission and drives our innovation forward. These clubs are leading the charge in taking care of their players and providing the best products in the industry to increase player longevity. It's an honour to be a part of a team whose mission and values align so closely with our own."
Through the partnership, Manchester City, Melbourne City and Sichuan Jiuniu FC will continue to integrate Therabody's Theragun devices and other leading technologies into team training and recovery protocols – on the pitch, on the go, or in their own home.  The clubs will also have access to Therabody's network of world-renowned health and wellness experts through Therabody University.
Therabody will also become the Official Recovery Partner of Mumbai City FC. City Football Group is currently providing advisory services to Mumbai City FC and has entered into an agreement to acquire a majority investment in Mumbai City FC. The purchase is awaiting final approvals.
For more information on the partnership, please visit Manchester City and Therabody.
About Manchester City Football Club 
Manchester City FC is an English Premier League club initially founded in 1880 as St Mark's West Gorton. It officially became Manchester City FC in 1894 and has since then gone onto win the European Cup Winners' Cup, six League Championship titles, including four Premier League titles (2012, 2014, 2018, 2019), and six FA Cups. Manchester City FC is one of eleven clubs comprising the City Football Group and counts New York City FC and Melbourne City FC among its sister clubs. 
Under manager Pep Guardiola, one of the most highly decorated managers in world football, the Club plays its domestic and UEFA Champions League home fixtures at the Etihad Stadium, a spectacular 55,000 seat arena that City have called home since 2003. Today, the Stadium sits on the wider Etihad Campus, which also encompasses the City Football Academy, a state-of-the-art performance training and youth development facility located in the heart of East Manchester. Featuring a 7,000 capacity Academy Stadium, the City Football Academy is also where Manchester City Women's Football Club and the Elite Development Squad train on a daily basis and play their competitive home games.  
For more information, please visit www.mancity.com 
About Therabody
Theragun® was created in 2008 and officially launched in 2016 by chiropractor Dr. Jason Wersland after suffering a life-altering injury. Building on over a decade of research and development, the brand's gold standard Theragun Percussive Massage Therapy devices use proprietary state-of-the-art technology to effectively reduce muscle tension, accelerate recovery, and improve performance. Theragun is the most trusted percussive massage therapy device among professional sports teams, professional athletes, celebrities, world-renowned trainers, physical therapists, and people in more than 60 countries. In 2020, Theragun rebranded to Therabody™, continuing its mission to provide natural wellness solutions through innovation in the percussive massage therapy space, developing and introducing the first of its kind Smart Percussive Therapy™ technology, seamlessly connecting to the Therabody app via Bluetooth® as well as launching its own U.S. grown and USDA Certified Organic CBD line, TheraOne. For more information on Therabody's latest products and to stay up to date on company news, visitwww.Therabody.com and follow the brand on social media via Instagram, Facebook, andTwitter. The Therabody app is available for download for iOS on the Apple App Store and for Android on the Google Play Store.
GoDaddy empowers Team GB Olympic hopeful Cheavon Clarke to launch new website to help UK 'level up' Heavyweight boxer Cheavon Clarke unleashes his entrepreneurial talent by launching a new website
Eurosport Events signs Sports for Climate Action Framework Every promoted series will be committed to setting a path for a low-carbon future All-electric PURE ETCR series the 'Flagship' for best
Amateur footballers, rugby players and parents have voiced concerns about the long-term health risks from head injuries in both sports and are for calling for law changes to keep players