Socios.com to launch crypto to Fiat debit/membership card for sports fans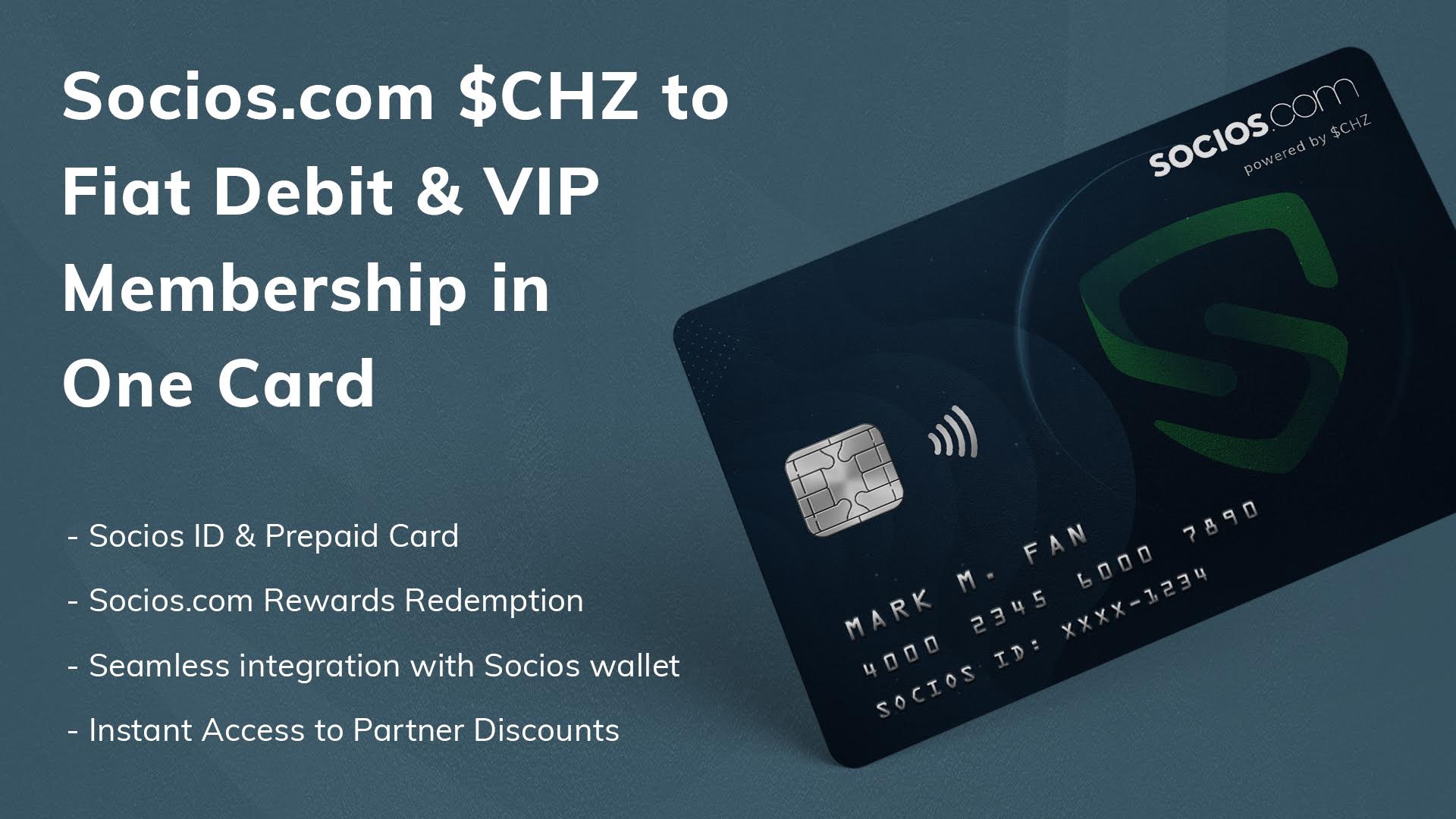 This story was provided by Socios.com
Chiliz (Binance:$CHZ), world-leaders in blockchain based fan engagement, have announced plans to launch a $CHZ to FIAT Socios.com Debit/Membership Card – $CHZ is the digital currency of Socios.com. 
The Socios.com Card will be both a membership and payments card, linked to Socios ID – a KYC  identity tool that will provide users on their blockchain-based fan voting and rewards app Socios.com with a unique global ID number (XXXX-1234) that can be used to redeem rewards and other benefits. 
The Socios.com Card will also allow users to redeem rewards linked to Socios.com, access partner discounts and to seamlessly access their crypto wallet to spend $CHZ and other currencies.
The Socios.com Debit/Membership Card is set to be launched this summer, allowing live transactions of $CHZ & Fan Tokens for all Socios.com partners. Chiliz are targeting 50 IP's on the Socios.com platform by the end of 2020. 
The card will initially be available in the European market followed by LATAM, Turkey and Asia. The identity of the Card Issuer will be revealed when the Socios.com Debit/Membership Card is launched.
It's been a very active start to 2020 for Chiliz, who have launched Fan Tokens on Socios.com with  Paris Saint-Germain, Galatasaray, A.S. Roma & Atlético de Madrid, following on from the first Fan Token Offering  (FTO™) with Serie A giants Juventus late last year. 
Chiliz also announced new club partnerships with CA Independiente of Argentina and, most notably, FC Barcelona, which generated headlines the world over and over 800+ pieces of news coverage.
The Malta based company boosted their expansion plans by announcing a strategic partnership with sports & entertainment marketing agency Lagardère Sports earlier this month. Chiliz also recently launched Chiliz.net – the world's first mobile and desktop cryptocurrency exchange for sports & entertainment products.
Alexandre Dreyfus, CEO of Chiliz & Socios.com:  "Using blockchain to create one unique ID for fans is an amazing use case especially in the sports and ticketing industries." 
"Our focus is to launch a product that will be used by fans but more importantly will be connected to some of our partners' ecosystems. 
"This will allow fans to be empowered with their Fan Tokens, but also rewarded with $CHZ and benefits thanks to this card. This strategic move is aimed at reinforcing our leadership in blockchain and sports innovation, by using technology to bring the clubs, sports teams & IPs closer to their global fan bases."
Digital Sport will be hosting a Blockchain event at the end of April/beginning of May! If you'd like to register your interest for this event, email our editor on contact@digitalsport.co.
The second day of SPORTEL 2021 got underway this morning in Monaco. Following on from yesterday's masterclasses, Wednesday played host to a number of conference talks from industry-leading professionals. The
This year's prestigious SPORTEL convention kicked off in sunny Monaco today, welcoming a host of familiar faces as well as plenty of new ones. Doors opened at 8:30am with businesses
After a one-year hiatus due to the impact of COVID-19, the world-renowned sports media and tech convention, SPORTEL, returns to host its annual event in Monaco. The conference will take