September's top 5 Best Branded Football Contents Campaign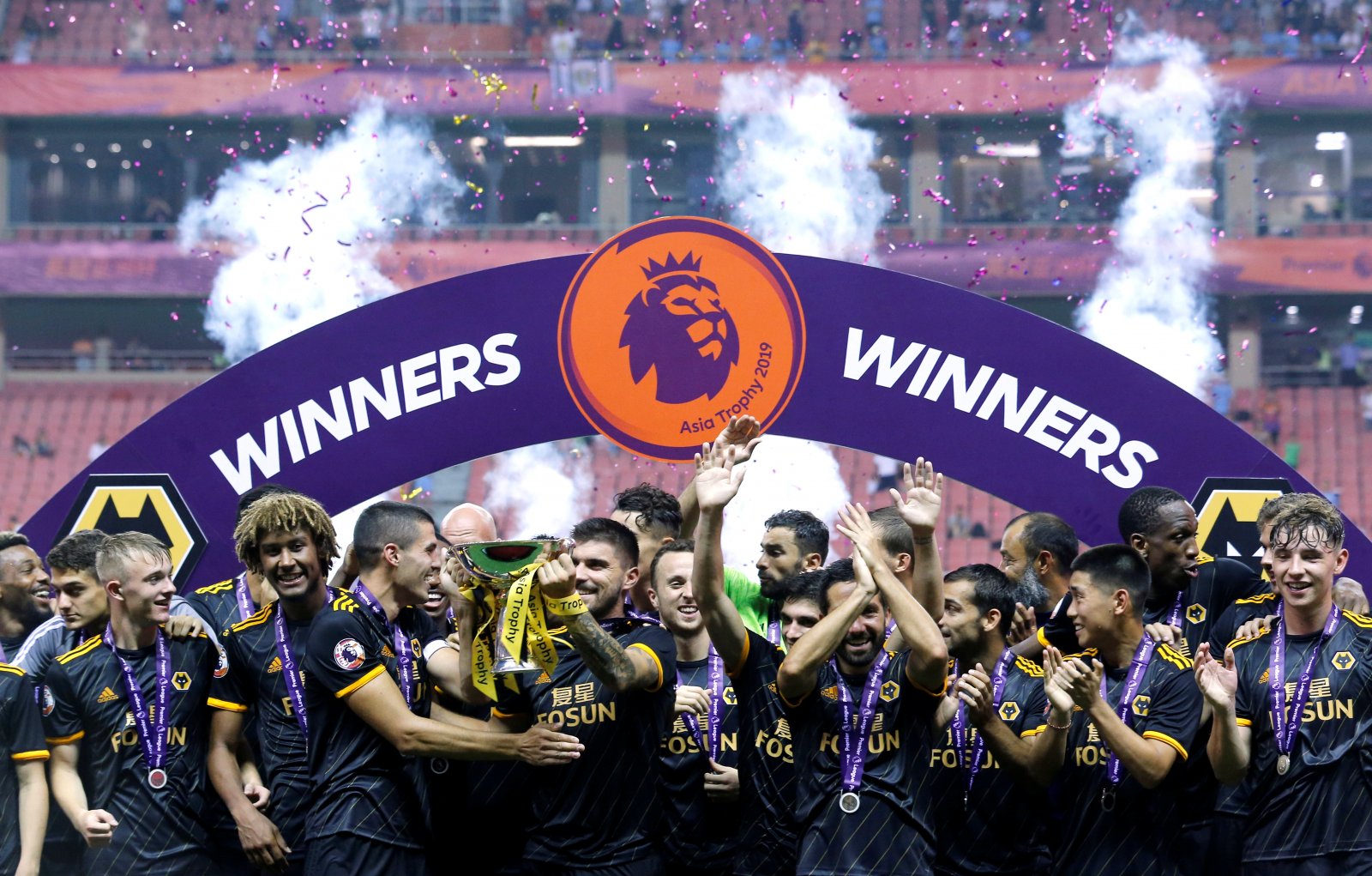 This series will look at the best branded football campaigns of September from television advertising to social media posts and online offers as Digital Sport evaluates how the biggest names in business are using their partnerships in football to create stand-out content for their huge audiences to engage with everyday. 
Football is relentless. The sheer number of games an average fan can consume, along with the extensive media coverage from broadcasters, the written media, YouTube channels and even the high volume of football campaigns from sponsors and partners in the game, is endless. Fans are consumed it in all the time, whether it be when watching TV or scrolling through their social media feed.
With it being so constant, how does a brand find a way to stand out from the crowd and deliver a content campaign more memorable and effective than the hundreds it competes with on a daily basis?
We've found the five from September that we believe stand out above all the rest.
Nike: Awaken the Phantom
Nike are renowned for delivering some of the most engaging and exciting football adverts ever seen, especially when launching a new range of sportswear. Well, once again, the kit manufacturing giants have delivered. 'Awaken the Phantom' is the latest short film by the American company which sees a mysterious entity being talked about by kids and football fans who debate who the god-like figure could be.
Within this campaign, fantastic graphics and shots are captured of world renowned players like Coutinho and Kevin De Bruyne, who show off their skills as a shroud of black smoke flows from them. Along with these two current super-stars, the advert does really well to tap into football nostalgia by introducing the likes of Ronaldinho, Andrea Pirlo and Gennaro Gattuso before bringing Mal Pugh into the frame, one of the American heroes from the Women's World Cup. The introduction of women's football players alongside the men's in these campaigns is a growing trend, and rightly so, as the two become more aligned on the back of the most viewed Women's World Cup of all time.
The rest of the advert is very in keeping with current pop-culture and mainstream cinema/TV in the way the 'phantom' is portrayed, and along with this the film is kept short enough so as to not become boring or unappealing to viewers. This advert has appeared on television, YouTube adverts, and on social media as well, promoting the new boots Nike unveiled for the coming season.
You can enjoy the campaign by clicking on the link down below:
Budweiser: Beer of Kings
Budweiser have supported and sponsored football for many years, with one of their most particularly noticeable campaigns coming in the summer for the Women's World Cup.
Well, their most recent campaign offers the chance to win Premier League tickets by purchasing their product, earning a scratch-card, going online to input the scratch-card code and therefore entering yourself for potential prizes, one of which includes winning Premier League tickets.
The campaign is a very smart one that incentivises the purchase of their beers from supermarkets and/or pubs for the standard price of a beer, with the potential to win big in Premier League tickets, which could be worth upwards of £80.
The marketing under the name 'Beer of Kings', makes the product desirable as Premier League stars such as Harry Kane and Virgil van Dijk front the imagery for the campaign. As well as just good graphics though, the beer company have created a very strong social media campaign to go with it. Budweiser have a dedicated 'Budweiser Football' Twitter account, and have conducted interviews with Premier League legends for social content, while also creating content strands for their social media presence built around the word 'king'. The following are good examples of this:
4️⃣ Kings to Watch in the Premier League this weekend.
Who do you think will shine? 😎#BeerOfKings pic.twitter.com/5ZrvUHCQy8

— Budweiser UK (@BudweiserUK) September 20, 2019
Who's your King to Watch this weekend? 👑 @Aubameyang7 @vardy7 @emersonpalmieri @DeBruyneKev #PremierLeague #BeerOfKings pic.twitter.com/PMsTXXwEoB

— Budweiser UK (@BudweiserUK) August 30, 2019
Cheers to the @premierleague Kings of the Weekend

👏👑 #BeerOfKings pic.twitter.com/5L3f29hqRx

— Budweiser UK (@BudweiserUK) August 28, 2019
The Premier League also tweeted Budweiser as they asked their followers who their 'King of the Match' would be.
#PL Matchweek 8's finest performances…

Which @budfootball King of the Match winner had the best weekend?#BeAKing pic.twitter.com/WliIq5IeEO

— Premier League (@premierleague) October 6, 2019
The beer company have certainly made use of their sponsorship and have built a social media trend that fits their target market as well.
Hankook Tires: Be one with it
Hankook tires have worked with Real Madrid for many years, and their sponsorship has seen an advert created that continues to play on TV despite it being almost 2 years old. However, in September the adverts were aired on TV as their deal with the Spanish giants sees some of the most renowned and famous footballers in the world star in their video ad in promotion of the tire company.
It's a fascinating advert simply because it surely would have cost a lot of money to pull off. However, it's not too surprising that they were able to do it as the Hankook name is one of the biggest in the industry. In fact, it sits 7th amongst them all worldwide.
The advert is in black and white, making it very noticeable and unique amongst other adverts that try to use plenty of colour. What's most unique about it is the fact that a tire advert has been able to deliver names like Gareth Bale and Sergio Ramos on their ads, which will draw the attention of any sports fans, who may well have subconsciously ignored it had there not been the big name stars on show. It's a very powerful strategy, and one that certainly gets the attention of everybody viewing.
FIFA Volta: Official Gameplay Trailer
September always brings huge excitement as fans of football, gaming and E-Sports eagerly await the unveiling of the new FIFA game, numbered by the year in which it will predominantly be played, with this year's FIFA20 having just launched.
This year FIFA announced the 'Volta' feature in the game, which sees a 'street football' option brought to the game in a similar way to how FifaStreet used to operate many years ago. However, the latter used to be a separate game entirely. This year the feature has been included in the game, which will certainly appeal to fans.
Much like Nike's Phantom campaign, the TV advert for FIFA includes players from the Women's World Cup as the game builds on the success and growth of the women's game, while they also bring nostalgia back to the fans who loved the old street-football game. Not only is this side of the game certainly going to bring plenty of excitement and diversity to the gamer's experience, but it also allows for promotional adverts to be unique and more engaging as they're so different to what we've seen FIFA deliver before.
This alone makes the Volta campaign brilliant for game users, but also brilliant from an advertising perspective, especially in a year where Pro Evolution Soccer (FIFA's main competitor) have upped their game.
Barclay's: #AllToPlayFor
Barclay's, the official sponsor of the Premier League, have said the following on their website on their campaign:
"For nearly two decades our partnership with the Premier League has seen the league go from strength to strength whilst at the same time we have invested heavily in supporting football in the community. Now, as the new title sponsor of the Barclays FA Women's Super League and with our commitment to giving every girl access to football in schools by 2024, we want to give women and girls the opportunity to grow through the game too."
It's a fantastic movement from the bank, who are working hard to push for opportunities for all, and have done this by announcing the biggest ever sponsorship of women's sport in the UK. They've since got famous players to engage via social media as well, such as Ian Wright & Kelly Smith:
At Stamford Bridge for @BarclaysFAWSL @BarclaysFooty | Height. 5,9.5!!! Point 5 is key 😂😂😂 #ItsAllToPlayFor pic.twitter.com/pxwyhk3Yt8

— Ian Wright (@IanWright0) September 8, 2019
At Stamford Bridge today for the opening weekend of @BarclaysFAWSL @BarclaysFooty #ItsAllToPlayFor pic.twitter.com/2woOjrf1Da

— Kelly Smith MBE (@kelly_smith10) September 8, 2019
This sort of social media presence with huge names in sport gets the campaign plenty of traction and recognition for the great work they're doing to help grassroots football in both the men's and women's game.
This article was sponsored by Snack Media, which is a leading independent sports digital media company with over 30m sports fans. They specialise in multi-channel content creation, distributed at scale. Through data driven engagement strategies Snack Media creates authentic connections between brands & fans. To find out how Snack Media can connect your brand with 30m sports fans, contact rupert@snack-media.com.
This year's prestigious SPORTEL convention kicked off in sunny Monaco today, welcoming a host of familiar faces as well as plenty of new ones. Doors opened at 8:30am with businesses
Leeds United is the first football club in the world to partner with TikTok to sell official merchandise and replica jerseys. Coinciding with the release of the new rhapsody purple,
The Lewes FC Board is delighted to announce that it has co-opted Sue Anstiss as a Lewes FC Director. Sue has been a driving force for equality in sport for