Playfinder data reveals instant post-World Cup Netball growth
The Netball World Cup came to an end in Liverpool on Sunday as New Zealand beat 11-time champions Australia to claim the title for the first time since 2003.
In a summer full of international sports tournaments, netball is the latest to see a rise in participation as Playfinder have discovered an increase in users of 39.47%.
The data they've collected states that the near-40% week-on-week increase in new netball users occurred during the World Cup this month, illustrating the impact that hosting the tournament has had on people following the tournament.
A repeat of England Roses' dramatic Commonwealth Games triumph wasn't to be on home soil, but it was still an impressive effort from Tracey Neville's side, who went out in the semi-finals to the eventual champions.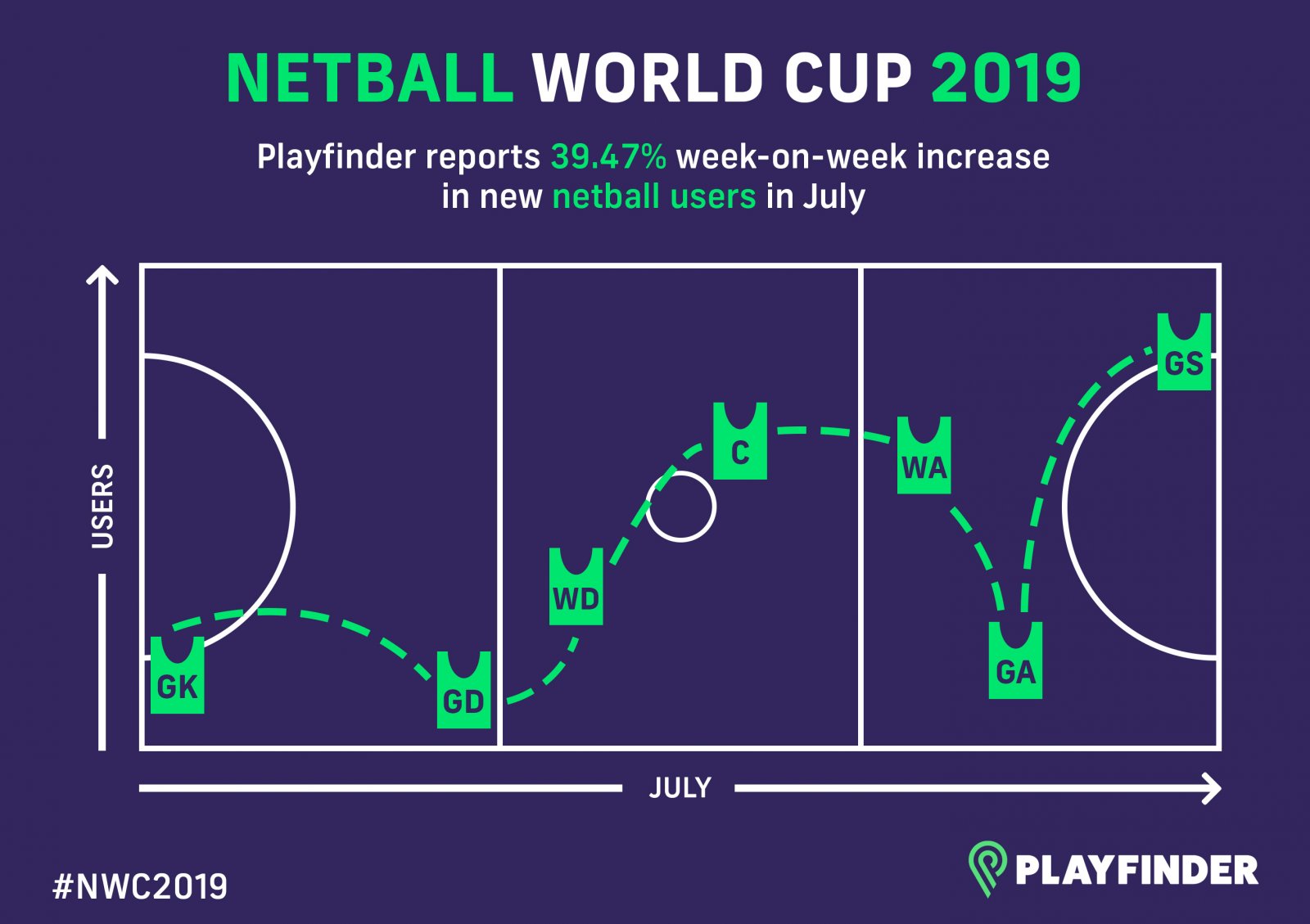 At the last World Cup four years ago, Neville was only interim coach when she guided her troops to bronze. This was England's eighth time in a row contesting a World Cup semi-final, and there's plenty of reason to hope and believe that they can one day take that final step to win it all.
Playfinder CEO and co-founder, Jamie Foale, commented: "Tracey Neville and the Roses have done the nation proud and they have set a lasting legacy for the sport in the UK.
"Discussions on England setting up a professional league to match Australia and New Zealand continue and our data shows there is a raft of new players getting into the sport. In years to come these players could help England finally land a World Cup."
Neville retires with the game in a healthy place and the vital job now is ensuring the sport's popularity continues to grow. Playfinder's data shows the sport is still loved at recreational levels and hosting the tournament has brought a wave of new players to the game.
The next Digital Sport London event will take place at Lord's Cricket Ground on September 9th. We'll be talking about the future of cricket with Owen Hughes, Nissan; Chris Hurst, ex-BBC and ICC; and Andy Muggleton, MCC.
Get your Early Bird ticket discount below!
Sportradar, a leading global provider of sports data intelligence and sport entertainment solutions, today announced a comprehensive extended agreement with Ligue Nationale de Basket (LNB). The new agreement covers data
Nielsen Sports has forecast that the 2021 Cheltenham Festival will receive its biggest viewership in a decade Potential for a 25% jump in sponsorship value expected due to an increased
Unique event with visual and audio cues from the Royal Parks Half course Special premium medal and events bag Guaranteed entry to a future Royal Parks Half if fundraising over