How social media in sport is becoming more interactive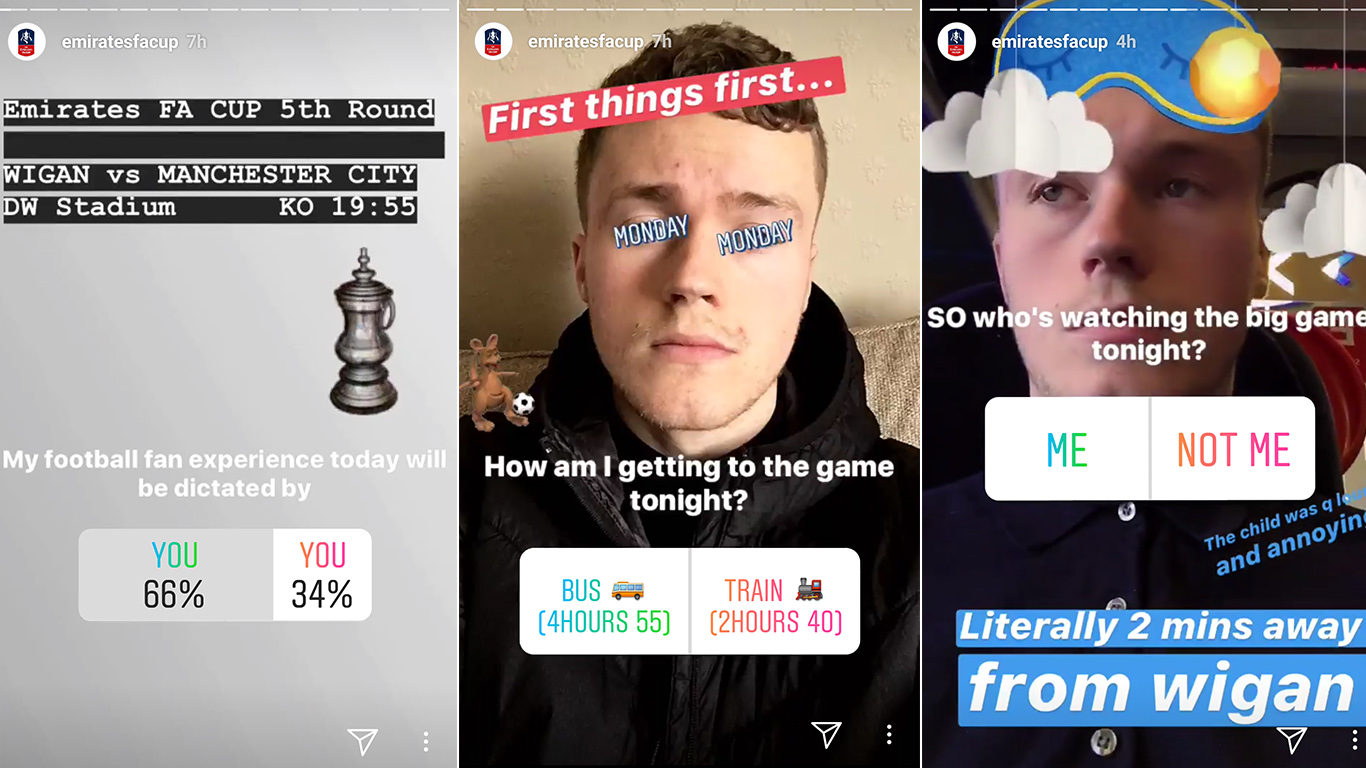 On social media, involving followers in the content strategy is a key factor in the success of brands and influencers, giving users the ability to control the content they see or ways build their own.
Sports organisations have begun to understand this with more and more custom activiations arriving from clubs and leagues to create new kinds of fan engagement which include creativity or interactive fan contributions.
Let's start with AS Roma, who recently launched a new a range of animated stickers. Since January, Instagram has given its users the ability to add GIFs to their Stories, and the Italian club has teamed up with GIPHY to create club customed GIFs which can be used by fans on the platform. It's a good way for the Giallorossi to encourage fan creativity and to get more club content inside their fans' own content.
???? Show your passion for the Giallorossi by adding official club GIPHY stickers to your Instagram Stories! ????????❤️#ASRoma #digisport @Giphy pic.twitter.com/8y3JDO7VeF

— AS Roma English (@ASRomaEN) February 16, 2018
Still on Instagram, the poll feature is becoming a great tool for sports organisations to reach fan engagement. Not only by getting fans' opinions about a upcoming games like the NBA used to do, but by getting fans' contributions on a Story itself. Indeed, yesterday, the Emirates FA Cup Instagram account gave to its followers the ability to control the content on their Story.
By voting on the Story, the FA Cup allowed fans to decide what experience antoher fan would have ahead of the game between Wigan FC and Manchester City. His mode of transport to get to the game, the music he listened to, even how he dressed… the whole fan experience was chosen by fans themselves on Instagram. It's an interesting practice to keep fans engaged all day in the build-up to the game, and to give them a "takeover" feeling, just like influencers used to do on Snapchat. The FA Cup example looks a bit similar to the Bayern Munich one with fans choosing which highlights they were able to watch after a game, and indeed direct the fan experience within the stadium: great for engaging fans who aren't lucky enough to have been able to get to the game.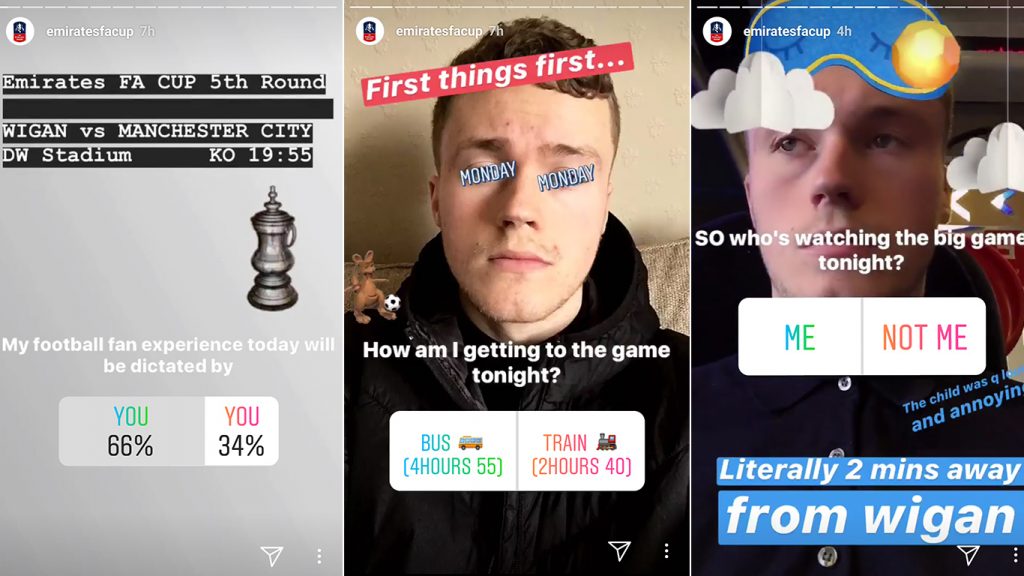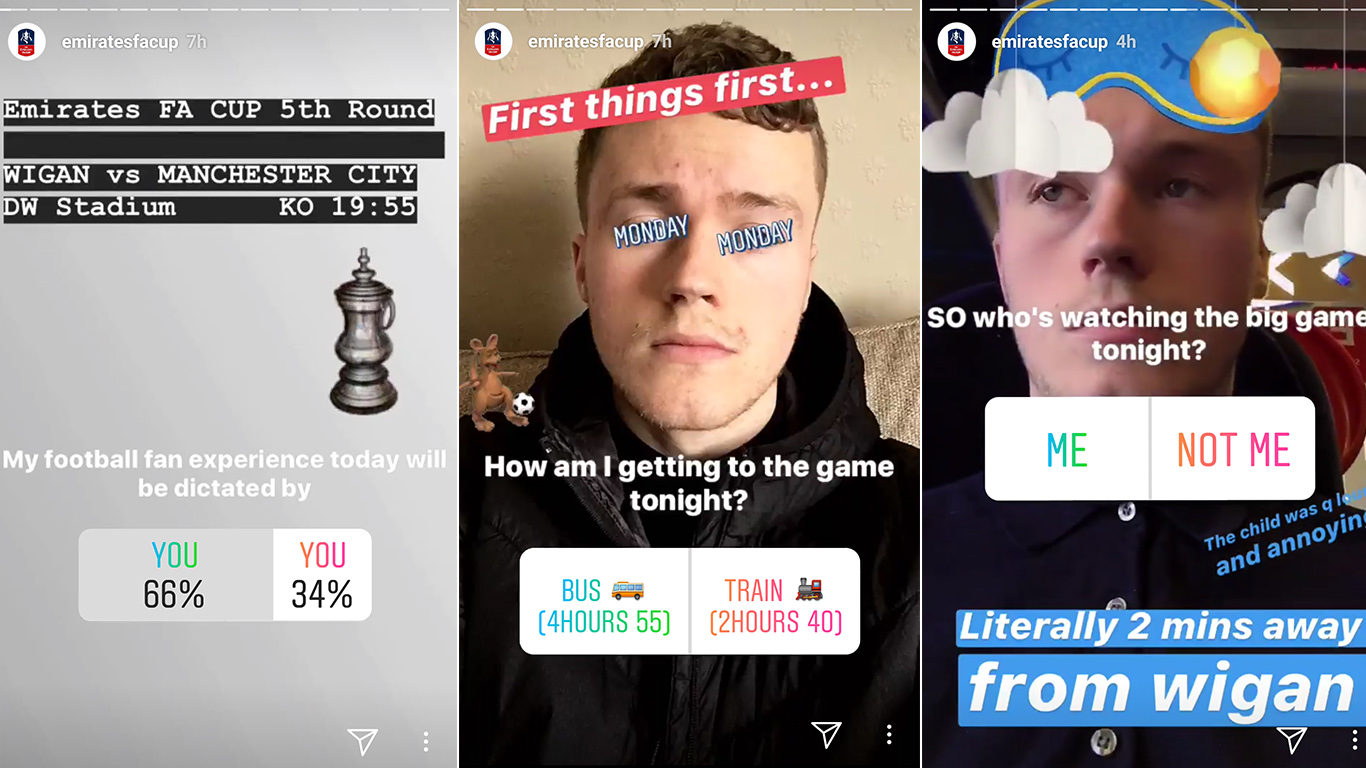 In addition to content elements creation or fans' choice, we can also see the fact that fans themselves can be the main actors of the content on social media. This is the case with Paris Saint-Germain with the #AutoTopChallenge. Ahead of Champions League clashes away, PSG challenge two fans who have to reach the stadium in few days doing hitchhike with the adventure shared step by step on social media. A challenge which has now became a regular social series with fans as main characters.
Un #AutoStopChallenge ???? spécial à la veille de la #SaintValentin ❤️
Jennyfer et Mehdi vont tenter de rallier Madrid ???????? pour assister à #RCMPSG !
Plus de 1200kms à parcourir pour nos amoureux ???? pic.twitter.com/cTFBXzmYY6

— PSG Officiel (@PSG_inside) February 13, 2018
"A special #AutoStopChallenge on the day before Valentine's Day. Jennyfer and Medhi are trying to get to Madrid to be at the Real Madrid vs PSG match. Our couple have 1200km to go."
To involve more fans in a social media strategy is definitely something to do in order to reach more engagement. A new relationship generated by personalised content with fans as creators or decision makers. Let's see what the next decisions or content chosen by fans on social media will be: which videos to watch? Player interviews? New jersey designs? It's one to watch.
By Daniela McVicker When it comes to sports, great branding is a must. Your brand influences how people see your company or team. It helps you to forge connections with
Article written by John S. Kim, CEO and co-founder of global API company SendBird Social media rose to prominence throughout the world due to its potential for connection. Social channels provided the
By Mike Constanti This series, in partnership with Snack Media, will look at the best football campaigns from advertising to social media on a monthly basis, as Digital Sport evaluates how