Nielsen Sports reveals the growing digital influence of Europe's top international rugby union stars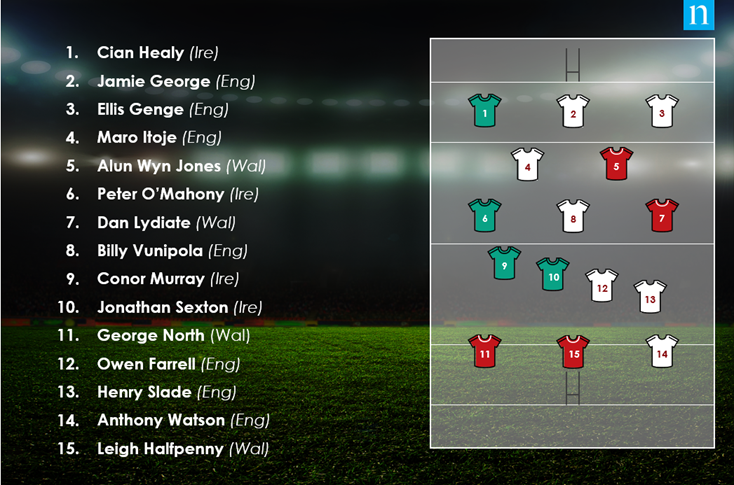 Rugby union players represent strong return on media value for brands, but many are not unlocking full commercial potential
Nielsen Sports' Influencer Scorecard reveals England's Owen Farrell is the Six Nations' top influencer, due to large audience and high engagement
France's Antoine Dupont a close second, despite only having the 10th highest number of followers
Link between size of following and number of caps and success on international stage
Analysis by Nielsen Sports shows that international stars set to light up this year's Six Nations have a burgeoning social media presence and represent a strong return on media value for brands
Analysis by Nielsen Sports, the global leader in sports industry analytics, has revealed the most digitally influential rugby union players set to take the stage in Europe's premier international competition, the Six Nations, this weekend.
Nielsen Sports firstly calculated the total following off all 2021 Six Nations players across Facebook, Twitter, Instagram and TikTok, revealing the most followed players per nation to be Owen Farrell (England), George North (Wales), Stuart Hogg (Scotland), Cian Healy (Ireland), Antoine Dupont (France) and Leonardo Ghiraldini (Italy).
Nielsen Sports then applied its Influencer Scorecard framework to the players' raw follower numbers, which calculates an overall influencer rating out of 10 using four key pillars: reach (fanbase across Facebook, Twitter and Instagram), engagement(engagement per Instagram post), resonance (number of mentions on social media in last 12 months) and value (media value generated per Instagram post).
Applying this framework, England captain Farrell was revealed to be the Six Nations' top social media influencer, with a score of 9.5. This due to his large following of 554,564 across Facebook, Twitter and Instagram, combined with high levels of engagement and mentions across social media. Farrell was followed closely by France's Antoine Dupont, despite the scrum-half only just making the top 10 highest followings (230,758), with an Influencer Scorecard rating of 8.5. Despite having fewer followers than the likes of George North and Cian Healy, Dupont generates a high level of engagement across his social channels and more mentions from fans and media on social media.
This has significance for brands and sponsors, who are beginning to see the value in rugby players who can still generate high levels of engagement despite generally having fewer followers than the unions they play for (England Rugby has 1m Twitter followers alone, compared to Farrell's 200,200). A brand with unlimited budget and a need to reach as large an audience as possible might opt for Farrell, for example, given his large following and strong engagement levels. If a brand was looking for a better return on media value however, they might opt for Dupont, given he would be cheaper (due to his smaller following) but would deliver greater media value. An athlete such as Dupont, who generates greater engagement rates than accounts with a similar fanbase, can be incredibly powerful for brands.
Nielsen Sports' analysis also revealed that very few of the Six Nations' top names are yet to monetise their growing audience, with even the highest ranked pair Farrell and Dupont producing fewer branded content posts compared to current players like New Zealand's World Cup winning Beauden Barrett, or legends of the sport like former Springbok Bryan Habana. This feeds into research conducted last year by Nielsen which revealed rugby union as a sport is commercially undervalued and yet to unlock its full potential.
One challenge facing Europe's international rugby players is the pre-eminence of football as the national sport in most, if not all, the Six Nations territories. Footballers have far higher social followings and are therefore able to monetise their audiences more easily. As an example, the Six Nations' most-followed player, George North – who has 98 Wales caps and has been on two British & Irish Lions tours – has less followers than Liverpool FC's Curtis Jones, a 20-year-old English footballer who has made just 20 appearances for his club following a breakthrough season last year.
Some players are also potentially missing out on commercial opportunities due to their absence from key social media platforms. Maro Itoje, arguably England's most recognisable player alongside Farrell and widely believed to be an England and British & Irish Lions captain in-waiting, does not have a Twitter profile. Entirely understandable, however it does limit his reach which across Facebook and Instagram stands at 274,901.
Nielsen Sports also calculated the highest followings per position, to create a Six Nations social media first XV, dominated by England with seven positions occupied, followed by Ireland and Wales with four each. This suggests that social media followings in rugby union are linked in large part to success on the pitch and number of caps, with England, Ireland and Wales the sole winners of the tournament in the past decade and boasting more experienced squads than France, Scotland and Italy.
Emmanuel Barilley, Digital Consultant at Nielsen Sports, commented: "The Six Nations is one of the most popular and valuable sports properties in the world. Our report into rugby union's commercial potential, which we released last year, showed it to be the fifth most popular sporting competition in the UK, with an impressive interest level of 31%.
"The same is true of some of its standout stars, such as England captain Owen Farrell and France's livewire scrum-half, Antoine Dupont. Our Influencer Scorecard framework highlights these two players as highly investable ambassadors for brands and sponsors, with large social followings and higher engagement rates than athletes and influencers with similar fanbases.
"Rugby continues to punch above its weight in many ways, but it has so much more commercial potential waiting to be unlocked – both as a sport and for its individual players. Football is unlikely to be unseated as the world's most popular sport anytime soon, but the relative value for money of rugby union and its opportunity for growth, coupled with its dedicated following for key competitions and athletes, should make it an attractive proposition for brands, sponsors and investors.
For more information about Nielsen Sports visit www.nielsensports.com
GoDaddy empowers Team GB Olympic hopeful Cheavon Clarke to launch new website to help UK 'level up' Heavyweight boxer Cheavon Clarke unleashes his entrepreneurial talent by launching a new website
Eurosport Events signs Sports for Climate Action Framework Every promoted series will be committed to setting a path for a low-carbon future All-electric PURE ETCR series the 'Flagship' for best
Amateur footballers, rugby players and parents have voiced concerns about the long-term health risks from head injuries in both sports and are for calling for law changes to keep players