The NFL Experience in New York shows us how leagues are becoming entertainment providers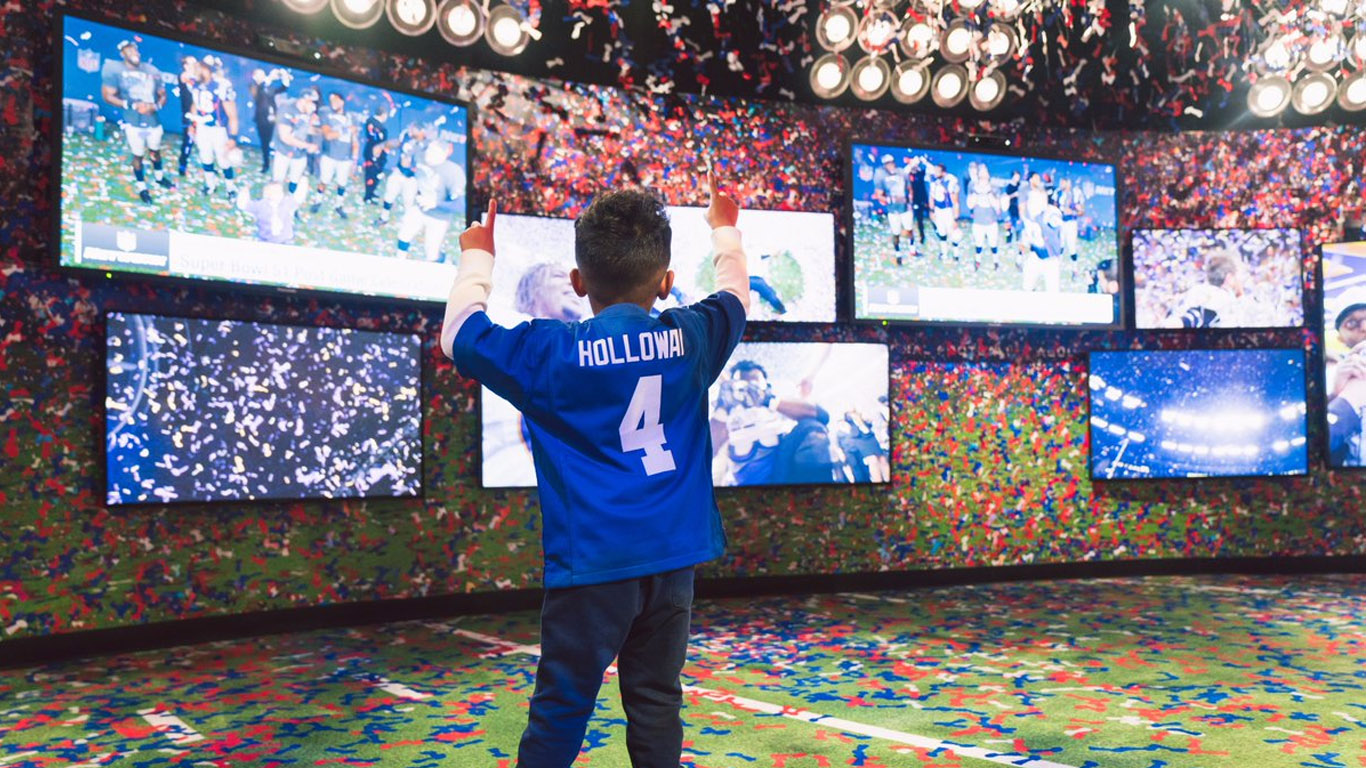 Just a few days ago, the NFL unveiled a new place dedicated to fans at the heart of New York City in partnership with Cirque du Soleil: the NFL Experience Times Square.
Built especially for fans, this complex of four floors offers a new experience for American football lovers, focused on the emotion and the love of the game.
"This is for both the avid fan, casual fan, domestic fan, and international visitors," Danny Boockvar, NFL Experience President, told SB Nation.
From $39, the NFL Experience gives visitors the opportunity to be immersed in an NFL's player life with a different environment on each floor:
Fourth floor: Their fans explore the history of the NFL in video, with the game's rituals, emblematic newspaper frontpages, quizzes and more. Then, visitors enter into a 185-seat 4D theatre in order to be totally immersed in the "matchday".  Via high-tech screens, movable seats and temperature changes, viewers experience what it's like to be on the pitch with the perfect reproduction of the stadium atmosphere.
Third floor: Fans enter the locker room where they prepare themselves to take part in the Super Bowl. The room features physical and digital activities to train visitors equipped virtually by US football equipment. After this preparation, fans get a play call from from a hologram of Super Bowl-winning coach Jon Gruden who calls the play: "DICE RIGHT 16 BULLSEYE X INDIVIDUAL". Once the training is done, fans have to do it for themselves with a quarter-back challenge, throwing a real ball and measuring their performance in terms of speed and accurary with QB legends.
Test your accuracy and speed → Compare it to @NFL QBs at the PERMANENT NFL Experience 365 days a year. #NFLX

Secure your tickets at https://t.co/rM2qgSrMMz. pic.twitter.com/emFJKipxrk

— NFL Experience (@NFLExperience) December 5, 2017
Second floor: From players to champions, fans can feel the celebration atmosphere with acclamation or camera flashes. Via Augmented Reality, fans are immersed in a great Super Bowl winning party with their teammates. They also get an interview from a journalist. After all these efforts, fans can finally approach the Vince Lombardi Trophy and the Super Bowl Champion's Ring.
The NFL Experience is showing us that we're in a new time where sports organisations are now entertainement providers too. As fans are looking for more immersion and exclusivity, clubs and leagues need to be close to them rolling out a physical presence using digital technology to create this emotion wanted by fans.
This, along with the likes of PSG's escape game for fans at the Parc des Princes and AS Roma's Fan Zone show that full-complex facilities can be a way to launch a new service for fans in order to provide greater satisifaction and engagement.
What did we learn from Digital Sport London's November event on OTT?
Working with female athletes isn't just about being part of a shift in mindsets – it makes perfect business sense too.
Football isn't lagging behind the rest when it comes to technology. In fact, it's leading the charge!