Neymar: the marketer footballer who reaches new levels of influence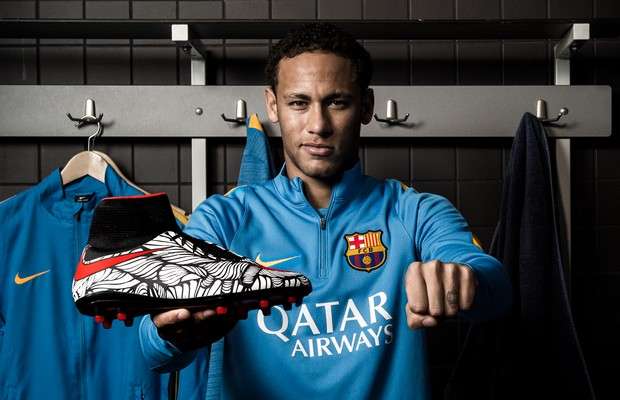 Whatever you think the definition of a football is, you probably have to change it these days. And whatever you think makes a player valuable, change that too.
Men like Paul Pogba prove the change is real. His world record fee didn't come about just because he's one of the best young talents in the world. It's also because he is a brand in his own right. And more importantly, he is effortlessly marketable to a very desirable millennial audience. Useable by other, more established brands like Manchester United, Adidas, Chevrolet and other assorted sponsors – all of whom want a slice of the millennial pie not afforded to them through their own position in the market. Why not use Pogba's ready-made audience, then?
This weekend is Neymar's birthday, and he falls into that category too. The marketer footballer.
For Nike, the sportswear brand who sponsor the Brazilian megastar, it's not so much his talent or his looks or even just his ability to influence on social media that makes him perfect for the role. It's also his nationality, and what he means to South America. In other words, Neymar isn't just an asset for his footballing ability, he's a gateway to an entire continent.
The Barcelona star was the home team's poster boy for the Rio Olympics, and from a sponsor's point of view, the perfect time to get the word out. Neymar – the greatest of the sub-geniuses, according to Barney Ronay in the The Guardian – is certainly a world superstar.
A sub-genius maybe, but not super-human like Lionel Messi and Cristiano Ronaldo – on reflection though, the best Man can get is really not that bad at all.
So at the Olympic Games, you might have expected Nike to take advantage of his position in the pantheon. And, of course, they did. Just not necessarily in the way you might expect.
The brand who make Brazil's football kits are fairly synonymous with Brazilian football these days. The yellow and green kit is so iconic around the world, and these days the Nike Swoosh is certainly part of it. But instead of promoting Neymar solely for his football, one of Nike's big activations around the Brazil forward was to team him up with another global superstar, Michael Jordan, to create a pair of Air Jordan football boots.
There's a lot of sense in that. The Air Jordan line is really more of a style brand than a sporting one – it was the creation of an iconic Olympic boot rather than a football boot, as such. The Olympic Games aren't about football, and football isn't about Olympic medals. So teaming Neymar with a two-time Olympic gold medallist like Jordan arguably makes more sense than asking him to promote one of their football-specific campaigns.
And yet it goes even further than that. Neymar is more than a footballer. He's a celebrity, the same as Jordan. Across North and South America, you'd be hard pushed to find bigger names, than Jordan and Neymar. Put them together and it creates an unholy, fire-breathing Daemon of marketing and influence.
It's about more than his footballing ability, then. The same for Pogba, for Cristiano Ronaldo and for Lionel Messi.
The collection of super-humans and sub-geniuses are celebrities for their ability, but they are stars for an entirely different reason. They are marketer footballers, excelling in two distinct and unrelated fields.
Neymar is a religious family man who also happens to have a swagger, a style and a ridiculous amount of footballing flair. And if you were to help a police sketch artist come up with a representation of all the characteristics a person would have to possess in order to embody Brazil and maybe even the entire continent of South America, you'd probably come up with a face very similar to that of the world's greatest sub-genius.
Even if Neymar is not among the two geniuses at work right now, he is arguably more valuable exactly as he is.
A look at the Hot Topics in this week's Digital Sport news.
A recap of the digital goings-on at this year's NCAA March Madness competition
Adidas Football, THAT Paul Pogba transfer, and their new approach to influencer marketing