New research report shows sports clubs how to monetise their social video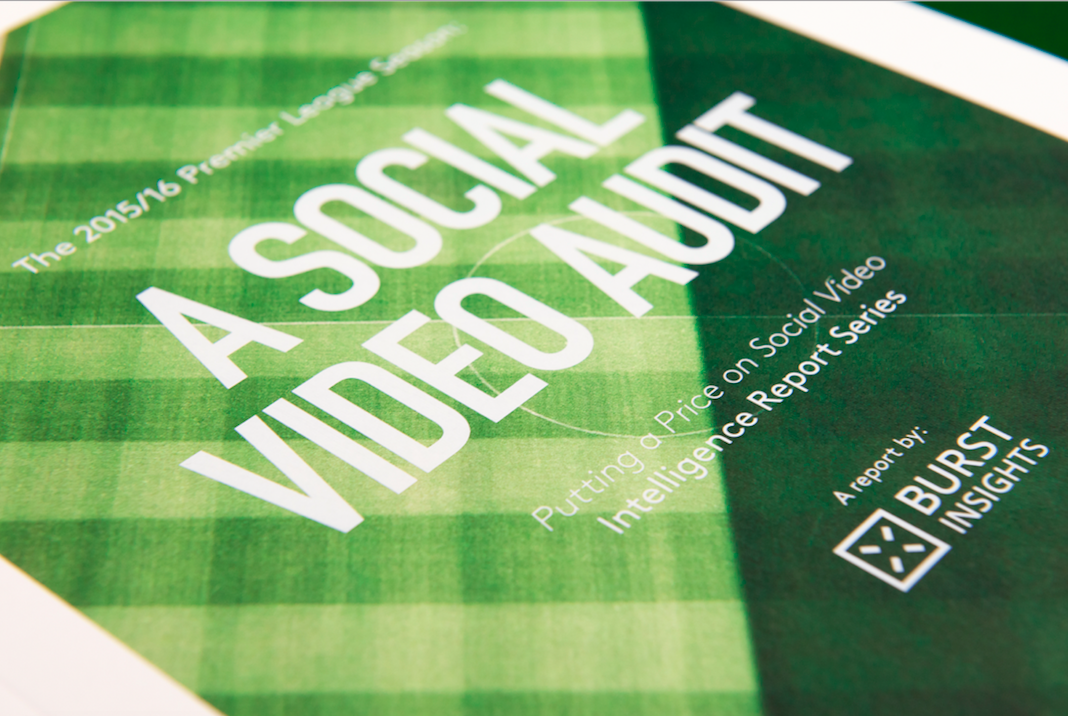 Social videos posted by Premier League clubs last season had an £88m brand exposure value for kit supplier brands, estimates social video intelligence company, Burst Insights. The finding was revealed alongside the launch of the company's first Intelligence Series sector report; a 90 page (10 chapter) in-depth look at the rising impact and commercial value of social video on Premier League football clubs and their brand partners.
While TV rights are contributing a vital role off the pitch to a club's bottom line, the impact of social video content produced by teams is still yet to make its commercial debut. Its value has remained unscouted to date by sports clubs and partnering brands, despite marketeers increasingly seeking exposure to the social fan bases of the English Premier League clubs, which was a community of 309m fans at the end of the 2015/16 season.
The challenge for sports clubs comes from putting a justifiable price on this potentially lucrative new content medium. This social video audit report addresses both the performance and profitability issues surrounding social video, creating a framework for how football organisations and sponsorship partners can mutually gain from greater social video performance insight.
Where other video monetisation companies are aiming to replicate traditional TV brand exposure methods, Burst Insight's Head of Research, Simon Bibby, has warned commercial partnership managers at sports clubs against signing up to this retrospective approach, commenting:
"TV viewership is declining while content engagement on social media platforms is exploding. As a result, the value to brands of partnering with sports clubs is shifting from infrequent TV exposure to the continuous content approach that all clubs are now adopting. Valuing TV brand exposure is based on passive viewership figures and it is a mistake to see social video as simply an extension of TV audiences. Brands are more interested in content engagement, which is why Burst Insights has developed a system that is built around valuing social engagement and turning it into a social currency for brand value."
The report includes creative and commercial analysis of the 60 most liked social videos from every Premier League club during the 2015/16 season. Kit supplier sponsorship exposure was calculated using Burst Insight's unique "engagement focused" valuation methodology. Each sponsorship value relates back to the commercial fee between the club and the brand (creating an ROI monetary value), the level of brand exposure, and an allocated proportion of consumer interactions within the video set being analysed. The value and sponsorship exposure results of each club's top performing videos was applied to the total videos posted during last season (1 June 2015 to 31 May 2016) to create the estimated £88 million social video valuation.
The Putting a Price on Social Video report also has significant creative learnings for social media execs at sports clubs. Every top performing video (a total of 956 from selected platforms) was analysed against 48 research creative criteria benchmarks. Some of the key findings include:
• Manchester United top the Premier League social video value table. Two clubs earned a £1m+ valuation on their 60 best performing social videos from last season, Manchester United (£1,130,625) and Chelsea (£1,086,000). Two additional clubs joined them in having an average video value above £10k, Liverpool (£16,304) and Arsenal (£16,050). Manchester City finished fifth in the value rankings, and was the only other club to have an estimated £1m+ value for their kit supplier across all of their 2015/16 social video posts.
• Kit suppliers featured in less than half of fan favorite videos. 53% of videos analysed featured no recognisable kit supplier branding. An additional 8% of videos contained kit branding from previous seasons. Interviews delivered the most 'dominant' sponsorship exposure (64%), while high production social adverts were the only other double digit format, representing 18% of all high brand exposure videos. This confirms that analysing creative performance is crucial to optimising commercial value.
• Social video is a squad game. An average of 23 players and management staff appeared in each club's top 60 videos. Yannick Bolasie surprisingly made the most individual appearances (16), followed by Harry Kane (15) and clutch of stars on 13 appearances for their clubs (Aguero, Payet, Mahrez).
• Players aren't the only likeable asset clubs have. Current squad players featured in two thirds of videos (67%). The next most popular assets were fans themselves, featuring in 15% of clips. Appearances by club legends (12.5%) just pipped club managers (11.8%) as the third most popular video asset. Stadiums featured over 100 times (10.7% of videos), boosting the clubs who have sold stadium rights.
• Game footage remains the most popular content format. Short match clips made up 29.3% of all videos analysed. Providing a key assist was pre match footage (19%), while interviews ranked third with 16.1%. Training ground footage shared 7% of the spotlight, aiding clubs with separate training kit/ground sponsorship deals.
Gareth Capon, CEO of Grabyo, a London-based company that helps content creators, ranging from La Liga to Wimbledon, share video clips, wrote an overview for the report. On its launch, he commented:
"Publishers and rights-owners are waking up to the growing competition for attention and recognising that broadcast programming alone is no longer enough to secure a loyal fan base. Monetisation remains the greatest challenge for content owners when assessing what, how and when to share video on social networks. This intelligence report provides important insights into how social video is being used today primarily by the Premier League clubs including top line analysis on some of the leading clubs in Europe. Crucially, it provides a framework for optimising content creation, distribution and measurement."
Burst Insights owns the world's most comprehensive database of brandcentric short-form social video. Our Discovery Platform enables users to search, rank, watch, tag and analyse over 10,000 brand accounts who have created 3 billion plus videos. This enabled our research team to go way beyond analysing social media metrics to create this report. The creative analysis, strategic advice and business acumen we put into our reports improves the social video know-how of clubs and enables them to work closer with their brand partners.
The second day of SPORTEL 2021 got underway this morning in Monaco. Following on from yesterday's masterclasses, Wednesday played host to a number of conference talks from industry-leading professionals. The
This year's prestigious SPORTEL convention kicked off in sunny Monaco today, welcoming a host of familiar faces as well as plenty of new ones. Doors opened at 8:30am with businesses
After a one-year hiatus due to the impact of COVID-19, the world-renowned sports media and tech convention, SPORTEL, returns to host its annual event in Monaco. The conference will take