A community game by the NBA to make Playoffs predictions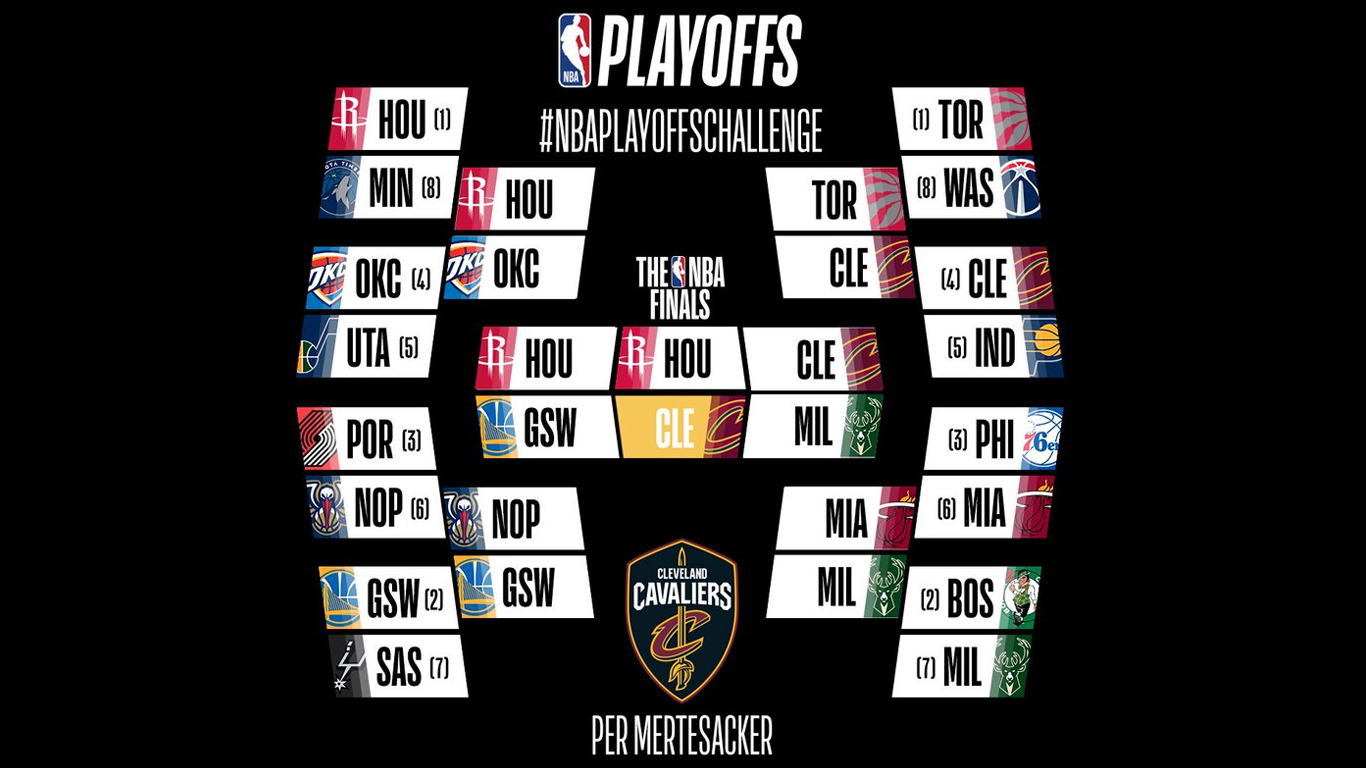 As part of the Playoffs, which started last weekend, the NBA has launched with its partner Budweiser a platform to allow fans to make their predictions: NBA Playoffs Bracket Challenge.
Haven't signed up yet? Need to make changes?

There's still time to play the #NBAPlayoffs Bracket Challenge presented by @budweiserusa! https://t.co/816FgoF3Zd pic.twitter.com/VgiibdrOJs

— NBA (@NBA) April 16, 2018
The goal is simple. After creating an account and selecting their favorite team, NBA fans can make their predictions of the correct score, with the number of games to be played for each series. Once the series has started, the prediction on it is locked in.
To improve their experience, users can join public leagues and create private ones with their friends. Each league has its own table where members get points according to their predictions: 100 points per series with the right score for the 1st Round, 200 points for 2nd Round, 400 points for Conference Finals and 800 points for the NBA Finals.
If you haven't create an account yet, you can still participate from the 2nd Round as the 1st Round has already started and invite your friends to join your league.
To generate engagement from users and get new players, the NBA encourages fans to share their 'bracket' on social media. A classic method which was a success with many of influencers and athletes like Per Mertesacker, Teddy Riner, Mateo Kovačić, Morgan Schneiderlin and more posting theirs on Twitter.
Bad start into the playoffs for my team @cavs. But I still believe they will make it ….What are your predictions? ???? #NBAPlayoffsChallenge @NBADeutschland ???? https://t.co/6fMtkgQn9W pic.twitter.com/JgQLYTYoog

— Per Mertesacker (@mertesacker) April 16, 2018
#NBAPlayoffschallenge is on! ???? #TiempodePlayoffs #NBAPlayoffs #NBA pic.twitter.com/zn0vUO6vYm

— Mateo Kovačić (@Mateo_Kova23) April 16, 2018
Prêt pour le #NBAPlayoffsChallenge – Je supporte les @warriors ! Et toi ? ➡https://t.co/535td8IMDV pic.twitter.com/oa9h1cO8D8

— Bafétimbi Gomis (@BafGomis) April 16, 2018
The NBA Playoffs Bracket Challenge looks like a gamification of the postseason tournament for fans with a real community and friendly game which is simple to access. That's not the most innovative but it could inspire other leagues and tournaments to propose a new kind of digital experience to fans.
Cumulative audience of more than 250 million set to enjoy live PURE ETCRaction Live coverage secured in 75 territories reached by Eurosport 1 and Eurosport2 Regular high-quality coverage guaranteed for
New Strategic Partnership and Multi-Faceted Relationship Spans Esports Programming & Event Production  First Collaboration To Debut at BLAST Premier Global Final on January 24, 2021 VENN, the global media network
The Motorsport branch of the Italian luxury manufacturer will bring action from the brand's successful GT and customer racing activities. Lamborghini Squadra Corse, motorsport department of the Italian luxury carmaker,