Man United and others to take perimeter boards to the next level through AR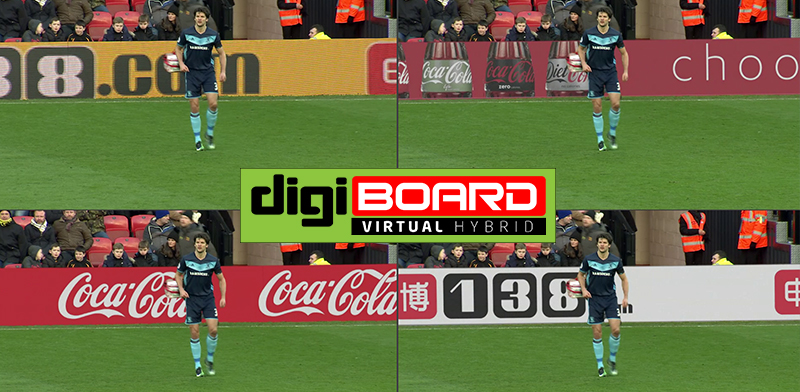 After launching in Spain, and at the end of last season in Germany, a number of Premier League and EFL clubs have invested in new perimeter technology this season, which gives them the ability to integrate ADI and Supponor's award-winning virtual replacement technology.
Virtual replacement technology makes it possible to deliver traditional LED perimeter advertising to fans within the stadium, whilst virtually overlaying the content seen by viewers watching in different countries. The new platform adds value to the media space by creating a highly-targeted platform for brands to localise their message for audiences around the world.
Ahead of the 2017/18 season ADI installed new S-Line digiBOARD perimeter systems at a number of football clubs including Everton, Derby County and Crystal Palace, with another due for delivery at Brentford Football Club in October.
The Virtual Hybrid platform is capable of delivering the highest quality virtual overlay solution and has five core features:
Industry leading visible LED – the most popular LED solution deployed in English league football over the past decade.
Seamless broadcast integration – powerful graphics keying engine delivers authentic virtual overlays, which seamlessly integrate with broadcast images.
Real time animations – no 'colour management' required means the full range of colours and animations are able to be deployed on the artwork in stadium and on the virtual overlay feed.
Limitless feeds – many multiples of virtual overlay feeds can be created in real time.
Multi-platform compatibility – in addition to broadcast, it is possible to achieve device-specific insertion of overlay content, enabling extreme levels of content personalisation for OTT and streaming services on smartphones, tablets and other devices.
Supponor CEO Charlie Marshall had earlier this month explained to BusinessCloud at the Soccerex convention how the technology could benefit the biggest football clubs.
"Take a big club like Manchester United. Their commercial strategy sees them doing increasing numbers of regional deals with local sponsorship brands," he said.
"One of the first questions that sponsors ask a club like Manchester United is 'can we be on the LED board? As our audience in Indonesia is watching the live game, can we have our brand inside Old Trafford?'
"The answer from the club is that they can't because there is no more space on that LED system. There's only 90 minutes in a game and they're sold out. There's no more inventory available. This system increases the amount of inventory and therefore the amount of selling that they can do."
Virtual Hybrid digiBOARD was awarded Gold at the Sports Business Awards in 2017 and is a finalist at this year's Football Business Awards, taking place in London.
Vcode® To Become New Shirt Technology Partner For Sale Sharks Rugby Union's First Ever Interactive Kit! Manchester based cyber technology company VST Enterprises Ltd (VSTE) has today announced it has
Derby-based HUUB, market leaders in the £60 million UK triathlon apparel and accessories market, yesterday officially launched their Crowdcube crowdfunding initiative. With double Olympic medalist and world champion brothers, Alistair
Badminton World Federation has today announced a scholarship programme that will provide dual career athletes, who have chosen a joint educational and elite sporting life, and talent already employed within