Making the most of Digital: Top 10 tips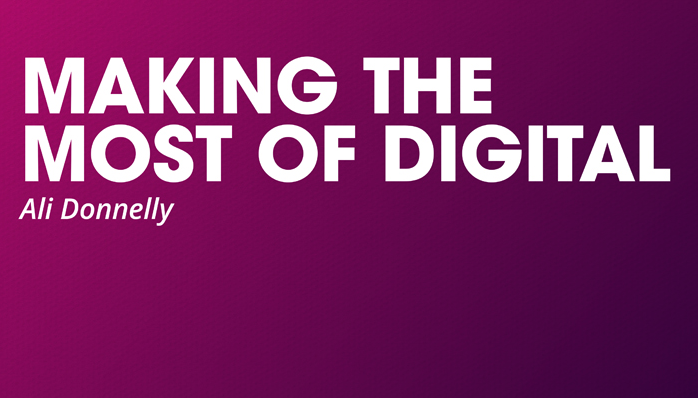 Guest Post: Former Head of Media at Wasps, Ali Donnelly gives her tips on how amateur clubs can make the most of their digital work. These tips are based on a presentation she gave to women's rugby representatives from around England. You can view the presentation here.
Ali is the founder of award-winning women's rugby website Scrumqueens.com and in her day job is Head of Strategic Communications at HM Treasury.
Ask yourself why
Why are you actually using digital platforms and why are they important? For me, whether it's your club website, social media accounts or platforms and apps that help to manage and organise your team, you must understand how and why these are helping you. Most amateur teams are not blessed with wads of cash for marketing so your club website and social media helps you with cost effective promotion – that much is obvious, but digital can do so much more than promote your team. Used effectively and using the right platforms, you can use digital to recruit and sustain players, to attract new sponsors and coaches, to manage your team and to bond you with your club.  If you are only focused on recruitment, then you should choose the right platforms to help with that – advertising on local area websites, updating your own club site regularly for example.  If you are mainly focused on getting your team more organised, focus on other applications, for example Whatsapp groups, TeamSnap/Teamer style offerings. Understand why you are doing it and don't waste your time on digital work that won't help you to achieve that.
Get the right people in charge
Getting the right people with the right skills to run your digital strategy (more on that later) is vital, but first your club must understand what those skills are! I would say to run an effective digital operation you need a variety of skills so I would always advise against asking one person to take this all on. Having just one person who "does digital" probably isn't maximising the skills you're likely to have elsewhere on your team. So what are those skills? Someone who writes well is a big bonus to help generate match reports for your website or local sites and news outlets and when it comes to quality content, consider who can help with images and if you are inclined, match footage. These people are probably not going to be active players but sports squads are large – use your contacts. More importantly you need people who are consistent and have the time and ability to be online regularly. Don't ask someone to run your social media accounts who hasn't got time to or access at work for example to certain sites.
Understand who your audiences are
It's tempting to think that using digital is all about simply reaching out to new players but really you ought to start with the people you influence first – your existing players, coaches, your club, your supporters. Without these people you don't have a team so get that right first, for example by generating praiseworthy match reports on your website which mention as many players as possible; by celebrating their success outside of rugby (did someone get a new job? Celebrate it!) on your Facebook and Twitter account; by showcasing great images on Flickr of their match-play; by getting organised with team management tools. Using digital to "recruit" is then much easier as your building blocks are in place. Is your audience a potential sponsor ? Then widen the net and use local online news sites to showcase your team or ask other local businesses to put your logo on their own websites.  What you will want
to say to different audiences probably means using different places to do it.
Decide where to say it
"Digital" doesn't just mean "social media" and in my view, it's far more important to get your fundamentals right before spreading your messages on Twitter, Facebook and beyond.  Your club website (more later) must come first and that must be the go-to place for everything for your team. If it's not then you really should forget right now about live tweeting your games!  Social media of course is fantastic and from Twitter, to Facebook, to Instagram, it offers an excellent way to promote your team, celebrate success, and allow you to engage with other clubs. But if you are pressed for resources and time, forget about a scattergun approach to digital. Make sure you are online somewhere and talking about your team – but if that means only doing it well in one place, forget about the rest.
Sort out your club website
I despair of how many club websites are months out of date when a team's Facebook page is awash with up to date images. Firstly, get to grips with the content management system (CMS) your club uses. Many clubs use well established CMS's while others are bespoke but make sure you know how to get around it. Here is a two-minute challenge. Get your phone out and try and find out right now if you can find a direct email address or phone number for your team, when pre-season starts or when you train, and how last season went for your team. If you cannot find that in two minutes via your club website, you have a problem when new players are considering playing for you. What's the point in providing brilliant pictures on Facebook if nobody can contact you on your own website? Get on it and be consistent during the season.
Use social media well
This is pretty obvious right? But I often see clubs over-do it. Contrary to popular belief, most people aren't using multiple social media platforms  – many just choose one, and for an amateur team my advice is to focus on a maximum of three. My choices at my club (Teddington women's rugby) are Facebook, Twitter and Instagram – the former two we share with our club as a whole.  A few tips from my presentation: Friday is the best day for Facebook engagement, your prime time for engagement on Twitter is during live events (duh!) and Instagram has a high percentage of female users (almost 70%!) so shouldn't be forgotten about. We haven't talked about younger players here and junior teams may want to look at other apps but I'd also remind people that you can create closed groups on all of these which may be safer for players who are under 18, especially if you are using images.   Check out the slides for more.
Use online team tools
I honestly do not know how teams manage without these. We use TeamSnap for a small fee every month but I know there are a raft of others. These tools allow you to manage your entire schedule – from fixtures to socials – as well as storing all player contact details and payments over the season. Vitally though, it also tracks player availability, meaning no more panicked calls every on a weekend (!) and of course you can use it to email groups on your team. I also recommend Whatsapp groups for organising team events and communicating vital last minute information like KO time changes!  Another platform I like is SurveyMonkey (ask 10 questions for free) which you could use at the end of your season allowing players to give you anonymous feedback on any topic you decide. It could be a huge help.
 Write a short digital strategy
This doesn't have to be War and Peace but you should do it in pre-season and revisit it as the months go by.  It should include much of what we have talked about above – getting the right people to manage it, targeting the right platforms for specific audiences and it should have some realistic targets. Within this I think it is important to have a social media plan which sets out the tone you want to take on certain sites and also is clear that you expect your players to talk about your club and rugby in a certain way. Lots of hard work can be undone by a stray tweet. Consider a player who writes "Brilliant to smash Varsity Greens today by 50 points. Boom" Is that celebratory or patronising? Be clear about what your view is with players and do it yourself when using your own sites.
Look around for ideas
The best ideas online are rarely original! Make sure you're following a wide range of other teams and are regularly looking at what sort of content other clubs put out there. In my presentation I highlighted some ideas other English clubs are using, from Facebook takeovers, to great use of imagery in recruitment campaigns.
Get your players involved
This is really important! Every player will have a variety of personal social media accounts and access to in some cases digital platforms. If you create a brilliant digital ad (see the presentation for some good examples) that promotes pre season for example, don't share it on your website and the few social media accounts you use. Send it to your players and ask them to share and personalise it. Ask your players to tweet about your games before and after and connect with other teams too. Your players are a great network – use them!
Sport is proving to be one of the high-profile business casualties of the Covid-19 pandemic. However, its slow and structured return will be a key factor in life entering the
By Daniela McVicker When it comes to sports, great branding is a must. Your brand influences how people see your company or team. It helps you to forge connections with
Article written by John S. Kim, CEO and co-founder of global API company SendBird Social media rose to prominence throughout the world due to its potential for connection. Social channels provided the