LPGA Pro Becky Brewerton thinks her own sport needs to catch up with its tech development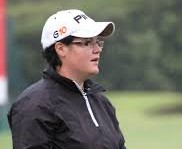 The Yahoo Sports Technology Awards interviewed Ladies European Tour Golf Professional Becky Brewerton to discuss the Awards, where sports technology may be guiding the future of sport, as well as her feelings on Golf at an Olympic level…
Why are you judging the Yahoo Sports Technology Awards, and what are you hoping to see or get out of the experience?
I see it as a real honour to be asked. I think it will help me get a better depth of knowledge about the technology out there. I believe that different sports can help each other improve and having knowledge of what's happening in other areas will be a great benefit to me. I'm not sure what to expect but the entries will be very interesting to see. There are a host of top names that are judging across a huge range of sports and industries, so I'm sure I will learn a huge amount that will benefit me personally as an athlete, too.
Within the next five years, what tech do you think will 'break' the status quo of the sports industry?
There are so many new apps and bits of kit coming out to help athletes make gradual gains. I can see a day where athletes are able to use technology to monitor exactly what is happening in their body at all times. I think science and technology are helping us understand the body more, especially in the mental aspect. Often, we say the difference between good and great is mental, and sometimes it's hard to know exactly what that means, but if you can know exactly where your body needs to be, and where your mind is at, it's possible to answer the golden question of 'how good is my best'. I think about that a lot, as right now it's impossible to know if you're ever truly at your peak.
What sport do you think is leading the tech wave, and what sport needs more tech development?
Football seems to be right up there. When you see the in-depth analysis that's done with heat mapping, you can see that the tactical knowledge to be gained from all the technology used is incredible. No stone is left unturned at the top level – physically and mentally they seem able to monitor everything.
I would say that my own sport, golf, has room for catching up though. We use a lot of tech but it still feels like we're only scratching the surface of what is possible. The golf swing itself is so technical but when things aren't right, people say 'maybe it was just one of those days' – but there always has to be a real reason for the issue. Being in a sport where even the best in the world lose more tournaments than they win makes me feel like there must be scope for more knowledge to be gained. When Tiger Woods was at his peak, he didn't even win 30% of the events he played in. If I think of tennis, football or snooker, I can't think of any time where the best players aren't winning most of their matches or tournaments.
What Olympic sport would you add, and what would you take out?
I always think back to my younger days watching the Olympics and all the best moments come from the traditional track and field events. Golf has recently been added, but I must admit I'm not sure it should be included. There was a lot of debate about whether an Olympic event would be the pinnacle of your career, and we saw in 2016 that many big players decided not to go – it showed that it will never be the pinnacle for many players. Personally, I would jump at the chance to go and represent GB, but if somebody gave me the choice between winning a major or winning an Olympic medal, hand on heart, I'd go with the major.
Entries to both the Yahoo Sports Technology Awards and the Sports Technology Awards Startups close on 5th December 2018; details on categories, judges and entry forms can be found at www.sportstechgroup.org/awards/
By Daniela McVicker When it comes to sports, great branding is a must. Your brand influences how people see your company or team. It helps you to forge connections with
Article written by John S. Kim, CEO and co-founder of global API company SendBird Social media rose to prominence throughout the world due to its potential for connection. Social channels provided the
By Mike Constanti This series, in partnership with Snack Media, will look at the best football campaigns from advertising to social media on a monthly basis, as Digital Sport evaluates how