Innovation in Digital Sport – Meet the Speakers: Prof Andy Miah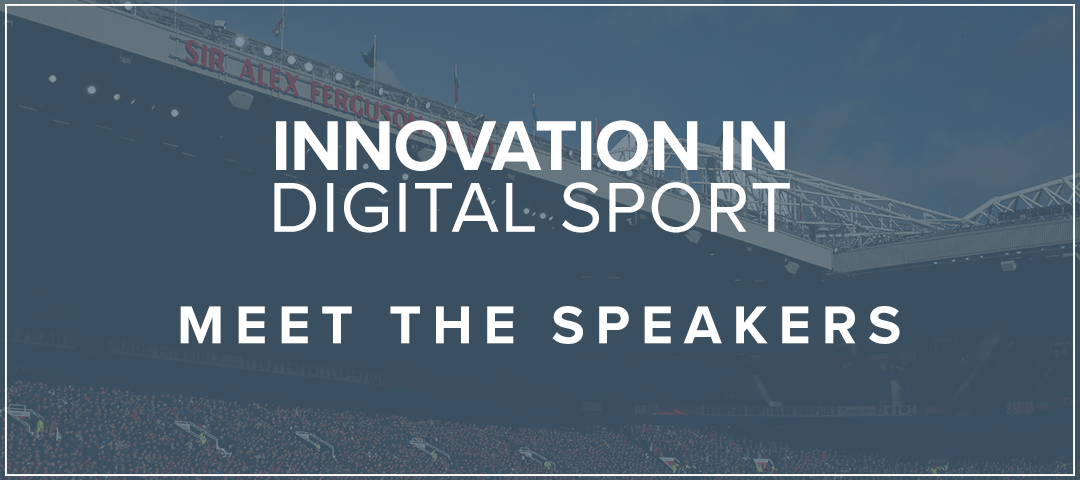 This is our series of interviews with the speakers at the upcoming DigitalSport.co event: Innovation in Digital Sport. We talk presentations and the wider topic around the talks to whet the appetite for the event later this month.
Previous installments: Fiona Green, Michael Broughton, Alex Trickett, Chris Paget
With the Digital Sport innovation conference less than a week away, we're gearing up to meet at Hotel Football on March 27th, right outside Old Trafford in Manchester.
Over the last week or so, we've caught up with the main players of the event: the speakers themselves. It's a great lineup of insightful people from a range of sectors within the sporting world, each arriving with a wealth of experience and the ability to shed light on a topic from a unique angle.
And today we're catching up with Professor Andy Miah, Chair in Science Communication & Future Media at the University of Salford and author of Sport 2.0: Transforming Sports for a Digital World, published in January of this year.
"The title of the talk is 'Designing Sport's BioDigital Future'," he says. Which is certainly an eyebrow-raising title. We're here to talk about sport's digital future, but 'BioDigital' is a striking new concept.
"I think sports have yet to figure out how to draw together physical activity communities and elite sports events," he continues. "And yet this is crucial to sport's sustainability."
And now it all makes sense.
Over the last few months, we've seen sportswear brands advertising their gymwear and other physical fitness gear. There was a time when the likes of Nike and Adidas would snap up sports stars as sponsors, hoping to put them into TV ads to sell football boots, swimwear or trainers. Now these brands are making ads without recognisable names to launch campaigns aimed at people who are just interested in keeping in shape.
These brands are clearly making a distinction between sport and fitness, so why shouldn't the rest of the digital sport community? There isn't a whole lot of similarity between Lionel Messi and Neymar running rings around baffled defenders and the average person's struggle with getting to the gym three times a week. Yet jogging and cycling are more popular than ever before, and no one does it in the hope of making millions of pounds a year. Few even do it for medals and trophies.
It's more than just sport and physical activity, of course. It's about making sure that sport is still open to all people, in the same way looking after one's body is a goal everyone can shoot for. Without that, sport loses the mass appeal it currently has. And for now, innovation in sport seems often greatly removed from innovation in biological sciences, nutrition and technology. Wearable tech, for example, can help the hobby runner to get faster and fitter, but it doesn't feel the same as elite athletes who have their entire lives controlled by other professionals in the pursuit of excellence.
That's the sort of divide that can drive a wedge between spectators and elite athletes as it becomes clear that sport isn't exactly the same at elite level as it is when you play in the park. What you see on the pitch at Old Trafford certainly isn't the sport you used to play with jumpers for goalposts.
But Professor Miah thinks there's a way of pulling the two strands together.
"I want to deliver an architectural proposition that brings together the need for sports to deliver events that are sustainable, mindful of cross-sector values, developmental and accessible, and which fuse together innovation disciplines in a common pursuit."
At the crossroads of sport and digital, we can often forget about the physical. Sport is an inherently physical thing, but our innovations are almost exclusively digital and technological. Professor Miah's talk will provide most attendees with a new perspective, and maybe even a problem they hadn't considered before.
But why else would you attend the conference? New ideas are the whole point.
"I like the open, informal, and innovative ethos at Digital Sport events" he says. "There is a great willingness to share ideas, to support each other, and to be excited by what we might create."
A look at the Hot Topics in this week's Digital Sport news.
A recap of the digital goings-on at this year's NCAA March Madness competition
Adidas Football, THAT Paul Pogba transfer, and their new approach to influencer marketing