How social media enhanced Wimbledon 2016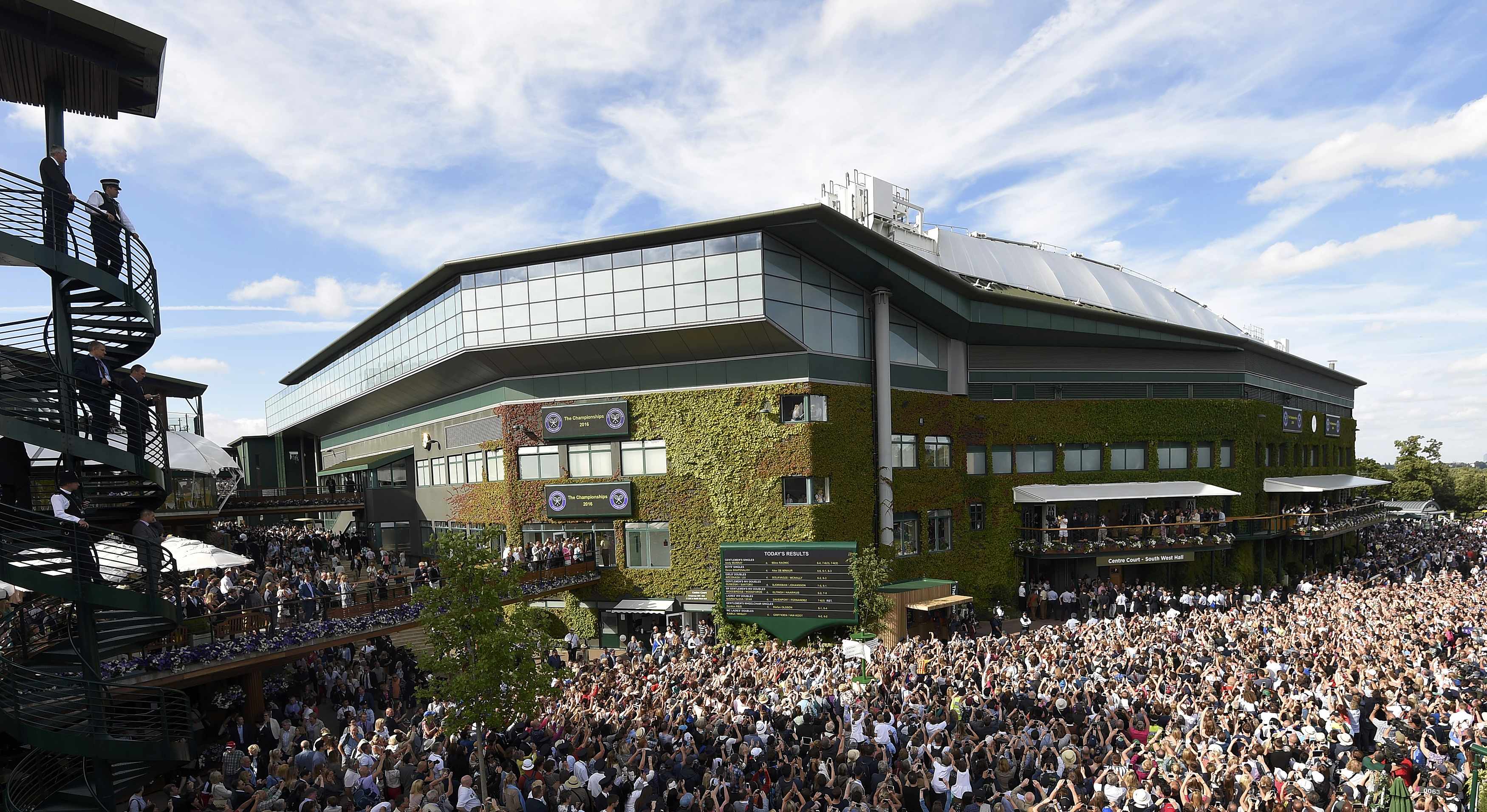 Even if you're not into sport, the chances are you've been spending your summer keeping up to date with major sporting events like Wimbledon or Euro 2016. You had no choice, really. They've been everywhere.
And when it comes to events like Wimbledon, well-known brands – if they're smart – will seek to get in on the action. But the ways in which brands engage with the event will differ depending on their product and, interestingly, whether or not they are official sponsors of the event itself.
The official Wimbledon channel across the social media platforms, unsurpisingly, posts lots of content related to the event. As well as videos of highlights, the official feed provides its followers with build-up and reaction to the big matches, as well as infographics, quotes and behind the scenes footage. It serves up original content as well as making use of the likes of periscope to engage its audience.
Luc out…

Lucas Pouille is into the 4R of a major for the 1st time, beating Juan Martin del Potro 6-7 7-6 7-5 6-1 pic.twitter.com/HdJZxe1CZY

— Wimbledon (@Wimbledon) July 3, 2016
When the covers came off, the drama unfolded… #Wimbledonhttps://t.co/TupELBzXic

— Wimbledon (@Wimbledon) July 2, 2016
Brand engagement with the Championships, by its nature, is a little different. Brands, even official sponsors, don't always have a product directly related to the action on the court, nor will they attempt to provide the kind of coverage that newspapers, broadcasters or other sport websites provide. IBM, for instance, are keen to simply retweet the likes of Sports Illustrated when they use IBM data. An endorsement from a respected sports publisher is good enough.
Daily Data Viz: Looking at Serena and Venus Williams's careers at Wimbledon https://t.co/Xrxe60F0PQ pic.twitter.com/2YUyeIgu1g

— Sports Illustrated (@SInow) July 3, 2016
But brands like Adidas and Nike, take advantage of the event to market themselves to tennis fans who are actively looking to consume tennis-related content at the time.
Next challenge: 301 #justdoit @serenawilliams pic.twitter.com/86ObN7nNx6

— NikeCourt (@Nikecourt) July 3, 2016
A break in play is a chance to refine your game plan. @Tsonga7's focus never falters. pic.twitter.com/pmQipWQyfw

— adidas tennis (@adidastennis) July 1, 2016
What's interesting here, is that these brands are also sponsors of they players themselves, and will use the success of their sponsored athletes to market their own products.
It's a bit different, though, if you're a brand whose product doesn't have an obvious relevance to sport. The challenge for official Wimbledon partners, brands like Robinsons fruit juice and Lavazza coffee is to create rich content around an event where their brands have no direct relevance.
Anything gimmicky or quirky and image or video-based is a good way to get people engaged – like this from Lavazza that made it into our wash-up this week.
A @judmoo themed cappuccino? @Lavazza are serving up coffee with a twist in #TheQueue pic.twitter.com/BNaQb9J9s3

— Wimbledon (@Wimbledon) June 29, 2016
Coffee, clear skies – for now – and an evening at #Wimbledon. We're all set. pic.twitter.com/gwH4UoPYFO

— Lavazza UK (@LavazzaUK) July 1, 2016
Robinson's, however, have taken up residence within the SW19 campus and invited celebrities with huge social media followings along to spend the day with them. The activation then comes in the form of these delicious-looking portraits created from fruit, and then shared on social media by the celebrities themselves. Robinsons have 15,200 followers on their @DrinkRobinsons Twitter account, so a tweet from Girls Aloud singer Kimberley Walsh, with her 692,000 followers represents a significant boost in reach. Especially with the addition of their hashtag and Twitter handle in the photo.
Thanks @DrinkRobinsons for my fab invite to @Wimbledon love it! #TasteofWimbledon pic.twitter.com/jcxAjCD0yd

— Kimberley Walsh (@KimberleyJWalsh) June 29, 2016
The before pic! Thank you @DrinkRobinsons – could eat me #TasteofWimbledon #Robinsons #Wimbledon2016 very cool pic.twitter.com/ffObxsdSES

— Kara Tointon (@karatointon) July 1, 2016
But just like with the sports brands, sponsoring athletes themselves is – if they win – a sure fire way to gain exposure. Just look at this selection of tweets from champion Andy Murray's sponsors:
Congratulations to @andy_murray, Master of your Dreams. #withAndy pic.twitter.com/OYayRY5FPc

— Standard Life (@StandardLifeplc) July 10, 2016
We salute you @andy_murray – congratulations! #WimbledonFinals pic.twitter.com/6FVIiKWNVg

— evian (@evianwater) July 10, 2016
Game! Set! Championship! We'll drink to that. Congrats @andy_murray #TasteofWimbledon pic.twitter.com/5ZrptBus6h

— Robinsons (@DrinkRobinsons) July 10, 2016
The crowd erupts! Unrivalled passion on the court from @andy_murray, crowned #Wimbledon Champion 2016 #FeelWimbledon pic.twitter.com/GA0mVbUajI

— Jaguar UK (@JaguarUK) July 10, 2016
They're not the only ones attempting to boost their brands with shareable video content and celebrity endorsements. Jaguar produced a video with – aptly – Jimmy Carr chauffeuring Andy Murray to Wimbledon.
A pick-up to remember. @andy_murray gets taken for a ride by @jimmycarr, Secret Chauffeur. #FeelWimbledon #FPACEhttps://t.co/EsMHv41ZMS

— Jaguar UK (@JaguarUK) June 30, 2016
Whilst Stella Artois have gone with a more traditional TV ad, but still shareable online, as well as adding a special addition Wimbledon packaging to their cases in the shops.
Day 8. Court 2. Ouch, injury forces an early exit for top seed… #LoseYourself #Wimbledon pic.twitter.com/1PDDOpjfAw

— Häagen-Dazs UK (@haagendazsuk) July 4, 2016
But even if you're not an official sponsor, you can still get in on the action – the one thing about infrequent sporting events is that everyone's watching!
#Wimbledon  Forget the Champagne & try your strawberries & cream with a glass of #cider. https://t.co/IEIVfBMVez pic.twitter.com/LUvYpU1WVq

— Crafty Nectar (@CraftyNectar) July 4, 2016
This year's prestigious SPORTEL convention kicked off in sunny Monaco today, welcoming a host of familiar faces as well as plenty of new ones. Doors opened at 8:30am with businesses
Olympic Champions, UCI World Champions and World Record holders join the new track cycling competition debuting in November 2021 The UCI Track Champions League is delighted to announce that six
New insights from eBay Ads UK reveal the potential for brands to engage with an excited but nervous nation as sports events get back on track  As pubs and indoor