Hot Topics: The Olympic Social, Fan-led Instagram and the Rise of Club Content
February in digital has been marked by some of the biggest sporting events in the calendar. It doesn't get bigger than an Olympic Games, while the Six Nations merges passion, pride and romanticism for an intense two months of regional rivalry. The return of the Champions League is perhaps more prosaic, but it brings with it excellence, intrigue and drama.
With so much sport, then, comes plenty of digital innovation and fan engagement to go with it.
Instagram Stories and fan-led content
It's not actively tied with current events, but over the last few months we've seen clubs and leagues attempt to allow their fans to direct content themselves using the polls function on Instagram Stories.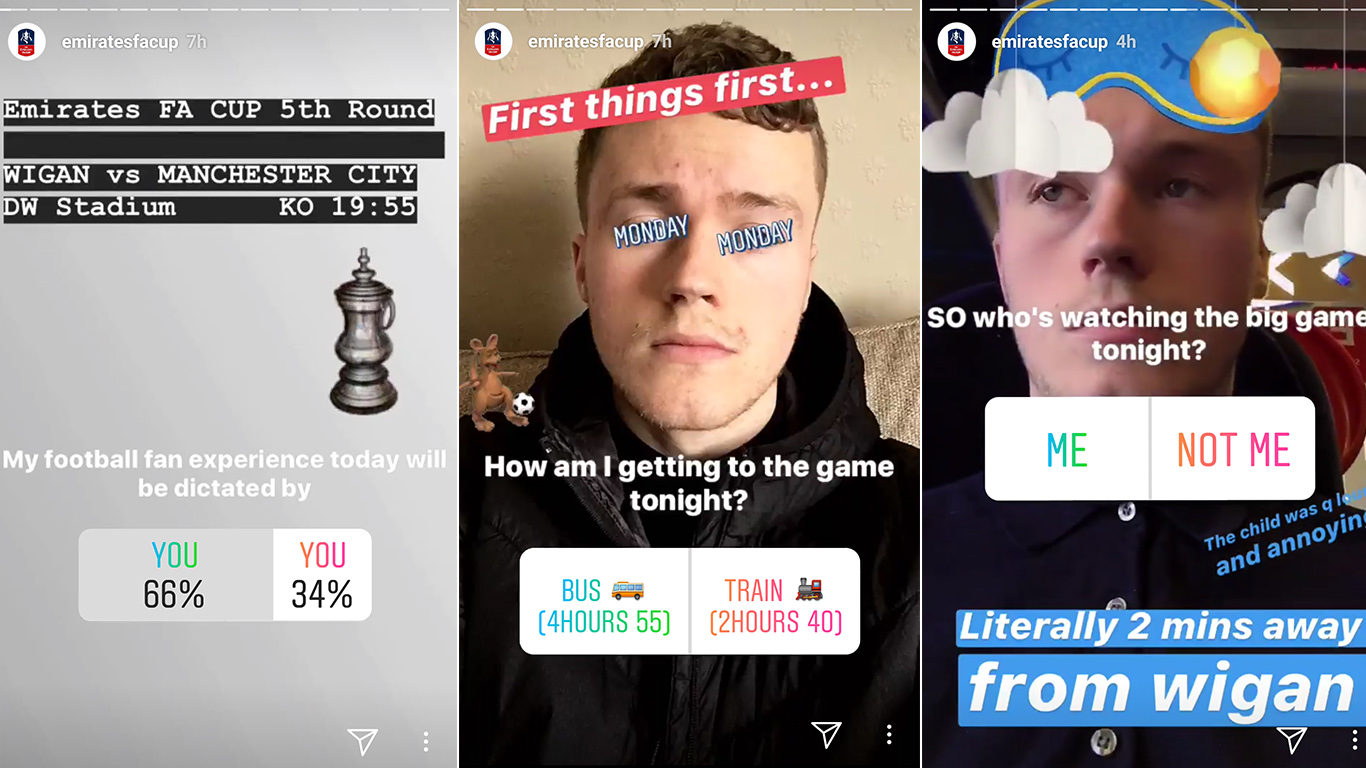 One of the first teams to do this a few months ago was Bayern Munich. On matchday, the German giants asked their Instagram followers to vote for what should be posted next, essentially asking their fans to direct the club's content into what they wanted to see. This week, the FA did the same thing ahead of the FA Cup tie between Wigan and Manchester City. It's not limited to sport, either: other brands have been getting involved, as Airbnb embarked on a similar campaign. To all intents and purposes, this is a new standard use of Instagram Stories.
The rise of "club" content
Over the last few years, we've seen sports teams turn more and more into what are essentially fledgling media companies.
Juventus, Manchester City and Real Madrid have created documentaries featuring their players, club and behind the scenes footage. Inter Milan have even created their own Media House, describing themselves as a "modern-day entertainment company".
The phenomenon isn't limited to football, though, even if that sport's biggest clubs are the most likely to have the means and the fanbase to make it work. During the Six Nations, Irish Rugby have been creating more and more content, showing that a federation can act as a club, especially during a tournament that lasts a few months and generates interest around the whole country.
Irish Rugby have been producing interviews with players, videos and other content – the kinds of things that publishers would have been doing years ago. These days, the trend is for clubs to keep access to their players for themselves, reasoning that they can create their own content rather than let newspapers do it. On top of getting increased internet traffic and numbers in order to bring in extra sponsorship, they can also ward off negative press as much as possible.
It's a growing trend, and some great content can be created by clubs and leagues who are able to interview players in relaxed environments, but shutting out third parties is never good for objectivity, and although subjective fans might not want that, they shouldn't want what could conceivably amount to sporting propaganda either: there's a line we don't want to cross.
Winter Olympics on social media
Winter sports have one very obvious problem to growth in the UK: there's very little in the way of mountains and genuinely cold weather.
That means such sports are showcased once every four years, for the most part, and participation rates aren't going to skyrocket. But when the Olympics comes around, the public seems to fall in love with them.
From curling to sled sports and speed skating, Great Britain has started to do better than ever before in the Winter version of the Games and that only leads to more interest and greater coverage. This time around it's being held in South Korea, meaning there is an awkward time difference for viewers in Europe.
As a result, social media clips which allow fans to get to know the athletes, as well as on-demand highlights shows are a must, just as European football leagues have found out in recent years. The interest generated in Asia by the Champions League and domestic leagues all around the continent shows that this is certainly possible. At the Winter Games, we in Europe are seeing the other side of this coin.
They aced the test on the ice, but will they ace this biology test?

We quizzed @TheYarnold and @skeletonlaura on how well they know their bones. ☠️#Pyeongchang2018 #bbcolympics pic.twitter.com/hqPKaYlSvv

— BBC Sport (@BBCSport) February 19, 2018
The Winter Games are always hubs for innovation, but sometimes necessity is the mother of invention, and this has made European broadcasters and others covering the action make great use of the tools at their disposal.
This article was provided by Playfinder Playfinder, a sports booking platform that connects amateur sports players to over 5,200 sports facilities across the UK, has seen a 720% increase in
by Dakota Murphey The coronavirus outbreak may have thrown the world into chaos but it's also helped bring out the best in people. From Captain Tom Moore's heroic fundraising efforts
This report was provided by Redtorch and 90/24 Media Sports Marketing Agency Redtorch and Digital Football and Athlete experts 90/24 Media have released a report examining COVID-19's impact on the