Freedom of Speech for Sports Stars on Social Media?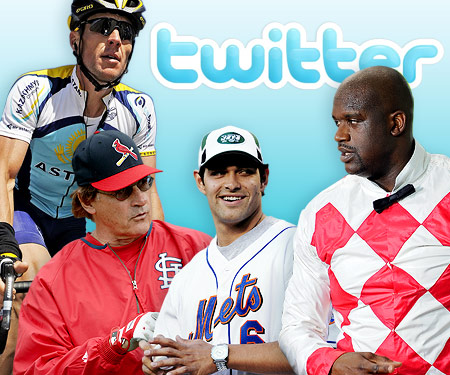 For many months now we have been evangelising on the benefits to sports stars of utilising social media.  It has helped bring us, the fans, closer to our favourite sports personalities such as Shaq O'Neill, Lance Armstrong, Rafael Nadal, Christiano Ronaldo and many more.
In this time of openness and transparency we are also seeing a clampdown by certain sports as they try to find a balance between giving their athletes freedom to speak to their fans but keeping what and when the say it in check for the good of the team/sport.
Twitter has brought this to a new level as it is so easy to send out a message on your phone at any time or place, sometimes not to the liking of their employers.  To give you a few examples of this on both sides of the pond I have highlighted a couple of these unfortunate souls;
Concinnati Bengals wide receiver Chad Ochocinco was fined $25,000 for using an electronic device to post messages on Twitter during a pre-season game.  Why is this such a bad thing?  Well, the NFL has banned players from possessing electronic devices during games and from using social media 90 mins before kickoff until the end of post-game media obligations.
This rule is replicated in the NBA as we see sport in the US attempt to control how social media is used by athletes whilst encouraging them to do so in helping to increase the reach of their sport.
Back here in the UK the most recent example we have is England U-19 cricketer Azeem Rafiq reacting angrily to being dropped by writing that coach John Abraham's was a "useless w****r".  This has lead to a ban from cricket for 1 month and a £500 fine.
England cricketers are now potentially facing a ban on using social media on the upcoming tour of Australia if media reports are to be believed.  Apparently the England management see them as a potentially divisive influence which could lead to dressing room secrets being leaked.
I hope it doesn't come down to that as most of the senior players have a valuable presence online, especially Graeme Swann, James Anderson and Steven Finn.  With the fact that the ECB have recently hired a Social Media Executive themselves they obviously see social media as a valuable asset for now and the future.
We have yet to see a majority of footballers in the UK using Twitter but it is becoming more common with Rio Ferdinand, Robbie Savage and many others doing a good job so far.  Once it becomes more popular and we see the first incident of a player being punished for tweeting during a game then I am sure we will see similar rules being applied as in the US.
This year's prestigious SPORTEL convention kicked off in sunny Monaco today, welcoming a host of familiar faces as well as plenty of new ones. Doors opened at 8:30am with businesses
Olympic Champions, UCI World Champions and World Record holders join the new track cycling competition debuting in November 2021 The UCI Track Champions League is delighted to announce that six
New insights from eBay Ads UK reveal the potential for brands to engage with an excited but nervous nation as sports events get back on track  As pubs and indoor