Formula One's embrace of social media helps perfectly capture the weekend's drama in Baku for all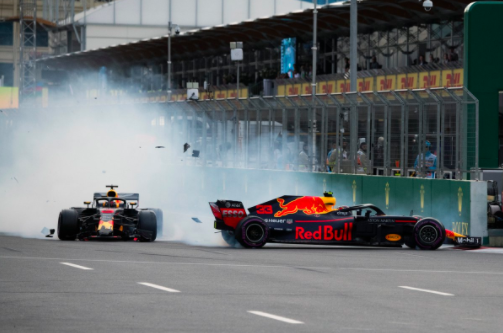 It was a crazy weekend for Formula One.
Motor racing, when it's at its most competitive can be one of the most thrilling sporting events out there – especially when the action takes place on a street circuit like it did this weekend.
The Azerbaijan Grand Prix in Baku saw one of the most thrilling races you're likely to see in quite some time. That Lewis Hamilton came away with his first victory of the season is really just an important footnote to a race that had thrills, spills and epic moments.
As we've mentioned over the last few weeks, Formula One's new digital strategy has allowed the official social media accounts and the teams themselves to take full advantage of their sport's most crowd-pleasing moments and last weekend we saw the fruits of that initiative.
The most talked-about moment of the grand prix was naturally its most controversial moment. When Red Bull drivers Daniel Ricciardo tried to pass Max Verstappen on lap 40, both drivers collided – and damage sustained to the cars meant that both had to retire from the race.
When there's a battle on the course and both drivers are concluded to be to blame you can be sure of controversy. But when they are teammates, it makes it so much worse.
The moment everyone's still talking about ????

"They are both in the dog house," says Horner >> https://t.co/6sxkc1gtmg pic.twitter.com/L6NY9FgTmN

— Formula 1 (@F1) April 30, 2018
Over the last few years in F1, we've seen rivalries spill over, sometimes involving teammates as with this weekend's winner Hamilton and his former teammate Nico Rosberg.
But this time, as well as the anger and the overboil we saw with the Red Bull pair, we also saw a heartwarming moment where race winner Hamilton delayed his podium appearance to console his teammate Valtteri Bottas, who led after the restart but whose late puncture saw him retire and gift victory to his teammate.
????

Sometimes the sport you love can be tough. But, I've learned to turn negative experiences into strenght. #VB77 #F1Baku @MercedesAMGF1
???? @XPBImages @CharniauxImages pic.twitter.com/vXaP6ylgxl

— Valtteri Bottas (@ValtteriBottas) April 29, 2018
We saw the agony, the fury and the joy of the sport all rolled into one weekend, and now that the rules on sharing images and video from races have been relaxed, fans can enjoy it all over again.
So much drama ????

So much excitement ????

So much controversy ????

All in 60 crazy seconds ⏱#AzerbaijanGP #F1 pic.twitter.com/5uJ7BAbUxo

— Formula 1 (@F1) April 30, 2018
Indeed, looking at how the teams themselves reacted to the race and its incidents is one of the joys of sport. Post-game reaction is almost as important these days as the actual game itself and it's important that fans get to see it.
This weekend, F1 fans got their wishes.
No words ???? Both cars out of the #AzerbaijanGP after Turn 1 collision.

— Red Bull Racing (@redbullracing) April 29, 2018
There are no Team orders here, but you've got to keep it clean. No blame on either driver, both race hard and want to win.

An #AzerbaijanGP to forget for us today… but both drivers' have apologised and we all move on to Spain! ???? pic.twitter.com/K1G5dftOJ0

— Red Bull Racing (@redbullracing) April 29, 2018
Despite their victory, Mercedes could see that this was a race where sentiment was going to come into play. Not only did their driver suffer a heartbreaking puncture, but Force India managed to get on the podium.
Mercedes were magnanimous in victory, but it was nice to see that one team was able to stay together and come out of the race celebrating as a team.
A big ???? to everyone's favourite pink @F1 team ???? @ForceIndiaF1 and @SChecoPerez back on the podium in Baku ????#AzerbaijanGP ???????? #mbFamily pic.twitter.com/mT8VR64Ukx

— Mercedes-AMG F1 (@MercedesAMGF1) April 29, 2018
SQUAD GOALS ????

(a podium finish in Baku helps) ????#AzerbaijanGP #F1 @ForceIndiaF1 pic.twitter.com/tVRizwj492

— Formula 1 (@F1) April 29, 2018
Nielsen Sports reveals Formula 1 in France is more popular than ever as TV viewership sees significant year-on-year growth Through the opening six races of the season France has recorded its highest average audience per Grand Prix since 2012 The Azerbaijan GP attracted 1.6
MOTUL FIM Superbike World Championship extends its coverage through Eurosportacross more than 50 markets in Europe Discovery's leading multi-sport brand will provide exclusive coverage in 32 markets Dorna WSBK Organization
Motorcross legend Tony Cairoli's attempt to make history by claiming a record-equaling 10th MXGP WorldChampionship title documented in new series, MX World: The KTM Diaries With the 2021 FIM Motocross