#FeelWimbledon: Sharing crowd biometrics to Social Media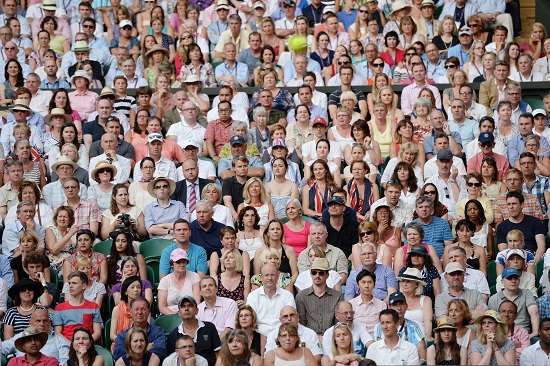 With both the Jaguar and Wimbledon brands steeped in such history and tradition, it was before long that they'd team up to produce a clean and aesthetically pleasing social activation as a part of their new partnership.
Launching their #FeelWimbledon campaign at this year's Championships, Jaguar – the primary brand in the digital sponsorship between JLK and Wimbledon, wanted to bring a deeper experience to fans and spectators of the tournament. Jaguar have managed to fit in the niche of Wimbledon's desire to not only keep in fine tradition but pushing the technological digital boundaries that other sporting events may not have yet gripped.
They have been able to combine the fitting of high tech bracelets to selected crowd members with a range of atmospheric and in-ground senses at the complex and reproduce it in a very eye-pleasing hub within Wimbledon.com. This hub pulses with real time peaks and troughs and gives observers a true indication of the exciting stages and the quiet lulls during the day. The way it works is if Andy Murray is locked in a tight five set tussle leaving fans on the edge of their seats, the biometric indicators would be extremely high reflecting aspects like fans' heart-rate etc.
Billed as a multi-sensory experience, it's sought to add an extra dimension to those in the grounds as well as those watching from home. During the rush of the first two days, I was able to have a quick chat with Jaguar Land Rover's UK Marketing Director Laura Scwab.
When pressed on why Wimbledon, Laura said that Jaguar wanted to partner with Wimbledon not only because it is one of the premier sporting events in the world but one of the tech leaders when it comes to integrating technology with sport.
The Jaguar brand wanted to work with Wimbledon specifically because everyone knows that Wimbledon is the pinnacle sporting event and they, like us, love their technology. The vehicles have so much technology in them so with the tech they have here at Wimbledon, it's a real fit.
It's important to note that Wimbledon are already currently using social media platforms to gauge excitement at the event however with their activations, opinions and excitement etc are only measured by social listening and need to be recorded manually. Jaguar have gone one step further and completely automated the experience.
We've been working on this for months now – putting senses on the court and a lot of development into the bands. I've currently got one of the wearables on at the moment and I keep monitoring my data on social media. We want the people with the wearables to behave in the same way as I am with my band. Wimbledon evokes lots of emotions and captures our imaginations in so many different ways so it's great we're able to capture that in some sense and show it to the world.
The #FeelWimbledon hub will operate every single day of the Championships and is an extra feature available to spectators who can't quite be in SW19. Jaguar will also be at Wimbledon during the Championships and Laura said Jaguar's brand partnered with an iconic brand like Wimbledon is great for the company.
With 500,000 people attending Wimbledon this year, it provides Jaguar with incredible exposure in London, and a fantastic platform to showcase our products, especially the Jaguar XE.
By Daniela McVicker When it comes to sports, great branding is a must. Your brand influences how people see your company or team. It helps you to forge connections with
Article written by John S. Kim, CEO and co-founder of global API company SendBird Social media rose to prominence throughout the world due to its potential for connection. Social channels provided the
By Mike Constanti This series, in partnership with Snack Media, will look at the best football campaigns from advertising to social media on a monthly basis, as Digital Sport evaluates how