Facebook to live stream 47 college basketball games in the US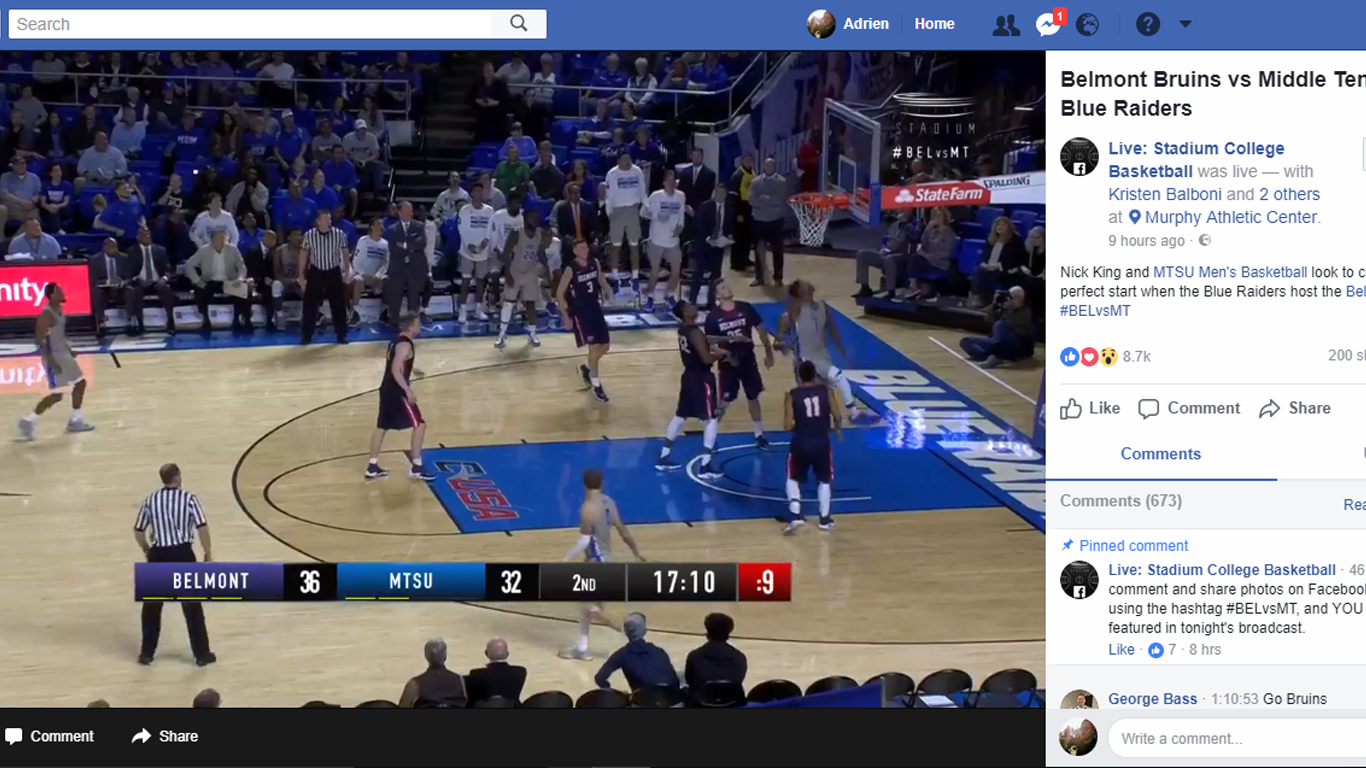 It's no secret that Facebook is looking to expand its presence in the sporting world and become a real sport broadcaster. The strategy continues with a new partnership between the social giant and sports broadcaster Stadium.
As part of this deal, Facebook will stream from now until 8th of March 47 college basketball games for free and for any users in the world. The partnership has started officialy last night with the live stream of Belmont Bruins vs Middle Tennessee Blue Raiders.
In details, Facebook will pay Stadium to broadcast the games on the social platform on Live: Stadium College Basketball page. As any live video on Facebook, fans can also watch it again in replay after the game. For the moment only users in the US can watch these games on Facebook Watch as the tab is only available in the US.
The partnership includes live weekly show about college basketball produced by Stadium. The 30-minute show will be broadcasted only on the Watch tab every Wednesday starting November 29th featuring talks with college basketball fans.
After Indian Cricket and MLS games, Facebook confirms its ambitions to entertain sports fans with this new basketball college deal with exclusive live streaming content and live shows provided massively on Watch, the new Facebook tab.
For all US Basketball fans, here is the calendar of games to be live streamed on Facebook (Eastern Time):
Nov. 16, 2017: Belmont at Middle Tennessee, 7:30 PM
Nov. 19, 2017: Saint Mary's at San Jose State, 8:00 PM
Nov. 21, 2017: Florida Gulf Coast at Middle Tennessee, 7:30 PM
Nov. 24, 2017: Minnesota vs UMass, 12:00 PM
Nov. 24, 2017: Alabama vs BYU, 2:30 PM
Nov. 25, 2017: BYU vs UMass, 2:00 PM
Nov. 25, 2017: Minnesota vs Alabama, 5:00 PM
Nov. 25, 2017: Southern Utah at UNLV, 10:00 PM
Nov. 28, 2017: Brown at Rhode Island, 7:00 PM
Nov. 28, 2017: Davidson at Charlotte, 7:00 PM
Nov. 29, 2017: Eastern Kentucky at Western Kentucky, 8:00 PM
Nov. 29, 2017: Illinois State at Nevada, 10:00 PM
Nov. 30, 2017: Memphis at UAB, 8:00 PM
Nov. 30, 2017: New Mexico State at UTEP, 10:00 PM
Dec. 1, 2017: Pittsburgh vs. Duquesne, 7:00 PM
Dec. 3, 2017: Bradley at San Diego State, 6:00 PM
Dec. 5, 2017: Wake Forest at Charlotte, 7:00 PM
Dec. 9, 2017: Mississippi at Middle Tennessee, 6:00 PM
Dec. 9, 2017: Washington State at UTEP, 9:00 PM
Dec. 19, 2017: UC Davis at Nevada, 10:00 PM
Dec. 22, 2017: Northern Colorado at UNLV, 10:00 PM
Dec. 23, 2017: Harvard at George Washington, 12:00 PM
Dec. 30, 2017: Middle Tennessee at UAB, 5:00 PM
Jan. 4, 2018: Pacific at Saint Mary's, 10:00 PM
Jan. 9, 2018: Dayton at Richmond, 7:00 PM
Jan. 10, 2018: Wyoming at New Mexico, 9:00 PM
Jan. 17, 2018: Richmond at VCU, 7:00 PM
Jan. 17, 2018: Utah State at Boise State, 9:00 PM
Jan. 20, 2018: Saint Louis at UMass, 2:00 PM
Jan. 20, 2018: Saint Mary's at Pacific, 10:00 PM
Jan. 24, 2018: Rhode Island at Fordham, 7:00 PM
Jan. 27, 2018: UTEP at Middle Tennessee, 7:00 PM
Jan. 31, 2018: La Salle at Davidson, 7:00 PM
Feb. 1, 2018: Middle Tennessee at ODU, 8:00 PM
Feb. 8, 2018: Saint Mary's at Loyola Marymount, 10:00 PM
Feb. 10, 2018: ODU at LA Tech, 7:00 PM
Feb. 17, 2018: Middle Tennessee at LA Tech, 7:00 PM
Feb. 21, 2018: Duquense at St. Bonaventure 7:00 PM
Feb. 22, 2018: LA Tech at UTEP, 9:00 PM
Feb. 22, 2018: Pepperdine at Saint Mary's, 10:00 PM
Feb. 24, 2018: UAB at Middle Tennessee, 7:00 PM
Mar. 3, 2018: La Salle at Saint Joseph's, 2:00 PM
Mar. 7, 2018: Mountain West Conference 1st round – #8 vs. #9, 2:00 PM
Mar. 7, 2018: Mountain West Conference 1st round – #7 vs. #10, 4:30 PM
Mar. 7, 2018: Mountain West Conference 1st round – #6 vs. #11 7:00 PM
Mar. 8, 2018: Conference-USA Quarterfinal Game, 7:30 PM
Mar. 8, 2018: Conference-USA Quarterfinal Game, 10:00 PM
The NFL and Snack Media have renewed their advertising partnership on the official NFL website in the UK and Ireland. Beginning in 2013 in the UK only, the relationship has
By Daniela McVicker When it comes to sports, great branding is a must. Your brand influences how people see your company or team. It helps you to forge connections with
Article written by John S. Kim, CEO and co-founder of global API company SendBird Social media rose to prominence throughout the world due to its potential for connection. Social channels provided the