Exploring cricket predictions and emerging trends
By Dr Masoumeh Izadi-Mercer
Cricket as a professional sport has evolved over the years from the traditional five-day test matches to action-packed one-dayers and Twenty20s. This has led to the emergence of an active global fan base and a competitive landscape.
As the sport evolved, the game has also incorporated technologies such as Hawkeye replays and the Umpire Decision Review System (DRS). This has also opened doors to new complementary technologies for the benefit of cricket fans such as instant reviews, novel statistics, and more recently, game predictions. These predictions use analytics and historical data to provide viewers with the likelihood of one team winning over the other. Cricket analytics has always been around, but as artificial intelligence and machine learning becoming practical tools, the ability to make real-time predictions has become a reality in our day and age. 
Cricket analytics these days use a wide range of measurable data, such as players' statistics, weather conditions, pitch details and batsmen line-ups to build predictive models. These evidence-based models are not only useful to cricketers and teams for making better-informed decisions, but are also a new way of entertaining and engaging the fans.
Predictions are not facts but need to be justifiable 
Predictions are data-driven expectations of the players and the match flow and are grounded in real time information and the dynamics of the game. Players' strategic moves and teams' decisions can drastically change the predictions during the game. This is the reason why ball-by-ball predictions are more reliable than snapshot predictions. Good predictions generally have a justification in the reality of what is happening and a wide variety of variables.
It is worth noting that predictions are not the same as projections. This can be better understood by comparing the run rate projections of a certain match and the score predictions. The projected score in cricket is the calculated prediction of how many runs a team will have scored at the end of their innings based on a fixed run rate that is never exactly the case. Projections can go wrong more often than not as they do not take into account important variables like the number of wickets lost, the players who are yet to bat, the opponent bowler's capabilities, and the potential for other significant events. 
TVConal, a Singapore-based startup, tracks cricket matches and provides predictions for every single ball in real-time, allowing broadcasters and publishers to generate engaging content. By using a wealth of historical data on matches and players and employing machine learning and big data, they convert scorecard data into engaging game insights. The startup's first line product, CricAlgorithmics is able to predict the games with a high degree of accuracy and justifications. 
Fans passionately follow predictions: ICC-CWC2019 case
Match predictions are a hot topic online and now a big part of the conversation around cricket. 
The ability to instantly view and share such insights has helped fans stay connected to the game even if they cannot watch it live, with Google's AI tracking the match progress and sharing live predictions for every game during the world cup.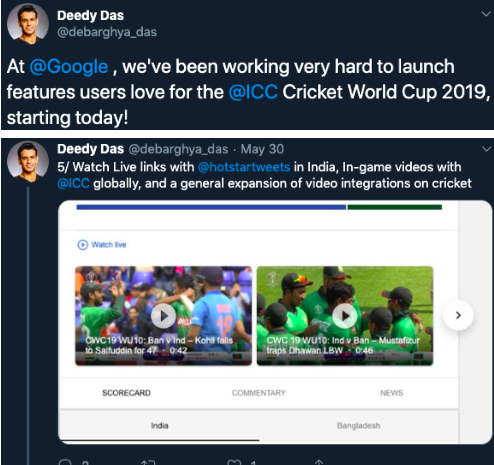 Cricket fans take predictions quite seriously, and to the point that they become too emotional. For instance, some experts made wrong predictions during the 2019 World Cup and fans reacted badly. Former Kiwi wicketkeeper-batsman Brendon McCullum faced the wrath of charged up Bangladeshi fans after Mashrafe Mortaza-led side beat South Africa in their opening campaign by 21 runs. He had predicted that Bangladesh would finish last in the ten-team tournament, which as we all know went horribly wrong. 
However, McCullum was not the only one whose predictions went wrong. Many other broadcasters and experts missed the mark. For example, many experts said that finger spinners may not get any English wickets but Pakistani bowler Imad Wasim and Bangladesh's Shakib-al-Hasan proved them wrong. Another prediction, about which experts were unanimously sure was that the team that would successfully chase down a 300-plus score would either be England, India or Australia. However, it was Bangladesh that chased down a score of 321 against West Indies.
Fans want to know the accurate predictions fast 
In a long cricket game, especially tests and ODIs, fans would want the predictions to be accurate as early as possible. CricAlgorithmics predictions normally converge to the final result quite early in an ODI match and the World Cup 2019 is no exception. 
The prediction plots from CricALgorithmics depict the predictions at each ball during the entire game. These graphs usually show the convergence happens in early overs of the second innings. The red dots on the plot present the wickets fallen. As each player's wicket has a somewhat different effect on the team's chance of winning, some red dots significantly move the direction in the graph more than others. Match 6th (ENG v PAK) is an example where Fakhar Zaman and Babar Azam as the second and the third batsmen out had the most significant spikes for Pakistan. Of course, despite that a great teamwork from both batters and bowlers secured a win for Pakistan at the end. 
Similarly, below graph clearly shows how early CricAlgorithmics detected a loss for India in the first semi final against New Zealand.
This is while other currently available commercial packages had predicted the victory for New Zealand at 2% earlier during the early stages of the second innings.
India didn't get to the final, but the semi final was not the only disappointing game. Match 38 (IND v ENG) saw another defeat for India. England did so well in the first inning, especially in the second 10 overs where the run rate reached a record high of 9.8, but India on the other hand couldn't quite put their usual brilliance on, losing their first wicket KL Rahul so quickly. 
Predictions don't always go smoothly to the final result, and that is particularly the case for exciting matches. Let us look at one of the most interesting matches from World Cup 2019, the final with New Zealand against England. The Guardian called this match "the most astonishing, fortuitous, preposterous climax to any cricket match".
TVConal's predictive heartbeat plot analysis of the final match shows unsure results for the most part. Towards the second half of the second innings, the probability of a win for England goes to about 10% as the team struggled to chase the 241 runs by New Zealand. This is while the probability of a tie that is normally not more than 2% also increases to 10% .
The impact of predictive analytics beyond the actual game
Predictions and data analytics are also frequently used by complementary industries around the sport. Take Fantasy cricket as an example, where an estimated 60 million people take part in just the IPL platform Dream11.
Fantasy cricket, Dream 11, is an online game where a virtual team of real cricket players is curated and points are scored depending on how those players perform in real life matches. A fantasy cricket match relies entirely on data and is based on batting as well as bowling orders – the most debated part of cricket strategy. One of the most common mistakes fantasy cricket players make is the selection of teams on the basis of favouritism and personal biases. There have been studies that have revealed that by removing team and/or player biases, eliminating favouritism and focusing on player stats, the chances of winning in a Fantasy Match are higher. A deep dive into the player data enables Fantasy players to curate an efficient team and hence increases the chances of winning. Fantasy Cricket is one sport where predictive analytics and data can literally change the game!
Another industry that has been evolving with the times is cricket betting, which has been around since the 19th century. From match result to high bat and coin toss to most wickets – there are various types of betting on cricket done all over the world. You can bet on the outcome of the contest or hundreds of other individual odds like injuries, and weather conditions during a cricket match. The betting market is a multi-billion dollar industry and the illegal cricket betting industry in India alone is estimated to be around US$150 billion. 
Analytics has helped the legal betting industry grow and offer more accurate odds on matches. The implications of real-time predictions in the betting industry is intriguing and may impact spot betting and even help develop adjustable odds during games as analytics track and measure the flow of a live cricket game. 
These days due to the availability of such data there are many outcomes to bet on: including the next wicket, type of dismissal and total number of wickets to name a few. CricAlgorithmics' live platform presents important information like number of balls to be faced and the estimated runs to come for each player that betters can use to make informed decisions. 
Author Bio
Dr Masoumeh Izadi-Mercer serves as the research lead at TVConal. She is currently directing multiple projects in sports analytics that target the creation of more enjoyable and engaging contents and projects in television production automation for a more efficient workflow. Prior to joining TVConal, Masoumeh held academic positions at McGill University as a research scientist and adjunct professor focusing on applications of AI and Machine Learning in Health Informatics.
This year's prestigious SPORTEL convention kicked off in sunny Monaco today, welcoming a host of familiar faces as well as plenty of new ones. Doors opened at 8:30am with businesses
Castore to be Official Kit Supplier to England Cricket The long-term partnership begins in April 2022 All of England's national teams will wear bespoke women's and men's teamwear that the
The Hundred attracts more live viewers than the Netball World Cup, Women's T20 World Cup and Women's Six Nations.  7.05m viewers tuned in to watch women's matches live throughout the