DSLondon – TV to Digital: The changing face of sport on TV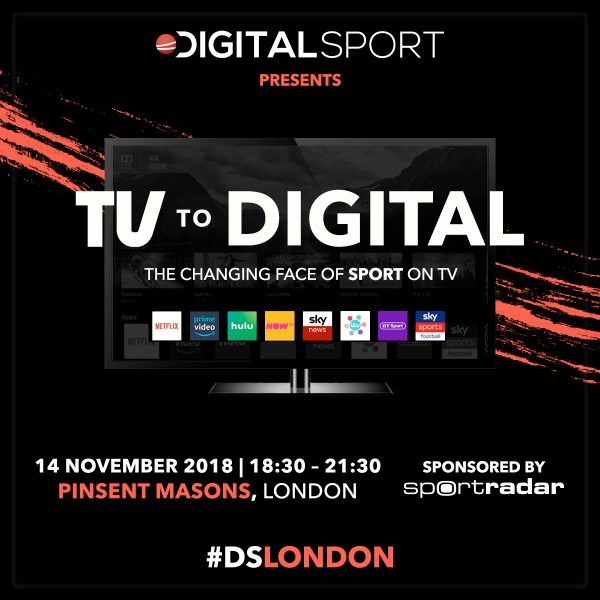 In today's world, digital distribution seems to permeate every industry. With giants like Spotify, Netflix, and Amazon, the music, film, and TV industries have already been adapting to these new kids on the content block. It's only natural that sport will follow suit at some point.
Yet there's still a prevailing belief that sport is different. While still maintaining its "appointment to view" status – meaning fans need to specifically schedule their day in order to be in front of a screen for kick-off time – on-demand content is making its way to becoming a prominent method of consuming sports media.
Live sport is unlikely to die off in quite the same way. But although the live action is adapting to the digital world through live-streaming, the on-demand world is of interest too.
Fans don't just want to watch their teams, they also want to talk about them and consume content about them, too. They are listening to podcasts in ever-greater numbers, commenting on social media, and watching club-created videos online. Interviews, documentaries, and podcasts are all growing in popularity, and even attract people who don't follow sport. Those who do watch on linear TV want access to additional content that is distributed digitally.
On social media, official accounts post clips and live updates, which gives fans a way to interact with each other and solidify the community surrounding sports and individual teams. There's no shortage of sports-related documentaries or  videos that get a little more personal with the athletes.
As the audience moves closer to the center of the sports industry, there are sure to be different types of content and ways of consuming it that change the industry as we know it – so what's next for the industry, and how should it deal with the digital revolution? Even if it's coming later than it has in other industries.
With Eleven Sports, Sportradar, Yahoo Sports and Stream Time, we'll be discussing digital distribution in sport, the changes that are taking place, and what next for the "appointment to view"?
Join us on November 14th in central London – we hope to see you there!
Our latest event is coming very soon – don't miss out on the chance to hear experts in the football industry discuss the unique tournament hitting Europe this summer. With
Benfica has become the first club in Portugal and one of the first in the world to launch a digital video platform featuring exclusive content produced daily for its fans. The
By Michael Constanti To kick-off the new decade, Digital Sport are hosting an event to showcase how the Euro's will use digital and technology to overcome the challenges of a