Digital Sport's Weekly Wash-up 16/12/16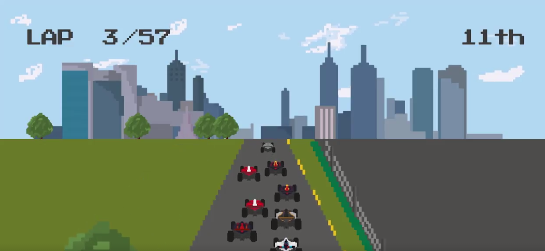 F1 go 8-bit
Social media is oversaturated, and even your beloved sports content is part of the noise. When a third of all online activity consists of watching videos, creativity is paramount.
Instead of a simplistic compilation of highlights, here's how Formula 1 decided to recap 2016. Brilliant.
If 2016 in F1 had been an 8-bit video game ????

Anyone wish they had a controller? ???? #F1 pic.twitter.com/GN6k02nnPK

— Formula 1 (@F1) December 12, 2016
Wimbledon continue to engage fan base
Wimbledon is superb when it comes to digital content. The tournament lasts just two weeks, but their presence on social media is constant. Through combining tradition and history with digital innovation, the All England Club ace it.
No #Wimbledon list is complete without some brilliance from these two friendly foes… @rogerfederer and @RafaelNadal#AdventCalendar pic.twitter.com/qIJJ4UJWoF

— Wimbledon (@Wimbledon) December 8, 2016
Courtside Spectacles
Snapchat's Spectacles have already been put to use in the digital sport world, with Manchester City becoming the first Premier League club to use them last week.
In the NBA last night, the New Orleans Pelicans drove followers to their Snapchat through live display:
Pelicans' @Spectacles Snaps on the @SmoothieKingCtr video board (thx to @tagboard????????) pic.twitter.com/PgMAwEAXPk

— Alex Restrepo (@Repo) December 16, 2016
And then provided fans with a unique point-of-view from the court:
.@buddyhield with back to back 3-pointers!

Check out his view when he hits a 3 #Pelicans pic.twitter.com/TxZwbRuCAh

— New Orleans Pelicans (@PelicansNBA) December 16, 2016
Star Wars gets the smsports treatment
The force has been strong with Star Wars on social media this week. With the international release of Rogue One, clubs and brands are rushing to capitalise on the hype. But with a galaxy full of fans talking about the film, content must be well-timed and well-executed to stand out:
Terrence Ross is ready for #RogueOne tonight pic.twitter.com/xAkcyM7ODD

— Bleacher Report (@BleacherReport) December 16, 2016
Of course the wookiee scored first. 1-0, #SJSharks pic.twitter.com/beLXZDQV9b

— San Jose Sharks (@SanJoseSharks) December 3, 2016
And my favourite from last year:
By Daniela McVicker When it comes to sports, great branding is a must. Your brand influences how people see your company or team. It helps you to forge connections with
Article written by John S. Kim, CEO and co-founder of global API company SendBird Social media rose to prominence throughout the world due to its potential for connection. Social channels provided the
By Mike Constanti This series, in partnership with Snack Media, will look at the best football campaigns from advertising to social media on a monthly basis, as Digital Sport evaluates how