Digital Sport London: Finding the Value in Influencer Marketing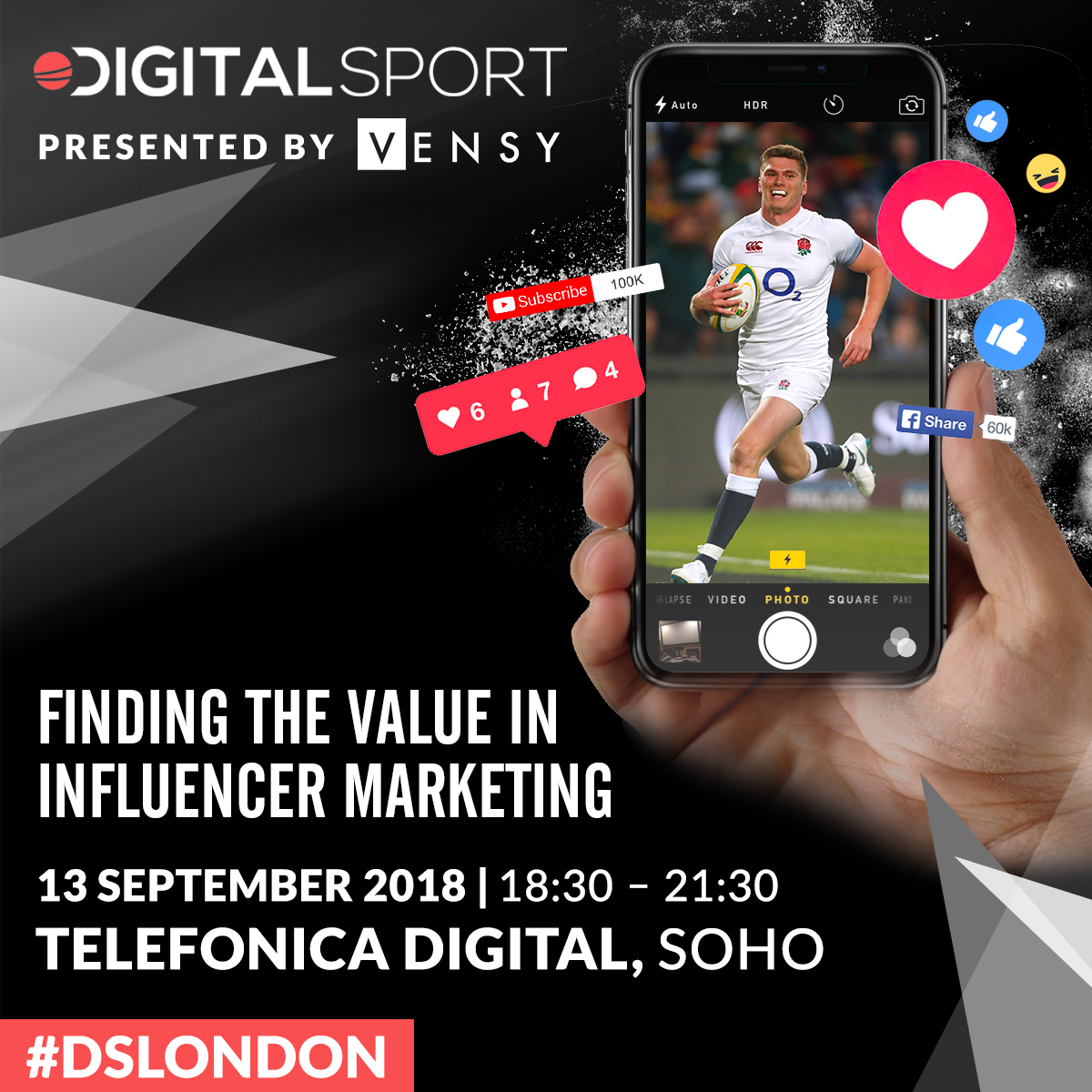 After a summer hiatus, DS London is back in September for another event bringing together some of the sports industry's leading voices, organisations and brands for a panel discussion and networking event.
This time, on 13th September at the offices of Telefonica Digital in Soho, we'll be talking about influencer marketing. What is it, why is it useful, and where can brands, rights holders and publishers find the most value in it?
Influencer marketing is, in lots of ways, nothing new: influential people have always been targeted to give their endorsement to a product. Any business looking to sell a new product has always headed straight for the PR mailing list to get the word out to as many people as possible, today we just have a new method of amplifying word of mouth further than ever – social media.
And yet, in another way, this phenomenon is totally symptomatic of our time: social media has made it possible for anyone to give their opinion on a topic, and in turn some trusted voices have no platform other than their own Twitter or Instagram page. But on their platform of choice, they're big names whose fans feel like they have a close connection.
A post can go a long way depending on the number of followers a personality has, and given how long people spend flicking through social media platforms these days, online personalities can command great loyalty.
On the other hand, how can brands be sure that the reach they're getting goes any further than just being seen and forgotten by an (admittedly impressive) number of people?
Is it worth considering so-called 'micro-influencers' instead – those who may not have millions of followers like the big-name new-media celebrities, but who instead maybe have numbers in the tens of thousands? Their audiences tend to be more engaged, more interested in the personality than the celebrity, and perhaps are seen as more authentic. For brands wishing to get in front of a sports audience, is that a more fruitful approach?
Or indeed, can brands ever be sure the influencer in question has a genuine rapport with their audience, enough to make a brand endorsement worth more than just a fleeting advertisement? And how can influencers themselves partner with the right brands to ensure their audience doesn't see them as sell-outs. How can these partnerships be mutually beneficial for both brand and influencer, and can they even add value to fans, too?
On 13th September at the offices of Telefonica Digital in Soho, we'll be talking about all these questions and more with moderator Niall Coen, Founder and CEO of Snack Media, and confirmed panellists Gareth Griffiths, Head of Sponsorship at O2, Richard Gillis of Havas and Seb Carmichael-Brown, Commercial Director of Hashtag United.
It promises to be an insightful night of discussion centred around one of the major topics in the sports industry that's relevant to everyone: linking publishers, brands, influencers and fans together in a neat little package. It's not one to be missed.
We're less than a month away from MEI's flagship Major Events Summit, now re-imagined as a virtual event.  Major Events Summit brings together decision-makers and influencers involved in supplying the
By Daniela McVicker When it comes to sports, great branding is a must. Your brand influences how people see your company or team. It helps you to forge connections with
Article written by John S. Kim, CEO and co-founder of global API company SendBird Social media rose to prominence throughout the world due to its potential for connection. Social channels provided the