Cricket Exclusive: Managing Director of the Barmy Army, Chris Millard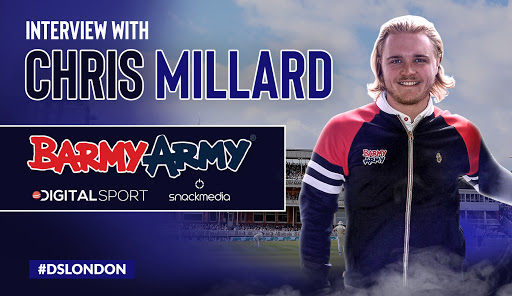 Having had an amazing summer of cricket, we caught up with Chris Millard, the Managing Director of the Barmy Army to discuss the future of cricket, his take on the World Cup, and how the passionate England supporter's group grew to become who they are today…
Give a short description of the Barmy Army and how it came about
The Barmy Army was formed by Paul Burnhan, David Peacock and Gareth Evans during the 1994/95 Ashes tour of Australia. The trio had gone backpacking around Australia and went to watch the England team in action, signing songs and supporting the team even though they were being torn to pieces! The Barmy Army name was coined by an Aussie journalist and then trademarked the next day. They stuck it on a bunch of t-shirts and sold over 2000 in the following test matches in Sydney and Melbourne. They realised the potential and decided that when they moved back to England they would set up an official company called the Barmy Army.
How did it grow into what it is today?
The Barmy Army has grown into what it is today thanks to Paul Burnham who decided to take the business forward during some turbulent years in cricket. He looked to grow a business that offered a travel package as well as media and merchandising opportunities to clients all over the world. The whole project was based on a membership scheme that allowed England supporters to be a part of this movement of fans. The sole reason to grow it into what it is today is to serve all England cricket fans regardless of race, gender or age. The one core value that has never changed is that win, lose or draw, always support England!
What was your take on the cricket World Cup?
I think the way that the tournament started and the way that it was handled by the ICC was very interesting in that they wanted to make it a fans World Cup. I thought that really came across early in the tournament with the likes of Pakistan, Afghanistan and English fans all having a party in the grounds which was great to see. I don't think there has ever been such a fan centric World Cup within cricket and there was a real need to do it as I believe fans have been massively under represented in previous world cups and by the ICC in previous years. 
We saw the World Cup evolve into a brilliant tournament with England arguably starting the slowest out of the top four and then going on to win the tournament with what was probably the best World Cup final ever, maybe even the best game of cricket ever, until The Ashes test at Headingley! The rise of Ben Stokes has been fantastic to see and hopefully after the World Cup he's realised how important he is to the team and for English cricket going forward.
For the Barmy Army in particular, we got over 150 tickets for the final and it was amazing to see all our members jumping up and down when we won. You could tell the England boys really wanted to come and speak to us because they came running over and celebrated the trophy in front of us as well as taking a Barmy Army flag up and waving it around. It was really great to see that connection between the players and the Barmy Army. 
After this summer in particular, how can cricket grow and build on the success of this summer?
This is a really crucial winter for the ECB and how they are going to monopolise on the World Cup and the Ashes. I think they really have to work on the legacy of 2019 as they did in 2005 where they grew the game on the back of the Ashes with a bunch of people getting into cricket who may not have done prior to that tournament.
We hope that the ECB can do the same. I think they have to look at the grass-roots game and know how to help grow the smaller clubs. We know they are investing heavily into the new Hundred competition but they can't forget about the grassroots clubs in the minor counties who are ultimately going to be affected by the ECB's attention being elsewhere. They must focus on the legacy of test cricket, ODI cricket and T20 cricket not just this new competition. 
What major problems does the sport face?
I think lots of sports face major problems but in cricket at the moment I think it's the fact that participation at grass root levels are decreasing. If they use this summer they can use that legacy to get those numbers back up.
I also think they have issues with viewership and cricket attracting an older demographic. At your average ODI at Lord's, the age will be over 50 years old which isn't really what you want to be amplifying in a sport, especially in test cricket where it needs to be interesting, accessible and exciting for younger fans. The more they put people off wanting to go the worse it will get. For example, a ticket for the fifth Ashes test at the Oval is £112.50 which is extortionate for your average cricket fan let alone your average fan. Granted, it's the Ashes and an amazing competition but it's just not accessible for anyone who is 25 who maybe doesn't have a fantastic job or who is straight out of university. This has to change.
The next Digital Sport London event will take place at Lord's Cricket Ground on September 9th. We'll be talking about the future of cricket with Fiona Staines – ECB, Owen Hughes – Nissan, Chris Hurst – ex-BBC and ICC, Andy Muggleton – MCC and Stephen Lyle – BBC. 
This year's prestigious SPORTEL convention kicked off in sunny Monaco today, welcoming a host of familiar faces as well as plenty of new ones. Doors opened at 8:30am with businesses
Olympic Champions, UCI World Champions and World Record holders join the new track cycling competition debuting in November 2021 The UCI Track Champions League is delighted to announce that six
New insights from eBay Ads UK reveal the potential for brands to engage with an excited but nervous nation as sports events get back on track  As pubs and indoor