Commercial Director of Huddersfield Town Sean Jarvis: the story behind the Paddy Power kit launch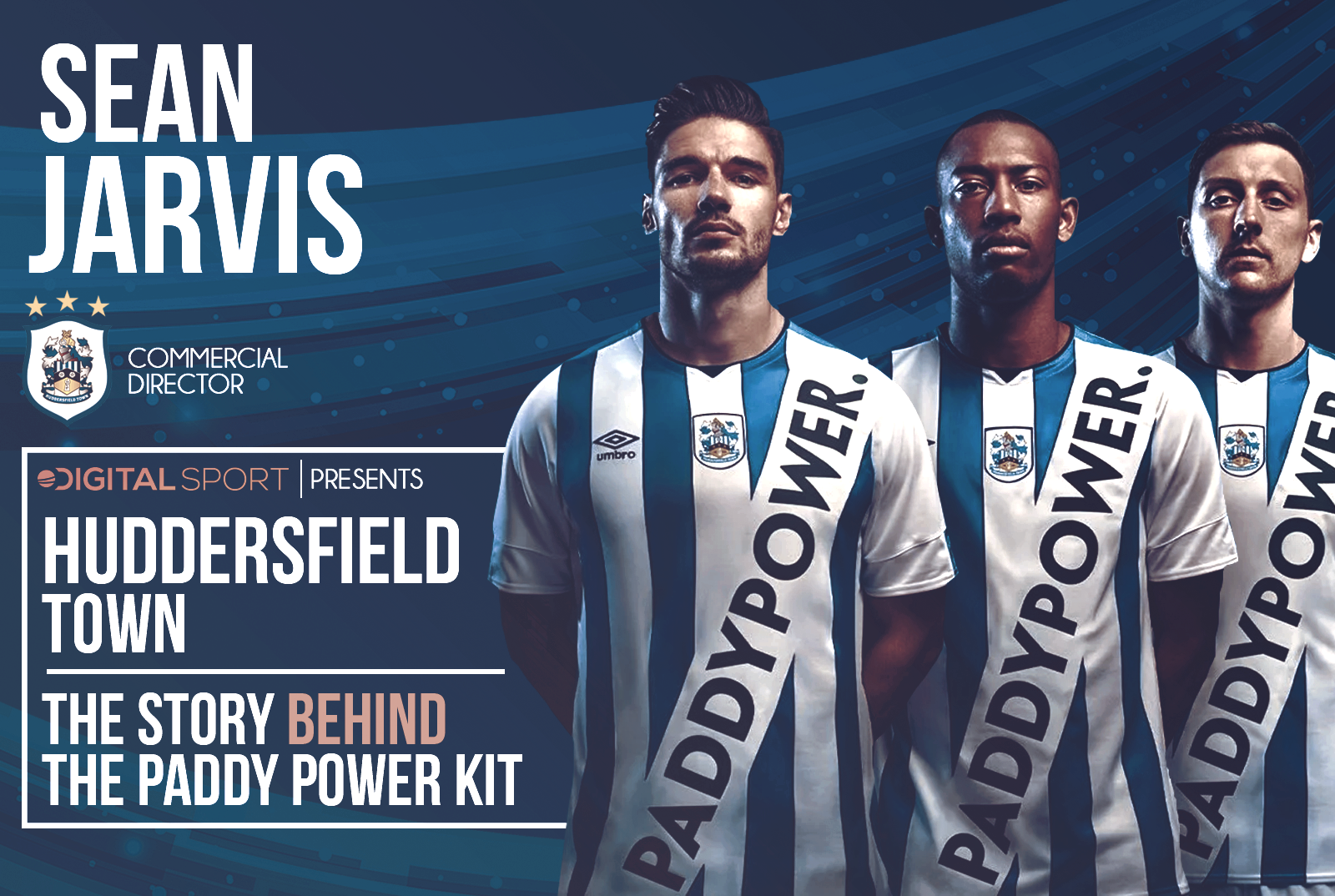 Image credit goes to Ashley Dunsford-Tagg
In the summer of 2019, I was fooled, and I think many in the footballing world were too. Huddersfield Town and Paddy Power attempted, and amazingly pulled off, one of the greatest kit launches the football industry, or in fact the sports industry, has ever seen.
The sponsor-less shirt which followed this awful 'sash' kit as part of Paddy Power's #savetheshirt campaign, left us all applauding as the betting company revealed they wanted to 'give the shirt back to the fans' and change the movement in the football industry.
The campaign earned more unique impressions than any other kit launch in Huddersfield's history. I wanted to know more, so I travelled to Huddersfield to meet the man who had a huge part to play in it all, the Terriers' own Commercial Director, Sean Jarvis.
Sean has had a real footballing education, especially in the commercial world. Before delving into how the Paddy Power arrangement came to fruition, I wanted to know a little more about the Leicester-born Commercial Director.
"I was born and bred in Leicester and then I moved up here to Yorkshire, studied here, met a Yorkshire girl and that was it; I have stayed here ever since," he said.
"I went to work for Oldham Athletic just over the hills. I spent 7-8 years there, which was almost if you like, my apprenticeship within football; very much hand to mouth; fantastic club, fantastic people over there, but it was hard-going all the time – you had to generate income to survive.
"I then came over to Huddersfield and I have been here about 14 years. In that period of time we have gone from a League One team, to getting into the Championship, getting into the Premier League and now back in the Championship. But as a club, we have really established our values, the infrastructure, how we operate as a business and I think the fanbase has taken us along that journey and helped us develop as a club. So, I have had an interesting career that has seen 'rags to riches' in terms of football."
Sean was very open, very willing to chat and tell me about his life and give me insight into what he'd learned over the years. Perhaps that left me fascinated by his journey and by the man himself. He was very easy to talk to, happy to devote time to me despite Huddersfield being just an hour away from kick-off against Birmingham City, and all this may well be why I delayed the Paddy Power conversation further as I soaked in every bit of expertise he had to offer. His views on the football industry for one had me asking more questions as I asked him whether his role comes with huge pressure to deliver the right sponsorship and commercial deals for his club.
He explained: "There's a massive amount of pressure and quite rightly so, with whatever part of football. It is a results business. If you are working within marketing of football, the results are about how you get bums in seats. If you are within commercial, it is about how much you can generate. If you are on the pitch it is about how many goals you can score. So, it is a very finely tuned results business.
"Football clubs are not cheap, as everybody knows, there really are only 23 days out of 365 in which they operate so you have got to look at other ways you can generate income. You see that now, we are becoming more and more sophisticated (the football industry) in how it operates, and to a degree football clubs are not just football now, they are almost media businesses as well. You have got tv channels, global audiences and an incredible amount of data.
"So, it is how a football club and commercial team use the assets they are sat on to generate the income to keep the club going, to keep them alive. We have seen some horrendous stories like Bury, you can argue mismanagement or whatever, so having the right kind of board is critical. On that board you do need commercially driven people."
His role is vital, which makes the decision to go with Paddy Power's proposals for the kit launch even more impressive and brave. Eventually we got onto the topic head on and discussed the summer's biggest kit talking point, and as you can imagine, fascinated as I was I just sat back and just let him tell the story.
"Like most clubs, we look for a shirt sponsors. We had maybe four or five parties that were interested in putting their names on the front of the shirts; Paddy Power was of course one of those," he explained.
"We have always been a challenger brand, certainly in the Premier League we were one of the challenger brands snapping at the heels of everybody. We met with Paddy Power, they are very much a challenger brand in their industry, so it was a meeting of the minds really.
"We discussed the concept of what we wanted to do, and I think one of the things you are starting to see, and probably will see more and more of going forward, are stories around kit launches. They won't just be a player appearing on the website, there will be a whole theatre around it. It is a big revenue generator as well.
"Anyway, Paddy Power and ourselves sat down, and as much as I would like to lay claim to the concept, Paddy Power talked to us about what they would like to do, and we discussed it. In simple terms, we kind of liked that, it's controversial, it's going to create the right impact, but we know what the end goal is. We thought this could be really, really good; quite impactful and having a plain shirt is certainly different in the world of football at the moment. They obviously paid for the privilege of having a plain shirt, but for me their message is linked to betting in football, as it is very prevalent, very discussed at all sorts of levels at the moment, and I am sure it will continue to be.
"But they said 'we want to get the message across that we know our place, and maybe our place is not necessarily on the front of the shirt'. The journey to get to that statement was certainly colourful, and it created a stir. When we launched our kit in the second year of the Premier League, I think we had something like 350,000 unique impressions through our Twitter. When we did it through Paddy Power, we had six million – so you can see the impact. We sold a lot of shirts at the beginning of the launch, created a stir, people talked about us, we got placed on the map. So, as a marketing initiative it was very, very good and very successful. It had an impact on retail and people are still talking about Huddersfield Town. It was a very interesting week in which we launched it; it was a rollercoaster of a week if I am honest with you."
Sean was a man in demand after the stunt in the summer, and he explained it wasn't always easy to manage.
"I was gobsmacked by the impact that it had around the world. I was getting messages during that week from, China, America, Australia, Germany, all over the world; asking us, is this real? What does the real kit look like? When is it on sale? It was quite astounding the impact that it actually had.
This may all sound fun now, and looking back at the campaign it was certainly a stroke of genius with a really important message behind it. However, Sean did have to battle through some really tough moments across that week in order to keep the secret, but also to keep safe and remind himself that he and his team were working towards a bigger goal.
He talked more about this very fact and the importance of his confidentiality: "It was incredible how we kept it as secret as possible because it was an incredible market initiative that needed to be kept water-tight. If it was to be leaked, it would have killed it.
"Football clubs are integral to their communities and mean a hell of a lot to the fanbase, so I can understand how fans got irritated by the kit that was being revealed. Some people sussed it out, some people thought it was a real kit; and that is when the death threat came in. I get it, people were emotional, and it was very challenging for myself personally but, I kind of always knew I had to remember what the end goal would be by the Friday – by the Friday all would be calm.
"On the Wednesday when we announced what the kit would be; I came off twitter in the afternoon to make it look a bit more convincing and then we played in the game at Rochdale in the kit. People thought at half-time we would come out in the real kit, but we didn't, and I think Thursday was incredibly difficult. I actually disappeared, I had to go play golf with a friend because everybody was kind of wanting to see whether this was real or whatever, so I had to disappear and play golf. Obviously, Friday couldn't come quickly enough, to actually reveal the full kit. 
"For me personally, it was incredibly difficult even though I knew. It was difficult in a number of ways really, okay there was a bit of abuse which you kind of expect, but also, I was hoping that it all would go according to plan because if it deviated from the plan, it would have been a failure.
"My nerves were tested to the max. There were points where you just went, is this going to backfire?"
Yes the campaign will have got people talking, laughing, and certainly have put Huddersfield back into main-stream football discussion after their drop from the Premier League. But the biggest victory throughout this whole stunt comes in the money raised for charity, which while it wasn't covered as much by the media, Sean did make sure to tell me more about.
"When we actually sold those kits off, the fake kits, we raised £30,000 for charity.
"For one of those charities, it meant they could survive for a further two years. It was a men's mental health charity in our area. I will look back and say, 'we sold that and a charity that benefits mental health in our area will survive for a further two years as consequences', and for me that's probably the most important bit. So, yes whilst I was tested, you look back at it and go, yeah it had the desired effect, but it has also benefited somebody out there and who is still alive to tell the tale because of the charity, and that for me is worth its weight in gold."
The second day of SPORTEL 2021 got underway this morning in Monaco. Following on from yesterday's masterclasses, Wednesday played host to a number of conference talks from industry-leading professionals. The
This year's prestigious SPORTEL convention kicked off in sunny Monaco today, welcoming a host of familiar faces as well as plenty of new ones. Doors opened at 8:30am with businesses
After a one-year hiatus due to the impact of COVID-19, the world-renowned sports media and tech convention, SPORTEL, returns to host its annual event in Monaco. The conference will take