Can Augmented Reality turn the stadium into a whole new world?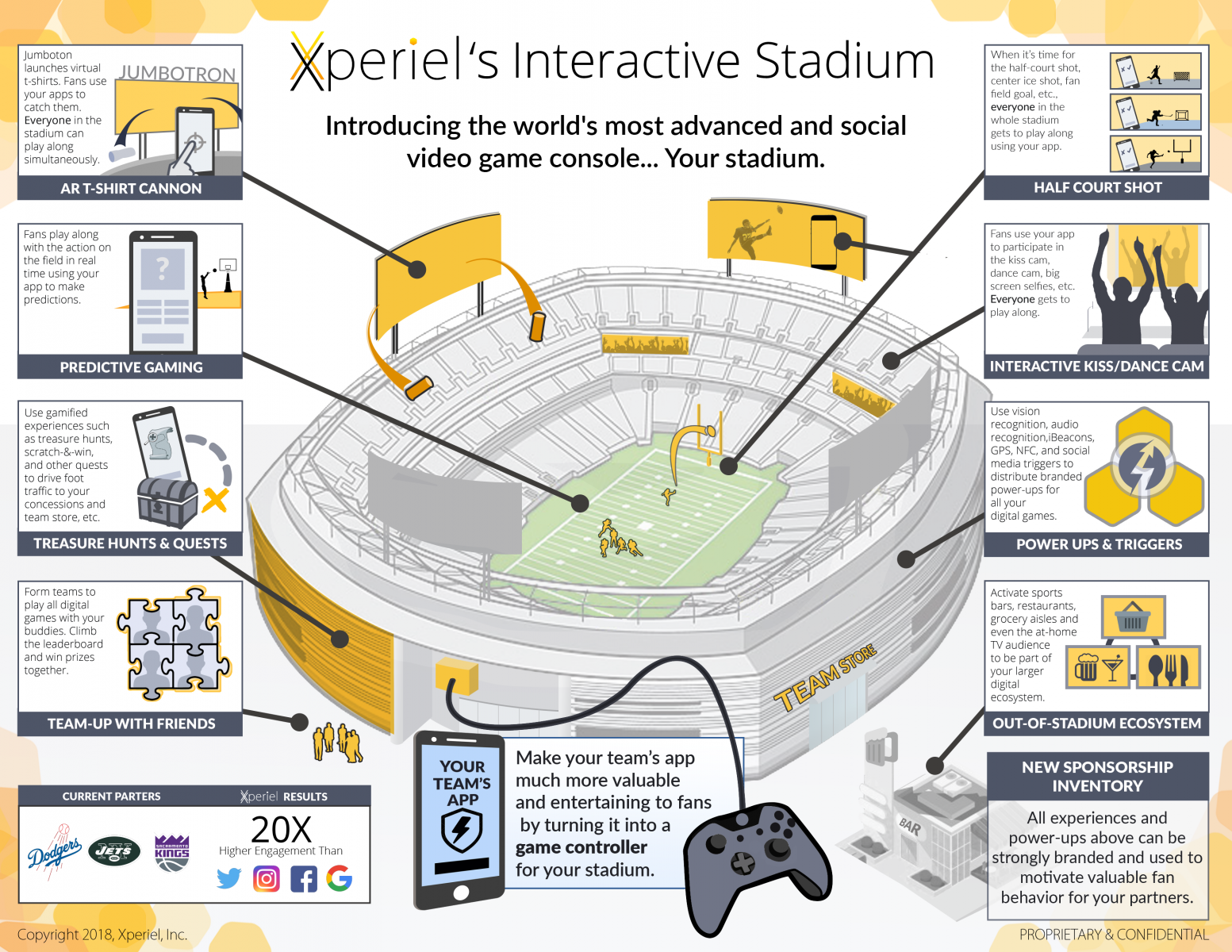 The success of Pokemon Go in the summer of 2016 marked the first real breakthrough for AR into the mainstream: it was a game that changed the face of the technology in the way that Google Glass was supposed to do.
Since then, the technology hasn't been about something that overlays information about the world onto your visual field as much as it's been about using your phone and its camera as a portal door from the real world into the digital one.
After Apple and now Google created AR software for developers to create apps, the technology has become more and more rooted in smartphones, giving us a natural 'in' to AR in a way that we don't have for VR currently, but at the same time, it's still not the ideal vehicle. True AR wouldn't need to be confined to a phone screen, but for the moment the fact that it can be easily accessible using phones is what makes it viable.
When it comes to sport, though, it can provide a new lease of life: freshening the experience of watching most sports, which date from a time before digital technology and haven't been updated very much.
Going into a stadium can be one of the few places you can find yourself disconnected from smart technology; in some ways, watching at home can bring you closer to the action than watching in-person. On the sofa with snacks on your lap, you have the convenience of multiple screens, stats and social media conversation that you miss in the arena. But AR could change the stadium experience completely, making it a hugely different proposition from TV broadcasts whilst still maintaining all the modern conveniences.
Alex Hertel, CEO and Founder of Xperiel, told me about his company's Real World Web technology, which aims to "basically turn the stadium into a giant games console," using the team's app as the controller with which every fan in the stadium can transform their experience.
"We're the first company to seriously combine augmented reality with the internet of things," he said over an internet call. "What we're doing is we're taking a stadium and we're turning it basically into a giant video game console, taking all of the technology in that stadium – the Jumbotron, the ticket scanners, the turnstiles, the team's app… there's actually a rich assortment of technology in a very small space there – and we take that technology and we unify it into one system."
The end result is an interactive and enhanced experience within the stadium. Xperiel have worked with some of the biggest US sports teams like the LA Dodgers, Sacramento Kings and New York Jets, as well as with their brand sponsors, bringing everything together into one giant game fans can participate in alongside the sport that's going on below them on the pitch. In the case of their work with the Jets, it was a predictive touchdown app, where fans call what's going to happen next, bringing them into the action in a way they've never been able to before.
"If you think that the New York Jets are about to score a touchdown, you call the touchdown [on the app]. And if you get that prediction right then you get points, and your name goes up on the leaderboard. Then we take that leaderboard and write it in real-time up on the Jumbotron."
It's also a concept that can be translated into any sport, and is essentially the premise of the burgeoning fantasy sports industry as well as betting. But when you think about it, it's really just what fans of sport have been doing since it became a spectator event. Predicting what you think will happen with your friends and fellow audience members is certainly nothing new. But the ability to build that into the matchday in a formal way is. Crucially, it differentiates the stadium experience from the TV one – a potentially existential battle for live sport.
"The whole point here is to add a layer on top of the traditional engagement in a stadium and to use these forward thinking technologies to engage with this next generation of consumer," says Hertel. "Whether at home or in the stadium, you can make real-time predictions on what's about to happen."
From a commercial side of things too this has a direct link with advertising. Bringing sponsors together with teams and their fans in a holistic way, and Xperiel hope it does so in a way that adds value for everyone. So far, that seems to have been proved right – the average session time is almost two hours, testifying to the fact that fans are using this as a companion app.
"Normally brand advertising is all about putting logos and impressions in front of fans, but here we were able to go a lot further and do something pretty radical," says Hertel. "Once you use up all your touchdown calls, we take you to a screen which asks you if you want to keep playing. And if you want to continue, you have to scan the can – so you have to go buy a can of Bud Light. Then you hold the beer in your hand and use our vision technology and the camera to scan the can, and then you get another touchdown call."
"So this was basically an advertisement for Bud Light. But because this is a physical game out in the real world, we can use it to incentivise physical actions much more effectively," says Hertel – something he calls "gamified loyalty", and you can see why.
It's an application of AR technology which isn't limited to one brand and one team in one sport, either. Xperiel have put their ideas into practice with the likes of Coca-Cola at a Basketball game and even gamefied the T-shirt cannon – a staple at American sporting events.
"Virtual reality takes you away from the real world, whereas AR does the opposite: it's taking the physical world and it enhances it in some way. We're taking the bits and the atoms together to make the physical world digitally interactive."
Instead of firing five or six pieces of merchandise into the crowd – which usually allows only a select few in the lower tiers to get one anyway – doing it virtually on people's phones allows more people to win and is probably much safer, too. Indeed, it's certainly less dangerous than lobbing cans of Coke into the stands, and that paves the way for giving out more varied types of freebies: win a virtual prize and get a token within the app, then go to an automated vending machine and scan the token to claim your T-shirt, can, or whatever it happens to be.
Like virtual reality, perhaps the biggest problem that augmented reality will face over the next few years is its method of use. For VR, the problems will mostly come from the lack of a shared experience and the fact that headsets are not in wide circulation. For AR, it'll probably be the fact that more and more creators of the tech – like teams and leagues developing their own gimmicky AR apps – are doing so on smartphones because they can reach a mass audience. The idea of using the phone simply as a controller for a much wider world of AR which, in the future, may not require phones at all, is a useful one, then.
"We're getting away from the idea that an app should be running on a single device like the phone in your hand," says Hertel. "It can span multiple, heterogeneous devices that aren't even owned by the same people, and so part of the game is in your phone, but part of the game is in the ticket scanners and the turnstiles. That's the hardware that this game is running on: it's all around you and it's multi-faceted."
Today's world is all about 'experiences' we're being told. That has become something of a cliched phrase, but at its root is a pushback against the fact that most people have lived so much of their lives behind the veil of the smartphone; more and more we are tied to it by the need to stay connected. AR has the power to create a stadium which presents a totally different proposition to fans than watching at home, and makes your team's home into what is almost a different world.
If a threat to live sport is the convenience of TV, the solution might be to make the day out so different that nothing can recreate it.
Digital Sport's Rupert Pratt and Thomas Smith recently sat down with Nielsen Sports Managing Director for the UK & Ireland, Spencer Nolan, to discuss Covid-19's impact on sport media rights
Snack Media today announced that its acquisition of GIVEMESPORT will create one of the largest sports publishers in the UK, further strengthening its offering to advertisers, rights holders and independent media owners.
By Daniela McVicker When it comes to sports, great branding is a must. Your brand influences how people see your company or team. It helps you to forge connections with