BT Sport secure exclusive Champions League football rights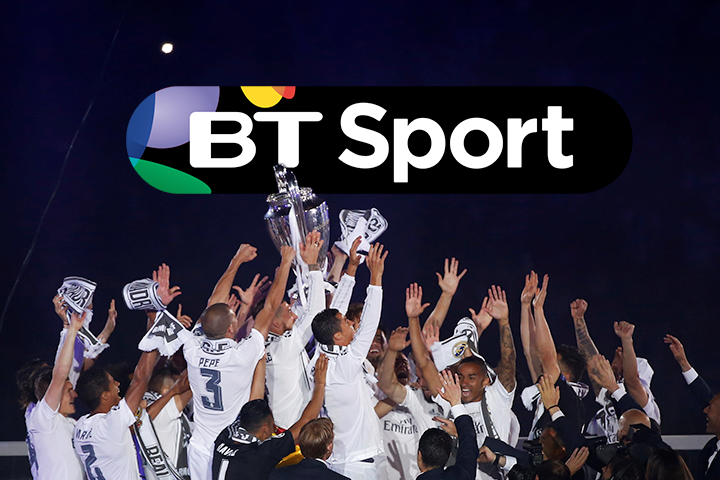 BT Sport has extended its UK broadcasting rights deal for the Champions League and Europa League, though this time the deal will not include a highlights show on free-to-air ITV.
Four more years! pic.twitter.com/oVx8gpX8PY

— BT Sport (@btsport) March 6, 2017
The £394 million-per-year deal with UEFA will last until the end of the 2020/21 season, with BT Sport granted exclusivity across all live games across both competitions.
Guy Laurent Epstein, UEFA marketing director, said "UEFA is delighted to have extended the relationship with BT Sport for a further three seasons, taking our partnership to 2021.
"BT Sport has proved to be an innovative broadcast partner, pushing the boundaries and covering the UEFA Champions League and UEFA Europa League in new ways. BT have delivered strong audiences in the UK and we are excited about their future plans for the use of social media which will engage a growing fanbase that consumes sport in different ways."
The broadcaster will once again make the finals of the Champions League & Europa League available for free via social media – presumably on YouTube – but the rise of Facebook Live makes the social network just as likely to be BT's platform of choice.
BT Sport's current social coverage features short-form highlights, distributed via the broadcaster's official accounts and amplified by talent.
A crazy night of @ChampionsLeague football on @btsport at @ManCity all wrapped up for you in 60 seconds: https://t.co/ylSFtsehbP

— Gary Lineker (@GaryLineker) February 22, 2017
Despite the promise of wider access on social, news that full coverage of Europe's elite competitions will be limited to paying subscribers has resulted in a mixed response.
Incredible greed by @UEFA to keep their top product, the @ChampionsLeague, off UK terrestrial TV until at least 2021. @btsportfootball

— Matthew Lumby (@MatthewLumby) March 6, 2017
I've watched hardly any Champions League football since @btsport gobbled it all up. Cheers for taking even more of football away from fans.

— Chris Harman (@chris_harman) March 6, 2017
UEFA has previously expressed concerns regarding poor viewing figures and a subsequent lack of exposure from the existing deal, yet when push came to shove – a gentle £1.18 billion shove – the governing body was all ears.
By Daniela McVicker When it comes to sports, great branding is a must. Your brand influences how people see your company or team. It helps you to forge connections with
Article written by John S. Kim, CEO and co-founder of global API company SendBird Social media rose to prominence throughout the world due to its potential for connection. Social channels provided the
By Mike Constanti This series, in partnership with Snack Media, will look at the best football campaigns from advertising to social media on a monthly basis, as Digital Sport evaluates how