British football brand Mitre partners with the Football Blogging Awards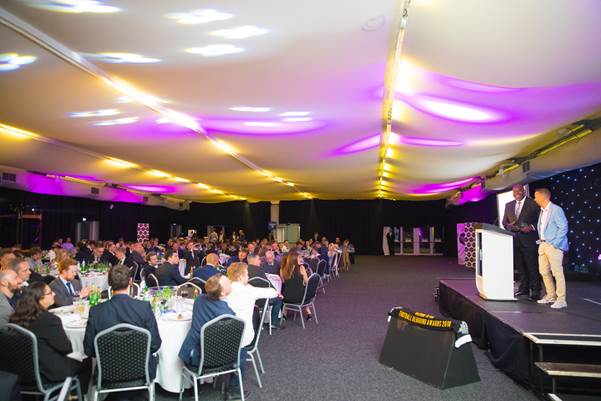 The Football Blogging Awards today announced that it has partnered with Mitre Sports for 2019's edition of the annual event, celebrating and rewarding the content creation industry in football.
The move sees the football specialists' team up with the Football Blogging Awards and become an official category sponsor, receiving naming rights to 'Best Young Content Creator' award.
A global brand, Mitre is the official ball supplier for several leagues and competitions in both the men's and women's game, most notably The Emirates FA Cup, football's oldest competition.
Andrea Fehsenfeld, Brand Manager – Teamsports – Mitre comments: "It's brilliant for Mitre to be partnering with The Football Blogging Awards this year particularly as we have collaborated with a number of the winners across various categories over the last few seasons.
"Whilst a huge part of the game takes place on the pitch, our commitment to football also expands to the conversation fans are having off the pitch, and the amazing content that we see all the time. We're passionate about football and excited to be able to recognise up and coming content creators at the upcoming awards ceremony."
Anthony Cooper, Co-Founder of the Football Blogging Awards adds: "The Football Blogging Awards has grown in recognition and status each year – and thanks to partners such as Mitre, we are thrilled to be able to take the event to new heights. Mitre's prestige is unmatched within the industry and we are excited to welcome them to be part of the Football Blogging Awards 2019.
The FBA's is the most significant event in the calendar for all those within the football content creation industry, recognising and honouring the best football websites, social influencers, bloggers and vloggers around the world. It is when content creators are recognised by fans, followers and their peers and win one of the many prestigious honours that are on offer on the night. The Awards attracts one of the biggest social engagement campaigns of the year, receiving over 2000 nomination in 2018 from over 300,000 votes and reaching over 40 million fans. Past locations have been held at Old Trafford, Alexandra Palace and the National Football Museum.
Details on the categories, nominations, event date and location for the 2019 event are set to be announced in the coming weeks.
Don't forget Digital Sport London's rugby event on February 26th with Six Nations, World Rugby and the EPCR – get your ticket below!
ELEVEN SPORTS has secured live and exclusive coverage of the Anthony Joshua and Andy Ruiz Jr rematch in Belgium, Portugal and Taiwan. Joshua will be fighting to reclaim the IBF,
By Michael Constanti Massive Engagement Increases from Japan (86%), France (43%), South Africa (42%) Digital Media played a pivotal role for the rapid increase of fan engagement during the Rugby
SportsPro returns to Madrid for its third and most ambitious instalment to discuss the hottest topics in the industry. Over 800 of biggest names from across the global sports industry