An Ultra 4K HD Center-Hung Video Board in new Sacramento Kings' arena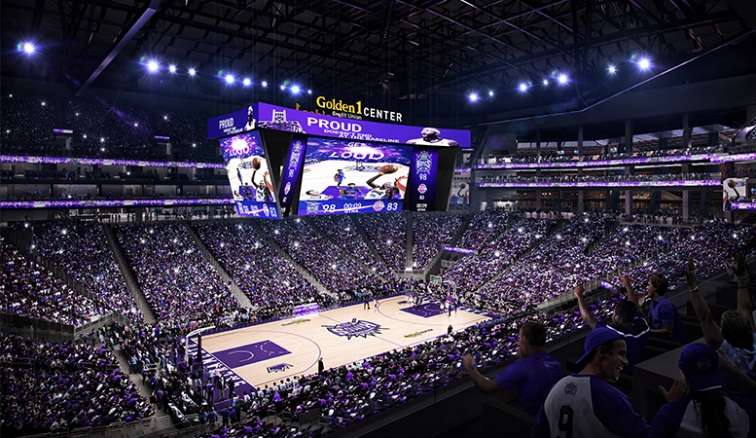 4K has officially arrived and it seems to be here to stay after NBA franchise the Sacramento Kings in conjunction with Panasonic kitted out the team's new arena, the Golden 1 Centre with ultra 4K HD video screens in the center-hung boards.
The roll out of the screens comes only weeks after the NBA broadcast its first ever live match in 4K around the world with the Californian-based team being the first to implement the new technology. With the installation, the Kings will not only have the screens with the highest resolution in the League but also the largest with the new features undoubtedly aimed at improving fan experience.
Totalling over 6,100 square feet, the center-hung video board will assemble four-screen displays including two sideline screens. Utilizing the latest in LED technology, it will offer over 32 million pixels across the four screens meaning that fans will have great views from anywhere in the arena. Replays will be displayed in real-time in 4K ultra HD – four times that of 1080 HD resolution.
Sacramento Kings' Owner Vivek Ranadivé said that it was crucial the fan experience when coming to the game was as good as it could be.
"Our partnership with Panasonic will revolutionize how fans consume the game – giving them an unmatched viewing experience from the moment they walk into Golden 1 Center," he said.
In a partnership with screen provider Panasonic, both entities are hoping that the stadium will be the most technologically advanced indoor sports venue in the world.
President of Panasonic Enterprise Solutions Company Jim Doyle said the new arena was a blank canvas in which to kit out with the most advanced technology.
"There are endless possibilities to help enhance the guest experience throughout the arena and we look forward to delivering the most cutting-edge technology to impress and amaze all who enter Golden 1 Center," he said.
Three New Summit Packages Are Now Available For Purchase, Allowing Industry Professionals to Watch WFS Live Sessions As They happen World Football Summit, the leading event organiser for the business
Nielsen Sports reveals winning The Masters can lead to substantial social media growth Sergio Garcia's social following grew by 76% and Patrick Reid DOUBLED his following in the space of
Badminton World Federation has today announced a scholarship programme that will provide dual career athletes, who have chosen a joint educational and elite sporting life, and talent already employed within