Amazon's NFL deal paves the way for a sports rights arms race between streaming companies
After its season-long stretch of streaming Thursday Night Football on Twitter, the NFL's new online home for midweek games will be Amazon from next season, after the online retail company struck a deal to show 10 Thursday night games on its subscription-only streaming platform Amazon Prime.
The online retailer turned streaming service appears to have beaten Twitter and Facebook to land a deal for the rights which will see the games broadcast to Prime subscribers across the world, though the coverage will be curated by the CBS and NBC television networks. It will be this content – including most of the advertising – that Amazon will use.
There has been an almighty clamour for the rights to stream live sport over the past few months, across so many different online platforms, and obtaining a big-ticket item like NFL's Thursday night offering is a coup for Amazon, especially as Twitter and Facebook have been leading the game and buying up rights where they can, including Twitter's NFL coverage and Facebook's rights to MLS and La Liga football games. But this is Amazon's first attempt at broadcasting a mainstream sporting event.
"I am surprised that the NFL have been able to get the technology companies to have a bid war amongst themselves, but commend them for having them bend to the sports rights model as it currently exists," said Michael Broughton, co-founder of Sports Investment Partners, a firm focused on investment in the sport industry.
Such is the desire of digital platforms to snap up the rights to live sport, Amazon have paid up to five times what Twitter paid last year, according to reports. Whereas the social media giant paid around $10m last time, Amazon are said to be paying $50m for the privilege of the 10 NFL matchups.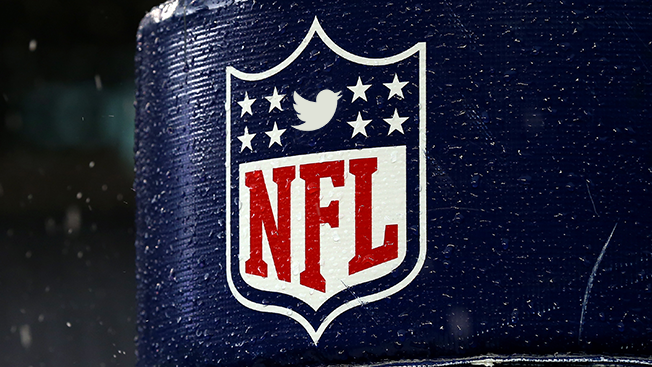 "I think this spells an acceleration to the end of the linear network broadcast model as we currently know it," Broughton adds. "The NFL will go back to market in a couple of years and if the technology companies win in that round it has a compound effect on the networks."
Twitter's coverage of the Thursday night NFL games was broadcast in a similar way to what we'll see on Amazon Prime, using the TV networks' coverage of the event in addition to most of their advertising, and the Twitter coverage was largely acclaimed by observers. Yet the Thursday night slot is usually the home to a lower prestige of game and there has even recently been talk of even scrapping – or at least limiting – the slot altogether: there will come a saturation point where serving up too much football will start to put fans off. Everyone has a threshold for boredom.
From Amazon's point of view, however, this is an important step. The company has been looking for a while to add live sport to its platform, and like a Monopoly player saving their money until the final, most prestigious properties at the end of the board, the online retailer has spent its money on a coveted piece of broadcasting rights real estate.
"This is a serious warning to competitors such as Facebook, Google or Netflix," says sports industry consultant Luis Vicente. "Facebook has been very efficiently getting sports-related free traffic into their platform by providing reach and engagement to different sports properties with deals with the likes of MLS, Liga MX or World Surf League. Amazon's move is a warning to Facebook and others that the fight for premium live sports content will be far more aggressive and financially demanding."
Vicente thinks this might also make other streaming services lay their own cards on the table when it comes to their plans for sports rights. "This forces other 'silent' potential sports streaming players such as Netflix to make their strategy visible and to accelerate their present considerations over what to do in sport, despite several official statements from Netflix that live sport is not on their target range."
As technology and streaming companies look to become the new normal for how the public consumes their entertainment, they will look to diversify their interests. But while Twitter and Facebook are free to use and are already ubiquitous online, Amazon and Netflix are still in the process of building a consumer base and trying to grow their portfolio of rights to appeal to as many customers as possible. There are even reports in Italy that suggest Amazon may be interested in taking rights to Serie A football.
"The business rationale for Amazon is very different of Twitter," Vicente adds. "As long as this content is on their Amazon Prime platform, they will engage and monetise different B2C business lines, from music streaming to e-commerce as well as different B2C opportunities, namely around advertising."
While Amazon's deal will surely be talked about in the boardrooms at Twitter, Facebook and Netflix, it will also have a profound on the TV networks themselves. Up until now, they have battled each other for the rights to sport without fearing too much from the new, solely digital, threat. But with live football and NFL on streaming platforms, traditional broadcasters suddenly find themselves looking over their shoulders.
"The advertising dollars around sport and the programmes shown around it will suffer as ratings drop with less sport content," says Broughton. "That could significantly impact the ability for the networks to continue under their current model as with less advertising revenues their ability to commission more original content will suffer."
The game certainly isn't up, of course. Traditional networks still show the majority of the biggest sporting events, and this is only 10 NFL games next season. It also remains to be seen how successful Thursday Night Football on Amazon will be. For one thing, Twitter and Facebook are essentially the streaming equivalent of 'free-to-air' broadcasting, but Prime is a subscription-based service and more akin to a pay-per-view model. And Vicente thinks that this will, "allow Amazon to test different membership offers within Amazon Prime, including testing the validity of a sports related Amazon Prime membership."
"And last but not the least," he says, "this is an encouraging move to other Leagues in US spectrum but essentially to European based premium sports leagues such as Premier League or La Liga on their modelling and considerations for the next media rights cycle starting in 2019."
After a year of streaming NFL on Twitter, it is clear that the rights to the sport are no less valuable than they've ever been. The posturing amongst streaming companies has begun, and the arms race for the broadcast rights to sporting events is only going to grow hotter.
And if Netflix, Twitter and Facebook feel outgunned by Amazon over Thursday night NFL, then it may strengthen their resolve to bid high for more and more prestigious sporting rights in the future. TV companies could be taken down faster than they can react to the threat.
A look at the Hot Topics in this week's Digital Sport news.
A recap of the digital goings-on at this year's NCAA March Madness competition
Adidas Football, THAT Paul Pogba transfer, and their new approach to influencer marketing