A tale of how we followed football's #DeadlineDay madness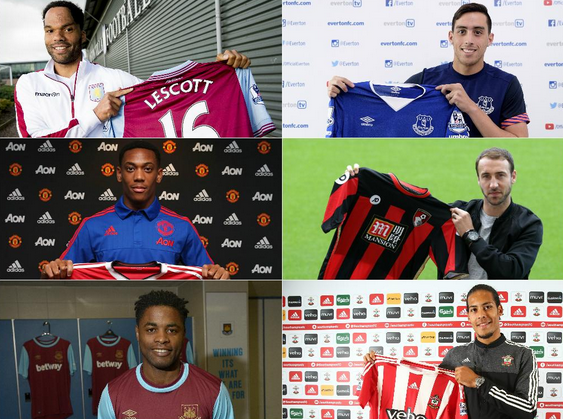 Transfer Deadline Day is one of the most exciting days for football fans. Knowing that at any moment, your team can sign the next big thing means that it is one of the most popular sports occurrences in the sporting calendar. And with #DeadlineDay ever increasing in popularity, broadcasters continue to seek ways in which they can interact with their market and increase their brand awareness on the back of it.
Throw in the rapidity with which technology is evolving and the ways it can be used and you have virtually an endless list of possibilities of how you can engage with an audience seeking information about their favourite football club. So how did you follow #DeadlineDay? We take a look at a few of the big broadcasters.
Ball Street/Eurosport
Ball Street has become a popular channel for avid online users to interact and engage with other fans to discuss football. But this year, with the backing of European Sports giant Eurosport, Ball Street was able to utilise a number of different technologies in order to give an alternative perspective of #DeadlineDay.
We have @JimErwood giving us an insight into the world of a football agent! #FanDeadlineDay https://t.co/6OLYteguND pic.twitter.com/cViSvaBpbD

— Ball Street (@BallStreet) September 1, 2015
Broadcast giants like Sky have often been seen as the most reliable source and most accessible source of transfer talk and updates however, for the 2015 Summer trade window, Ball Street sought to use its own panel and make their #DeadlineDay streams accessible to anyone. In addition to their whopping seven hour #DeadlineDay video that was live streamed and is now accessible to watch back, Ball Street frequently uploaded short clips during the day that included interviews and transfer updates. Helping to make #DeadlineDay an all-encompassing digital experience, Ball Street was also able to utilise up-and-coming platforms like Periscope by 'periscoping' various interviews. As Periscope's footage is only available for 24 hours after filming, examples of what they were providing cannot be shown. However, they may have unlocked an idea that will be useful to the likes of Sky Sports and BBC a little down the track.  
LIVE on #Periscope: Arsen Vs Chelsea LIVE #FanDeadlineDay https://t.co/W5qzqmJvmK — Ball Street (@BallStreet) September 1, 2015
Ball Street didn't just set itself apart by using Periscope as what made the broadcaster particularly special is that they allowed fans to get involved by filming their own #DeadlineDay videos and sending them in.
ESPN
#DeadlineDay's growing popularity is reflected in global sports giant ESPN's investment into production and creation of a Transfer Deadline Day hub. This included a live social media board, a live blog that included transfer discussion, transfer updates and a myriad of articles including videos of very high production quality.
  Produced with a high emphasis on American viewers, ESPN rarely go into an event without putting a lot of effort into how the project is executed. And with such a popular event like #DeadlineDay, ESPN was able to stay true to its viewership and its audience while also producing high quality coverage that rivalled the big European broadcasters. 
Using CoverItLive, a media platform that was bought by ScribbleLive in 2014, ESPN also allowed fans to get involved and engage with the panel on ESPN's primary coverage. BBC As the UK's primary broadcaster, it was obviously one of the go-to sites for many keen football fans. However, due to its duty of being the UK's primary broadcaster, the BBC had to get a little creative in how it covered #DeadlineDay while not alienating some of it's non-football fans.   Online obviously played a very large role in BBC's #DeadlineDay coverage but luckily, as their resources are very far and wide, BBC were able to use a number of platforms to ensure no-one missed a signing or a transfer update. It's online platform was used to deliver a number of key aspects normally synonymous with #DeadlineDay including live voting, live blogging as well as delivering a hub of news articles and videos.  
  The good thing about having so many resources is that when significant days like #DeadlineDay happen, it can spread its wings and make use of the large number of platforms at its disposal. This means that BBC put it's significant radio resources to good use while also being able to show a 45 minute Transfer Deadline Day Special on Football Focus on television as well as stream it on its iPlayer. Sky Sport True to its reputation as being one of the most popular stations for #DeadlineDay, Sky Sport continues to dominate the tag as being the home of football, despite losing ground to BT Sport in events like the UEFA Champions League. A day like #DeadlineDay is where having a dedicated sports news channel really pays off for Sky Sports as it can afford to have a live news centre running live on screen all day. It also cements its reputation as being the true "home" to the #DeadlineDay as consumers can turn the channel on at almost any time of day and it will be on. In its live coverage, Sky Sports has been able to harness the resourcefulness in its ranks by keeping a very watchful eye on players' or teams' social media accounts which can tip off the newsroom about any trades that have happened or are likely to happen.  
#MUFC fans, here is what your new signing Anthony Martial has had to say on his twitter account #SkyDeadlineDaypic.twitter.com/fBVYHJyDke — Sky Sports News HQ (@SkySportsNewsHQ) September 1, 2015
It's online platforms were also very popular as they ran off the back of the main television broadcast so not only was it one of the more reliable broadcasters but it was one of the quickest in reporting a transfer as well. The one aspect that could detract from Sky's coverage are their sources for more niche topics like rating and comparing players.   
When did Sky Sports News start using football manager to compare players? pic.twitter.com/5oyBTpxbIH — Shaun Paul Henry (@ShaunPaulHenry) September 1, 2015
Twitter
We'd be remiss to not mention Twitter as no platform is more ideal for such occurrences like #DeadlineDay than Twitter. With the ability of people to instantly disseminate messages out to an audience of hundreds of thousands (or even millions), it was the social platform to watch. So much so that audiences would often find out a transfer at the same time BBC or Sky Sport found out about them. This aspect of the social media platform makes the experience of following something like #DeadlineDay on Twitter virtually impossible to beat.
While the platform is a part intermediary similar to a broadcaster but without a dedicated feed, it's value lies in its immediacy despite bringing in potentially unreliable sources and/or news.
Twitter's simplicity is what's great about the platform as it provides a limitless environment of information which can be mined and interpreted in any manner. It's also a channel for fans to directly engage with broadcasters, teams, players or other fans which is an aspect that justifies it's popularity.
Statistics about Twitter's usage during #DeadlineDay haven't been released just yet but we can guarantee that it would have been huge.
Here are some of the best tweets of the Transfer #DeadlineDay
Report, @SkySportsNewsHQ: Spanish League deny receiving any #DeGea paperwork pic.twitter.com/orVCweYHGZ

— Bleacher Report UK (@br_uk) September 1, 2015
#Arsenal have prepped a shirt for their late #DeadlineDay signing… http://t.co/b7gce0Zc33pic.twitter.com/q79t75ZNoA — FootballFanCast.com (@FootballFanCast) September 1, 2015
Olivier Giroud welcomes our new #DeadlineDay signing. pic.twitter.com/7RvTTnMB1v

— UberArsenal™ (@UberAFC) September 1, 2015
A look at the Hot Topics in this week's Digital Sport news.
A recap of the digital goings-on at this year's NCAA March Madness competition
Adidas Football, THAT Paul Pogba transfer, and their new approach to influencer marketing